The blaze that killed a Trump Tower resident in early April recalls a long of history of developers and corporations putting profit over safety—an ethos that informs not only Trump's business but his presidency.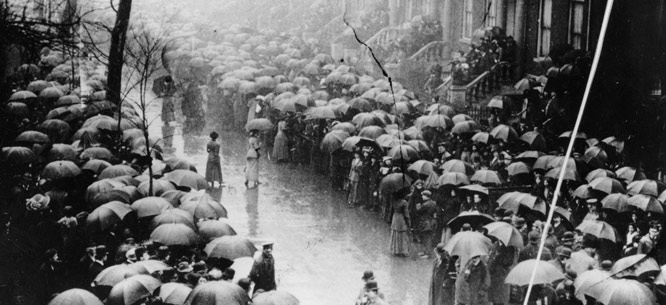 Donald Trump is no history buff, so he's probably never heard of the Triangle Shirtwaist Fire.
But a blaze on the fiftieth floor of Trump Tower in Manhattan that killed a resident on April 7 is an eerie reminder of the 1911 Triangle tragedy and a long of history real-estate developers putting profit over safety. That ethos informs not only Trump's business but his presidency.
Trump has a history of fighting fire safety rules in New York, no matter the lives at risk. In December 1998, fires destroyed two New York City apartment complexes. The first, on December 19, convulsed a senior housing facility in Brooklyn, taking the lives of three firefighters who were trapped on the top floor after responding to the pre-dawn blaze. Then, on December 25, four residents were killed when a fire ripped through a fifty-one-story apartment building, South Park Towers.
The sprinklers in the Brooklyn building were turned off, but South Park Tower had no sprinklers at all on its residential floors. Horrified by the tragedy, many New Yorkers called for new laws requiring sprinklers in all buildings. Then-mayor Rudolph W. Giuliani, long friendly to real estate but not yet the close Trump ally we know him as today, initially opposed the sprinkler law but eventually changed his mind. Still, the proposals were killed after Trump and other real estate developers lobbied against retrofitting existing buildings.
At first, developers opposed to requiring sprinklers in any buildings, including new ones, complaining that they would cost up to $4/square foot—less than 1 percent of the value of a Trump Tower condo at the time (and an even tinier fraction of what it's worth today). After the deadly fires, the real industry gave in on their opposition to sprinklers in new buildings, but insisted on exempting existing buildings from any sprinkler law, claiming that they would be too expensive to install. Trump led the lobbying campaign. He called, met with, and donated money to City Council members—including then-City Council speaker Peter Vallone, making a $5,000 contribution to help retire his campaign debt—to promote his personal profit over public safety.
The City Council passed a law in March 1999 to require sprinklers in each apartment and in common hallways in all new residential buildings with four or more units, but it exempted many existing buildings, including Trump Tower, which was built in 1983 and has remained sprinkler-free.
Trump Tower has sprinklers on the first ten floors, which have commercial tenants. But as a result of the municipal law, Trump didn't install sprinklers on Trump Tower's residential upper floors. That is a likely cause of the death of sixty-seven-year old art dealer Todd Brassner, who lived on the fiftieth floor.
New York City Fire Commissioner Daniel A. Nigro reported that smoke from the fiftieth-floor apartment spread to the rest of the building. About 200 firefighters and emergency medical personnel responded to the scene. Three firefighters were taken to hospitals with minor injuries, and three others were hurt and treated at the scene. Later in the day Trump tweeted: "Fire at Trump Tower is out. Very confined (well built building). Firemen (and women) did a great job. THANK YOU!" He expressed no sympathy for Brassner.
Nor, needless to say, did he acknowledge the missing sprinklers that could have prevented additional injuries. Sprinklers control or suppress a fire 97 percent of the time, according to the National Fire Protection Association. An automatic sprinkler system is a building's "line of defense" against fires, says the Society of Fire Protection Engineers. Trump evidently considers such a precaution too much of a luxury for Trump Tower residents.
More than a century ago, that same concern for property over people led to one of the most tragic fires in American history. In 1911, the ten-story building home to the Triangle Waist Company factory in New York City's Greenwich Village was considered a high-rise. On March 25 that year, 146 garment workers, predominantly young immigrant women, died after a fire broke out on the building's upper floors. As we noted in the New Republic on the centenary of the fire:
Factory foremen had locked the exit doors to keep out union organizers and to keep workers from taking breaks and stealing scraps of fabric. Other doors only opened inward and were blocked by the stampede of workers struggling to escape. The ladders of the city's fire engines could not reach high enough to save the employees. As a result, workers burned or they jumped to their deaths.
The Triangle Shirtwaist factory was exemplary of the city's booming garment industry, where girls as young as fifteen worked seven days a week, upwards of twelve hours a day, in miserable conditions. Overcrowding and lack of ventilation, sprinklers, or fire escapes made the threat of fires constant.
Well aware of the dangers they faced, the garment workers organized in massive numbers, in what would become one of the defining labor-rights campaigns of the early twentieth century. In November 1909, some 20,000 workers, mostly women, walked off the job, uniting shirtwaist makers from more than 500 factories under the banner of the International Ladies Garment Workers Union (ILGWU). In addition to higher pay and shorter hours, they demanded adequate fire escapes and open exits from the factories. Business groups and most politicians ignored their demands until the Triangle fire, sixteen months later.
The horrific scale of the fire galvanized public opinion around the workers and brought together a broad coalition of unlikely allies, including immigrants, muckraking journalists, clergy, unionists, socialites, and socialists. Hundreds of thousands joined a mass protest march memorializing the victims. Calls for legislative action mounted, in broadsides and editorials as well as in the streets, prompting Governor John Alden Dix to create the Factory Investigating Commission.
The commission's leaders, Democratic state Assemblyman Al Smith and state Senator Robert F. Wagner, traveled up and down the state with a team of investigators, visiting over 3,000 factories and interviewing workers in a wide range of industries. They found that the conditions facing New York City garment workers were far from unique: child labor, buildings without fire escapes, and eighteen-hour days were widespread. Former New York City fire chief Edward F. Croker told the Commission that factory owners "pay absolutely no attention to the fire hazard or to the protection of the employees in these buildings. That is their last consideration." Fire officials had cited the Triangle building for lack of adequate exits just one week before the fire.
Still, manufacturers maintained that they could regulate themselves. Like Trump a century later, real-estate interests opposed city fire codes. The Protective League of Property Owners lamented new sprinkler requirements for warehouses as "cumbersome and costly." Associated Industries of New York, a business lobby group, warned that new laws would drive "manufacturers out of the City and State of New York." "To my mind this is all wrong," declared Terence McGuire, president of the Real Estate Board. "The experience of the past proves conclusively that the best government is the least possible government."
But Smith, Wagner, and their allies in the growing progressive movement were not deterred. In the two years after the Commission was formed, it proposed a bevy of reforms that the legislature swiftly passed. The new laws mandated fire drills, automatic sprinklers, unlocked doors during work hours, and fireproof stairways and fire escapes for new buildings. They established rules on the storage and disposal of flammable waste; banned smoking from the shop floor; and restricted the numbers of workers per floor. These paved the way for further reforms, limiting work hours, curtailing child labor, and enabling labor-commission inspectors to shut down unsanitary tenement sweatshops.
These pathbreaking state regulations proved that government could play a powerful role in the lives of ordinary people. They ultimately paved the way for the sweeping labor reforms of the New Deal, shepherded by veterans of New York's progressive movement including Labor Secretary Frances Perkins (who was an eyewitness to the Triangle Fire) and Wagner.
While the controversy surrounding the Triangle fire caused the company to close in 1918, other companies did not suffer from the new regulations as business leaders had predicted. "Notwithstanding all the talk of a probable exodus of manufacturing interests," The New York Times reported in July 1914, "the commission has not found a single case of a manufacturer intending to leave the State because of the enforcement of the factory laws."
A century later, studies continue to show that environmental, consumer, workplace, and public health and safety regulations don't just cost less than industry opponents predict—they often have a net-positive impact on the economy, due to the healthier workforce and environment they foster. Nevertheless, the myth of job-killing regulations persists—and one of its most avid proponents sits in the White House. As a real-estate developer and now as president, Trump has continued to echo the belief that government regulations stifle business. In 1999, Trump said that sprinklers were too costly for Trump Tower. In February 2017, surrounded in the Oval Office by the CEOs of major corporations such as Lockheed Martin, Dow Chemical and Archer Daniels Midland, Trump signed an executive order establishing task forces in every federal agency for "removing job killing regulations" and declared a "war on regulation." Despite strong evidence to the contrary, Trump consistently claims that environmental and worker safety regulations are job killers and his administration has sought every occasion to dismantle them.
Perhaps the most consistent target of Trump's "war on regulation" has been the Environmental Protection Agency (EPA), whose new direction was signaled on the very first day of Trump's presidency when references to "climate change" were scrubbed from its website. Trump has since moved quickly to roll back climate regulations put into place under the Obama administration, most of them under the aegis of the EPA; not only did he withdraw the U.S. from the Paris climate agreement and repeal the Clean Power Plan, which imposed restrictions on greenhouse gas emissions from power plants, but he gutted fuel-efficiency standards for cars and light-duty trucks. While Congress has largely rebuffed Trump's drastic proposed cuts to the EPA's budget, the agency is on track to lose half of its staff by the end of his first term. Meanwhile, many of its most important positions are now staffed by representatives of the industries they are supposed to regulate.
This corporate-friendly turn has hardly been limited to the EPA, however. Through the Interior Department, Trump has sought to roll back Obama-era safety regulations on offshore oil drilling adopted after the Deepwater Horizon rig exploded and sank in 2010, killing 11 people. He has appointed former coal mine executive David Zatezalo to head the Mine Safety and Health Administration and moved to thwart Obama-era safety measures designed to protect mine workers, including weakening of safety inspections and repealing a rule to require mine operators to document workplace hazards.
In its efforts to enfeeble the Occupational Safety and Health Administration, the Trump administration has postponed rules to reduce sickness and death from inhaling silica and beryllium at work, and even stopped posting press releases about deaths resulting from unsafe workplaces. Trump's appointment to the Supreme Court, Neil Gorsuch, once ruled against a federal law that protects workers by making it illegal for an employer to fire a worker for refusing to do a job that is likely to result in serious injury or death.
In the Department of Transportation,] Trump has put on the chopping block several rules designed to protect truck drivers and truck-related accidents, including requiring drivers to undergo mandatory testing for sleep apnea. And since Trump appointed former GOP Congresswoman Ann Marie Buerkle to head the Consumer Product Safety Commission, created to protect consumers from hazardous products, the agency has emphasized "collaboration" between the agency and manufacturers, instead of penalties like fines or recalls. For example, it has rolled back its investigations of companies that fail to promptly report product safety problems and slashed fines for violators of the consumer safety laws.
Like the real estate lobbyists who opposed the factory and tenement reforms a century ago, Trump's warnings about "job-killing" government regulations are bogus. He and his corporate allies are crying wolf. Department by department, the message grows clearer: Trump's "war on regulation" is really a war on workers, consumers, and the environment.
As the deaths of 146 garment workers at Triangle factory in 1911 taught us, and the death of Todd Brassner at Trump Tower earlier this month should remind us, city, state, and federal governments have a responsibility to put the public interest over private profits.
---
Peter Dreier is professor of politics and chair of the Urban & Environmental Policy Department at Occidental College and author of The 100 Greatest Americans of the 20th Century: A Social Justice Hall of Fame. Donald Cohen is the executive director of In the Public Interest, a national resource and policy center on privatization and responsible contracting, and author of the booklet Dismantling Democracy: The Forty-Year Attack on Government, and the Long Game for the Common Good. Portions of this article were adapted from the New Republic.