Much of what has rendered India a disaster zone is the direct result of Modi's policies. Yet even before Modi, India had deemphasized the importance of investing in public health and vaccine production infrastructure.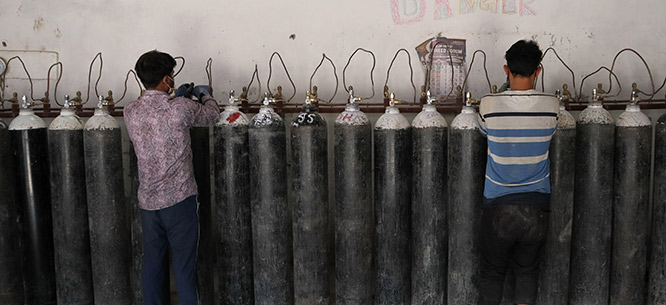 The coronavirus pandemic has become a mass death event in India. Over 20 million cases have been recorded in the country since the start of the pandemic, though there is plenty of evidence suggesting this number is much higher. New infection numbers have now surpassed 300,000 a day for weeks, but the numbers reported don't even begin to account for India's many rural villages, which have received even less attention and support than the cities, or the vast numbers of people who cannot obtain a COVID-19 test in the first place. Hospitals are overflowing, oxygen is almost impossible to find, and people are dying while waiting to be seen by doctors. Apocalyptic photographs of mass funeral pyres and desperate pleas for help circulate on social media, but the actual death toll is unknown. In just one instance, a crematorium in Madhya Pradesh recorded ninety-four bodies cremated in one day, while the government reported just three. Twitter and Facebook have deleted posts critical of the government's response, a move defended by Bharatiya Janata Party (BJP) National Spokesperson Gopal Krishna Agarwa: "If you make a concerted effort and take fake news and false narration and build that and create panic out of the crisis, every government has a right to control the panic."
The spike in cases came at the end of March, yet Prime Minister Narendra Modi all but denied the serious threat of this second wave until late April. In rallies filled with thousands of supporters in West Bengal during March and April, he refused to wear a mask, while his health minister told the public that the nation had reached the pandemic's "endgame." When Modi spoke at the World Economic Forum in January, he boasted that by effectively containing coronavirus, India had "saved humanity."
When COVID-19 first arrived on the Indian subcontinent last spring, Modi's veneer of swift action betrayed his characteristic callousness for the nation's working poor. Using a 123-year-old law first intended to imprison colonial freedom fighters, he implemented a complete lockdown with four hours' notice. Millions of migrant laborers were forced to walk hundreds of miles from cities to their villages and were sprayed with chemical disinfectants along the way like animals. While India's urban elite and middle classes cloistered themselves in gated communities, social distancing remained impossible for most people. Instead of a robust, universal allocation of resources to help a nation in distress, the federal government largely relied on states to implement their own safety nets. Modi appealed for people to donate to his $1 billion PM-Cares Fund, raising international concern about a lack of transparency over where the money was going, especially because a fund with ostensibly the same purpose, the PM National Relief Fund, has existed since 1948. Unsurprisingly, since March, the BJP's characteristic scapegoating of ethnic minorities and crackdown on media freedoms has only accelerated.
Any number of catalysts have been identified for exacerbating the current situation: a new "double-mutant" variant (which actually has at least thirteen mutations), mixed government messaging on the virus's threat, large gatherings resuming several months ago, insufficient federal support to sustain another lockdown. The debate on just which factors left India so vulnerable has no resolution in sight. Much of what has rendered India a disaster zone is the direct result of Modi's policies. Yet even before Modi, India had deemphasized the importance of investing in public health and, more recently, focused on the short-term "benefits" of privatization.
The current mass death recalls the subcontinent's famines of the nineteenth century, which resulted from the British colonial government's grain exportation policies. A similar logic of exportation has applied during the pandemic—only this time, it's the nation's own Hindu nationalist government to blame for vaccine exportation policies that have left its own citizens particularly vulnerable. Though India is the world's largest producer of vaccines, manufacturing two of the COVID-19 vaccines on its own soil (the Oxford-AstraZeneca vaccine, produced by the Serum Institute of India, and Covaxin, made by India's Bharat Biotech firm), just 1.6 percent of the entire population has been fully immunized, and less than 12 percent has received a single dose. Serum and Bharat Biotech are on the path to making massive profits from their vaccine production, but the government simply didn't purchase enough doses for its own people: as of mid-March, it had exported more vaccines than it had administered to its own citizens, as a ploy to boost India's public image as a mighty, generous contender on the world stage. The hollowness of this political strategy has now become obvious; India has now been forced to revert to its aid-recipient status of the 1970s, a desperate beneficiary of Western vaccine charity.
Many in the international community have called for a suspension of vaccine IP rights—the Biden administration backed this move on Wednesday—but without adequate domestic facilities to produce vaccines, the waiving of rights will largely serve as a symbolic gesture. India has a panel of seven public-sector undertakings (PSUs, or government-owned enterprises) capable of producing vaccines, but the health ministry cancelled licenses for three of them in 2008 for not following proper manufacturing processes. As a result, there were reports of vaccine shortages as early as 2009.
Until 2008, PSUs had provided about 80 percent of the vaccines for a national immunization program. A 2009 report by Down To Earth magazine called for their revival to alleviate what could amount to a national catastrophe. In 2012, the government announced its intention to revive PSUs, but the manufacturers were still not made fully functional. Five years later, the National Health Policy of 2017 emphasized an increase in construction of public-sector manufacturing units to generate healthy market competition and an uninterrupted supply of vaccines. But in reality, the government has only incentivized the private sector. The shift away from public investment was heralded by institutions like the World Bank, which has committed billions in emergency loans to India since the coronavirus pandemic began. The bank, which pushed privatization and "efficiency" when India was at its crucial juncture in the early 1990s on the path to becoming a middle-income country and an international creditor, also bears responsibility for the systematic dismantling of government spending that left India vulnerable to the current crisis.
Back at the founding of the Indian nation-state, there was at least a nominal commitment to ambitious public health policies. Jawaharlal Nehru utilized an international fear of epidemic diseases to elevate the need for investment in Asia at the birth of the World Health Organization, drawing, as Sunil Amrith has written, "on deeply-rooted western fears of India as a source of contagion, as an epidemiological heart of darkness." The state itself, however, has spent a smaller proportion of resources on public health than almost any other government in the world. The political culture of public health in India has been largely technocratic and averse to public participation in discussions surrounding health policy. This has kept universal healthcare out of mainstream electoral promises and has gradually allowed the government to relegate healthcare to an individual or family burden.
This foundational neglect for public health as a national priority helps account for just how far India's public healthcare system has fallen. When economic liberalization and market reforms in the 1990s brought an expansion of the private healthcare industry, wealthy Indians relied on private hospitals while the poor were relegated to state-run facilities. The private sector now manages 78 percent of healthcare in urban areas and 71 percent in rural areas.
But while the failure to invest in public health did not began with Modi, he has accelerated the government's neglect. Two decades ago, at least 31 percent of medicine in inpatient treatments was available for free in public hospitals; now that figure is less than 9 percent. On today's black market, exorbitant fees for vials of Remdesivir, touted as a potential COVID treatment, cost desperate families their entire livelihoods; in some cases, these vials, scarce and unregulated, are mixtures of milk and coconut water.
Even at maximum capacity, private health facilities continue to charge extortionate rates to test for and treat the virus. But India's health budget only comprises around .34 percent of the nation's GDP. While thousands are dying due to a lack of ventilators, just this week the government approved a $2.8 billion plan to rebuild a new parliament complex in Delhi, including a prime minister's mansion. Construction has already started and is set for completion by December.
The language of democracy in India has long been accompanied by an alluring promise: your right to vote makes you visible to the state. That was the logic that helped Modi justify his sweeping political tour this spring, as he rallied for the BJP's candidate in West Bengal against the All India Trinamool Congress's populist leader, Mamata Banerjee, who ended up winning. The human cost of these supposedly democratic gatherings is revealed as obituaries accumulate: a devoted indigenous rights activist, a prolific Bollywood composer, a beloved Bangalore bookseller.
These are just the deaths that have been memorialized. Then there are those who have died more or less invisible in the eyes of the state, not counted as part of the obscene death toll due to draconian rules on documenting COVID-related deaths, piled ten to a funeral pyre, the collateral damage of a completely avoidable crisis. This is the price of neoliberalism, whose logic has lent itself handily to Modi's fascism—and has robbed generations of their elders.
---
Nicole-Ann Lobo is a freelance writer in London.