At Bedford Hills Correctional Facility, incarcerated women fear for the elderly and babies among them.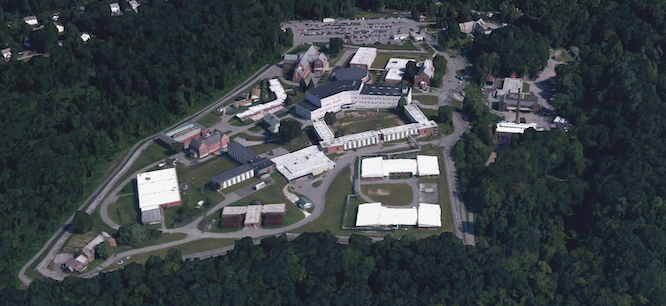 At Bedford Hills Correctional Facility for women, the third floor of Building 5, which used to house people on death row, now serves as overflow hospital space. The celebrated nursery where women can live with their babies until they are eighteen months old, the longest-running such program in the country, is on the second floor, separated from those who are most sick by a shared staircase, two sets of doors, and little else. Rumors swirl throughout the facility that the babies are sick.
Bedford Hills is the only maximum-security prison—and the only one with a live-in nursery program with an onsite doctor—for the approximately 2,350 women incarcerated in New York State. For those currently inside the facility, the experience of coronavirus has been one of constant fear and confusion—for themselves, for their neighbors who have gone to the infirmary and not come back, for the elderly and immunocompromised among them, and for their families and loved ones on the outside. For the past month, all visitation has ceased. Through JPay, the state and federally contracted messaging platform that allows people to send emails to and from prisons for the cost of a few cents a message, a dozen women incarcerated at Bedford Hills—as well as their family members and advocates—described to me the current state of their lives.
"Everyone is on edge," Manuela Morgado, who has been incarcerated for five years, wrote. "Prison life is a quarantined life," she added, before describing the current situation, with the constant threat of sickness and death, as beyond harrowing.
"It's madness in terms of them not knowing," Sammie Werkheiser said over the phone. Released from Bedford Hills last February after she won her appeal, Werkheiser and her wife, Julie, who was transferred to Bedford Hills after her wife's release, try their best to speak every day.
They don't have the same information we do on the outside. Imagine not knowing what's happening. At home we're able to get Lysol, Clorox wipes, and scrub down to feel clean and more in control. Inside you're only able to be in control in your little tiny area—you use whatever cleaning materials you can get and use a maxi pad to get in the corners. People are despondent. My wife has done almost five years and I've never heard her so on edge. They don't believe that the visitation ban is going to be lifted.
"They've stopped giving the women information. They never went around and talked to them. No one treated them with any kind of humanity," said Donna Hylton, an activist in constant contact with women inside and author of A Little Piece of Light, a memoir about her twenty-seven years in Bedford Hills. "All who care about these women are just having to scrape out what little information we can."
Bedford Hills has now been locked down for just over a month, beginning with the cancellation of all programming, including educational, religious, and mental health services, and all visits. Incarcerated people who do work deemed essential within the prison—mess hall, laundry, commissary, and law library workers—are allowed to go to work, but everyone else is confined to their housing units of sixty people, if not their cells. Movement has been restricted since April 5. Meals and medication are brought to the units, and people are only allowed an hour of rec time a day outside. Because they are brought out to the yard one-half of a unit at a time, all the normal avenues for checking in with friends in other units have vanished, exacerbating feelings of isolation and panic.
Sheila Davalloo, who has been incarcerated for almost seventeen years and has an advanced degree in public health and epidemiology, wrote in an email that she is especially worried about one friend—a sixty-year-old woman nicknamed Lulu:
She was laying in bed for days and could hardly move. She has an underlying heart condition and her eyes were glassy. The corrections officer never noticed that Lulu hadn't left her bed in days so it was incumbent upon us to alert them of this abnormality. Other women would cook for her . . . and make teas with garlic, jalapeno, hot sauce, and lemon, and bring it to her bedside and provide various other assistance. I was alarmed and told her friends that it has to be reported because she is at high risk or we would have a death on our hands. Finally the right officer was notified and a medical emergency alert ensued. Lulu was immediately outfitted with an oxygen mask and is now in ICU in Mt. Vernon Hospital on a ventilator. We have heard that she tested positive for COVID-19. No effort has been made to isolate those who are more susceptible.
Nor was any effort made to isolate those who helped Lulu. On April 13, Davalloo wrote in an email that she would "have to be on [her] death bed before [she] reports to the infirmary." On April 15, she wrote that she was not doing well and was going to the infirmary. She is fifty years old.
Lulu and Davalloo are two of the dozens of women over fifty at Bedford Hills. Jacquline Smalls, who has been incarcerated for six years, is another, and describes herself as high risk—she is a "fifty-seven year-old black woman with a few health problems, suffering from COPD, high blood pressure, type two diabetes, and bronchial asthma." She was admitted to the infirmary from March 16 to March 26 with bronchial asthma and a nasal infection. While she was there, a very ill woman transferred from another facility was placed in her room, and medical staff refused to let Smalls know whether she had the virus. When Smalls returned to her unit, she said she learned that one of the women she lived with had tested positive. She had to wait until April 5 for protection when, the unit was provided with masks—and only because of the confirmed positive test. "Nobody knows who is infected because we're not being told," she wrote, "nor have any high-ranking medical staff visited our units providing information about our status pertaining to what a positive test means. This whole situation is very stressful on everybody."
People incarcerated at Bedford Hills have had difficulty accessing various kinds of protective supplies. Until April 11, most women were prohibited from wearing masks of any sort because they went against the rule that faces cannot be covered. Hand sanitizer is deemed contraband because of its alcohol content, as was widely reported when Governor Andrew M. Cuomo rolled out state-branded sanitizer that had been made by prison laborers in other state facilities. At the beginning of April, some sanitizer dispensers appeared in Bedford Hills, but as of last weekend they were still empty.
On April 11, the New York State Department of Corrections and Community Supervision (DOCCS) released a report on COVID-19 in the state's prisons. Buried in the document are new guidelines that claim that the state will be "providing and permitting correction officers, parole officers, and civilian staff to wear face masks while on duty," "supplying incarcerated individuals subject to isolation and quarantine with surgical-type masks," and "allowing the incarcerated population to use state-issued handkerchiefs as masks."
For many incarcerated people, this change felt inadequate. Just over a week earlier, as an April 2 letter from Stefen Short at the Legal Aid Society asserts, a woman working in the mess hall at Bedford Hills was disciplined for wearing a makeshift mask while serving trays of food. Julie Werkheiser told me that shortly after the report came out on Saturday, women incarcerated at Bedford were provided with one disposable mask each. According to the box they were distributed in, the masks are designed to be used for eight hours, and the women were given no information about additional masks. "We get yelled at for not wearing it and can't come out of our cell without it," she wrote. "The only other option they have given us is to wear the handkerchiefs issued by the state shop around our faces. However, they don't fit around our heads and the bigger issue is that we can't even get those because . . . the state shop is CLOSED!"
Christine Tomko, who has been incarcerated for two years, echoed Werkheiser, writing that "not all of the staff have been wearing masks as the supplies are low. We were given the notification that we can use the state issued handkerchiefs to make handmade masks but not all of the population has them. Plus the state shop, where we would be issued them, has been shut down for the past month due to the virus." 
In Taconic Correctional Facility, the medium security women's prison across the street from Bedford, which has more open-style dormitory living, Parris Jones, who has been incarcerated for nine years reported that, as of April 12, they had not been given any masks. 
The April 11 DOCCS report stated that in New York's prisons 139 people had confirmed cases of coronavirus and that three had died. Eight days later, the number had ballooned to 210 infected and five fatalities in the state. But those inside, and their advocates on the outside, contend that the numbers woefully underestimate the actual number of infections.
"That number should raise alarms as to something being amiss," Davalloo wrote, citing her degree in epidemiology. "I believe that 139 people may be positive in this facility alone. The NY State Department of Corrections has the best conditions for the virus not only to survive, but to thrive . . . and I haven't even touched on the racial inequalities . . . The majority of NY State Department of Corrections inmates are black, and of the handful of women who tested positive, the majority are black or Latina."
Illnesses spread quickly in prison. In late January, Davalloo reported that fifty out of the sixty women came down with severe flu-like symptoms. In early March, many got sick again. Davalloo's two direct neighbors were diagnosed with acute respiratory infections and returned to the unit, while two more tested positive:
I personally know many younger women who are symptomatic but are self-treating with homemade remedies because they are experiencing milder symptoms. No one, including myself, wants to report to our medical unit because the care is inadequate. I can get better care, especially nutritionally, on my own. Therefore, the incidence rate is underreported. It is also impossible to stop the spread.
As is the case throughout the state, people likely exposed are not tested in part due to a lack of resources—and, many contend, in part due to an unwillingness to admit the extent of the crisis. As a member of the Inmate Liaison Committee at Bedford Hills told the New Yorker, "There's an unspoken understanding amongst us inmates, too, that, if we were to fall terribly ill, precious few resources may not be 'wasted' to save one of our lives." The odds of falling ill while incarcerated are statistically high; the Legal Aid Society reports that Rikers Island has an 8.5 percent infection rate, as compared to 1.14 percent among the population statewide. As The City reports, "Across the entire system of 43,000 prisoners, fewer than 20 a day were tested last week, which is roughly one-third of the testing rate for New Yorkers at large." This also puts civilian staff at risk—even corrections officers have lacked access to masks and tests. The numbers of infected staff—581 on April 11, rising to 783 on April 19—indicate that vast swaths have been exposed.
"Tensions are rising with the officers," Sammie Werkheiser said. "There's usually an us-versus-them dynamic where the officers look at the inmates like they're diseased or dirty. And now the inmates know that it's the officers who are bringing in new germs, but the officers are still treating the inmates like they're the plague."
When an officer misses work, the women inside begin to ask each other if he or she has the virus. They shout to their neighbors directly above and below them through the vents—what they call the cell phone. But many women now regard the vents, with their circulating airflow, as another source of disease. Still, they seek information. Many women describe trying to find out about a friend, or a particular officer—or the babies in the nursery, a focus of concern for many. The Correction Officers' Benevolent Association did not return requests for comment.
The Women for Justice COVID-19 Task Force is calling for the release of those at high risk and those who applied for clemency, as well as free telecommunications and transparent medical updates and plans. They called on the state, naming Governor Cuomo and the heads of DOCCS and the Department of Justice, to "immediately release anyone at high risk for infection, including those who are older, pregnant, those with underlying health conditions, and mothers with babies in the prison nurseries." There are currently ten pregnant women and thirteen mothers and babies at Bedford Hills. When asked about the nursery, DOCCS spokesperson Thomas Mailey told me that soap, water, and NYS Clean hand sanitizer is being distributed. He said that nursery residents are separated from the rest of the population, that staff interactions have been limited, and that the facility is using telemedicine for check-ups. He did not comment on whether anyone in the nursery has fallen ill. Although four women claim otherwise, he also asserted that the state-issued handkerchiefs are being made available to all, and that the state shop is open.
Hylton remembers organizing during the HIV/AIDS pandemic in Bedford Hills. "This pandemic is difficult because by its very nature it doesn't allow us to fight collectively." She recalled her experience of earlier activism: "We had sit-outs where we refused to go into our cells because we wanted to know why women were in their cells half-dead. We'd go around and give people information. They're not able to do that now. You can't even see your neighbor, can't even do nonviolent protest because we can't be next to each other."
This leaves many in Bedford Hills hoping for smaller allowances: Fresh masks and cleaning supplies. Filled hand sanitizer dispensers. Information and updates from those in charge. The ability to find out how their friends are faring. More frequent communication with their loved ones. The full hour of their rec time mandated by law (many, including Julie Werkheiser, complained of it being shortened to forty minutes).
"If anyone really cared about the mental health of the prisoners, I think they should get two hours a day," Sammie Werkheiser said. "When you're in the yard, because there's so much open sky—when you look up you can picture freedom, you can feel it. It's just joyful there. If you don't get your time, you can feel like you were robbed."
Werkheiser reported that all but two housing units are on quarantine. If, while the unit is quarantining, another person gets sick, then the clock starts again and another fourteen days are added to that unit's lockdown. Women in units under quarantine get two hours out of their cells a day (one of which is intended for the rec yard) and are otherwise effectively on solitary. People are frantic during their time out, rushing for the shower, the email kiosk, the news on TV, the laundry, the ice machine, and the phones. The common areas, such as the shower, languish, uncleaned; as Werkheiser said,"The community doesn't work without the work of the inmates. If the inmates are behind closed doors all the work that keeps the prison going—all the cleaning of the hospital, of the common spaces—none of that is happening."
Fear and uncertainty are growing. As a member of the Inmate Liaison Committee shared with Donna Hylton on April 15: 
Tensions are very high. . . . Everything is a secret now. We are now being given a direct order that we cannot leave our cells without the mask on or we are getting a ticket, even though last week we were being given a direct order that we were getting a ticket if we had a makeshift mask on. So apparently they realize how bad it is now. . . . I know that several women over 50 on the honor floor have gone to the infirmary in the past few days—and not come back.
As crisis builds inside, advocates outside are ramping up calls for clemency and action. The Parole Preparation Project is organizing a rally on April 21 in front of Bedford Hills Correctional Facility—as well as Otisville Correctional Facility and the Governor's Mansion in Albany—demanding mass clemency. On April 18, the Release Aging People in Prison campaign, together with Parole Preparation Project, #HALTsolitary Campaign, VOCAL-NY, Worth Rises, and Jim Owels Liberal Democratic Club released the following statement directed at Governor Cuomo:
There are roughly 9,500 older people incarcerated in New York State prisons and the large majority are Black and Latinx. If the Governor is sincere about not playing politics in this critical moment, then he'll listen to the wide-range of experts pleading with him to grant broad clemency now.
---
Lyra Walsh Fuchs is an editorial assistant at Dissent.
Correction: An earlier version of this article stated that Donna Hylton founded the Women for Justice COVID-19 Task Force. She is involved in the task force but did not found it.