The Biden administration announced that it will accelerate plans to relocate Afghans who worked with the U.S. military. Their situation demands the most urgent response possible.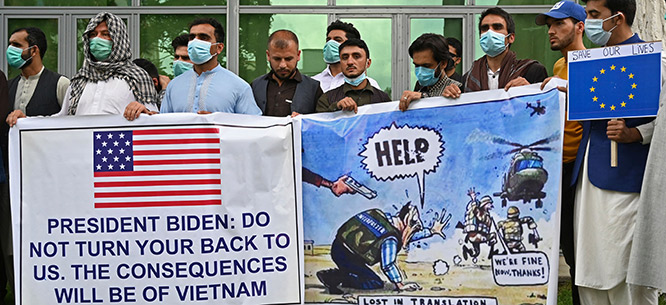 Two months after Joe Biden announced that the United States will withdraw all its forces from Afghanistan by September 11, the president has made a second, related decision: to evacuate Afghan interpreters, drivers, and others who assisted the United States in its twenty-year war, while their applications to come to this country are processed. "Those who helped us are not going to be left behind," he told a gathering of White House reporters last week.
What this evacuation pledge will mean in practice and how quickly it will be implemented are open questions. There are roughly 18,000 Afghans who worked for the United States with 53,000 additional family members currently seeking U.S. visas, according to government officials.
The Afghanistan visa problem is a longstanding one. Since 2008 there has been a Special Immigrant Visa program (SIV) designed to help both Iraqis and Afghans who aided the American military and need to get to the United States for their own safety. But the number of visas issued never kept up with the number of applicants.
In a study published last month, the Costs of War Project at Brown University's Watson Institute for International and Public Affairs provided a detailed account of what was wrong with SIV in Afghanistan. The study found the program was "plagued by inefficiencies" that undermined its good intentions.
The inefficiencies, the report emphasized, started in Afghanistan itself, where the United States kept no central database of the translators or contractors it hired. This meant it was often difficult for Afghans to prove they had been employed by the United States; with the rapid turnover of American personnel serving in Afghanistan, it was still more difficult for many Afghans to get the letter of recommendation SIV requires.
Once they did get a letter of recommendation, Afghan visa applicants were still not out of the bureaucratic thicket: they had to prove they personally faced a threat—a difficult matter if the threat was verbal and not one of the "Night Letters" the Taliban often dropped off at a family's home. Applicants also had to pass a notoriously unreliable polygraph exam. As a result of these hurdles, the total wait time for Afghans seeking an American visa was anywhere from three to six years, with as much as two years of that time taken up by processing delays.
In its assessment of the SIV program, the Brown study also pointed to remedies for its problems—from establishing a database of Afghans working for the United States to hiring more personnel to process visa applications. The remedies were in keeping with ones proposed but not implemented in June 2020 by the State Department's Office of Inspector General.
The problems are similar to ones faced by Vietnamese and Iraqi citizens in the aftermath of other U.S. wars. In both countries, however, the United States was able to save lives that would otherwise have been lost through mass evacuations. As Thurston Clarke has detailed in his 2019 book, Honorable Exit, more than 130,000 South Vietnamese with ties to the United States were evacuated to transit camps in the Philippines, Wake Island, and Guam before they were flown to relocation camps in mainland America. A similar mass evacuation occurred in 1996 at the end of the Iraqi-Kurdish civil war. In what became known as Operation Pacific Haven, more than 6,000 Iraqis, most of them Kurds who had aided America in Northern Iraq, were airlifted to Guam, where they were screened and processed for asylum before being admitted to the United States.
A year ago, the idea of such a massive evacuation would have gone nowhere. The Trump administration was not just opposed to increases in immigration but specifically hostile to the SIV program, which it starved of personnel. By 2020 there had been no senior coordinating officer overseeing the Afghan SIV program for three years. Shortly after taking office, however, Biden issued an executive order for improving both the SIV program and the resettlement of refugees. He had the support of a number of legislators for this move. In the Senate, Republican Joni Ernst of Iowa, a retired lieutenant colonel in the Army National Guard, and Democrat Jeanne Shaheen of New Hampshire have called for expansion of the SIV program by 20,000 visas, and in the House of Representatives there has been support for the program and its goals from the bipartisan Honoring Our Promises Working Group composed of ten Democrats and six Republicans.
On June 17 the working group introduced a bill to increase the number of visas for Afghans. The ALLIES Act stipulated that any Afghan who helped the United States during the war should be eligible for a visa. The group also committed itself to supporting a large-scale evacuation program. Earlier, in a June 4 letter to the president, the working group left no doubt about its views: "After examining this situation through multiple hearings, briefings, and our own offices' research and outreach, our bipartisan working group has concluded that we must evacuate our Afghan friends and allies immediately."
It now looks as if a large-scale evacuation is about to become a reality. The key for the evacuation, which is set to begin sometime later this summer, is to make sure there are no unneeded delays. The United States has proved it can efficiently ship out personnel and material it doesn't want left behind. It must show the same urgency for Afghans at risk of retaliation once the military is gone. They have already experienced enough terror to last a lifetime.
---
Nicolaus Mills is professor of American literature at Sarah Lawrence College and with Michael Walzer editor of Getting Out: Historical Perspectives on Leaving Iraq.