The Stansted 15 faced heavy charges for preventing a flight from deporting migrants from the UK. They avoided jail time, but the practices they protested are still in place.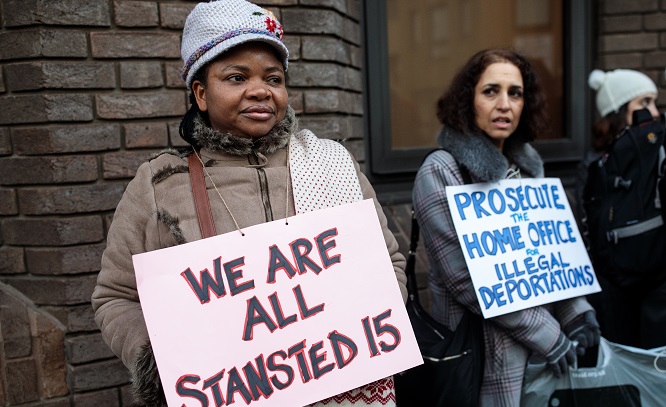 One night in March 2017, fifteen activists climbed through a hole they had cut in the perimeter fence of London Stansted Airport and attached themselves to an airplane to prevent it from taking off. The plane was about to take one of the secretive night flights that the UK government uses to deport people. This practice has been roundly condemned by campaigners and lawyers as violent, distressing, unjust, and barely legal. The group knew that a number of people due to board the plane, which was bound for West Africa, were in serious danger. During their night on the tarmac, they read messages by some of the deportees from Detained Voices, a blog that posts testimonies from people held in detention centers. One gay woman wrote: "My ex-husband said he knows I am being deported next week. He is waiting for me. He is planning to kill me." A twenty-one year old pleaded: "We are crying. Please we need to be rescued. Please can anybody helps us?"
The plane did not take off, and in the days following the fifteen defendants were charged with aggravated trespass, a minor offense, normally dealt with in a Magistrates Court, which carries a maximum penalty of three months' imprisonment or a fine. Other recent airport actions, staged by Black Lives Matter at City Airport and environmentalists at Heathrow, have led to similar charges.
But several months later the defendants were told they would face a much heavier charge, after the Crown Prosecution Service (CPS) made a successful application to the Attorney General. In December, the fifteen were found guilty of the obscure and little-used offense of endangering the safety of an aerodrome. They faced a maximum sentence of life in prison. Amnesty International, who observed the trial, said the charge was excessive, and they were concerned it was "brought to discourage other activists from taking non-violent direct action in defence of human rights."
On Wednesday, the Stansted 15 were sentenced. Three were given suspended sentences and the others community service. This was good news, and a relief to the activists, who would not go to jail. The judge, who in December had told the jury to disregard the defendants' ethical motivations, nevertheless said that their "genuine reasons" for acting had informed his decision not to give them custodial sentences.
But, despite some celebration, it's important not to forget the CPS decision to change the charge last summer. The state's excessive response to a peaceful, if rhetorically and practically powerful, intervention was designed to have a chilling effect on anyone resisting the government's deportation agenda.
Three of the most common destinations for deportation charter flights are Pakistan, Nigeria, and Ghana. The British Empire may have formally ended decades ago, but the racist hierarchies of rights and citizenship it established linger, as the 2018 "Windrush Scandal"—in which British citizens were denied legal rights and some wrongly deported to the Caribbean—clearly showed. Extractive commercial relations between Britain and its former colonies persist, especially in the mining, oil, and gas industries.
It is not coincidental that many of the defendants have backgrounds in climate change activism against fossil fuel companies such as Shell, a British-Dutch company whose practices in the Niger Delta continue to poison the environment and to move resources and wealth out of Nigeria. The Stansted 15 understand their activism in the context of Britain colonial history. As one spokesperson told me: "[In Britain] we refuse to accept any responsibility for any of the harms that we've done and the way in which we've shaped the world."
Britain's brutalizing and aggressive anti-immigrant "hostile environment" policy, of which the charter flights are a part, reaches into the daily lives of both migrants and citizens of color. The policy erects borders everywhere, from housing rental contracts to schools to hospitals.
Planes have been chartered to deport people since 2001, when New Labour introduced the policy. Before she became prime minister, in her role as home secretary, Theresa May embraced the practice. The NGO Corporate Watch estimates that night flights are used to deport 2,000 people a year (in the year ending September 2017, a total of 12,380 people were deported). The flights and security are privately outsourced. There are often several guards per passenger, and the flights take off at night, presumably to reduce their visibility. The practice has been extensively criticized, including by the government's own reviewers, for the undue use of restraint on board and for the psychological trauma inflicted on potential passengers by the short notice and uncertainty surrounding who will be on board. One fragment on Detained Voices reads: "We are locked in our rooms. They just said 'pack pack pack'. They haven't said why."
In June 2017, the Supreme Court ruled this practice illegal. Of the sixty people due to board the plane that the Stansted 15 kept on the ground, two have since been found to be victims of trafficking and two have been granted indefinite leave to remain. One man who was going to be deported instead was able to join his wife at the London hospital as she gave birth to their child.
The Stansted 15's intervention came after years of campaigns and protests against violent deportation. The death of Jimmy Mubenga in 2010 was a particular flashpoint. Mubenga died while being deported to Angola after guards restrained him so brutally he was unable to breathe. In her police statement, a defendant said "I have peacefully marched . . . I have written letters to MPs. I have campaigned and I have attended vigils . . . I felt I had no other option."
One of the defendants, a member of Lesbians and Gays Support the Migrants (LGSM), a group whose name is inspired by a group of activists who raised money for striking miners in the 1980s, told me that what happened to them is a "suppression tactic," part of the same logic that the Home Office has applied to those in detention. (Women on a hunger strike in Yarl's Wood detention center were told that they would be deported faster if they continued, for example.) For LGSM, the way the state currently treats migrants is reminiscent of the violence queer people experienced: "See the way that the government raids places, rounds people up and traps them. It's like, hold on a second, that's familiar . . . In the '80s, that was us."
In December 2018, LGSM put up 200 "See It, Say It, Stop It" ads on the London Underground, repurposing a slogan coined by the London Transport Police to encourage members of the public to surveil their fellow passengers. The ads provided information about what to do on a commercial plane to stop a deportation (many commercial carriers such as British Airways carry deportees). One student in Sweden, who prevented a take-off by refusing to sit down when she learned a man on her flight was being forcibly removed to Afghanistan, is facing trial.
Indeed, even as resistance continues, the criminalization of protest and solidarity is happening all over Europe. In Denmark, in 2016, a couple were convicted of people smuggling after giving a family of Syrian refugees with small children a lift in their car. Last January a pastor was arrested and fined in Switzerland for giving food to a homeless man from Togo whose asylum case had been rejected. In France, a woman in her seventies appeared several times in court for helping two Guinean asylum seekers get to a police station so that they could register and receive help as minors. In the Mediterranean, rescue NGOs such as the Spanish organization Proactiva Open Arms are being criminalized.
At the trial in December, the Stansted 15 argued they had acted to save lives. The judge, Christopher Morgan, told the jury this had "no relevance" and to disregard the defense that they had acted to stop human rights abuses.
Wednesday's sentencing, which was lighter than they had feared, was a relief to the activists. None of them spent a night in jail. The results of this trial, though, are only one part of the story. As the Stansted 15 walked out of court, they were the first to note that in the hours before they were sentenced, the first chartered deportation flight since the Windrush Scandal took off—this time for the former British colony of Jamaica.
---
Alexandra Reza is a writer and academic who lives in the UK.