Last year, Puerto Ricans rose up against a government that had grown corrupt, callous, and inept. When the archipelago was devastated by an earthquake in January, they mobilized an extraordinary relief effort.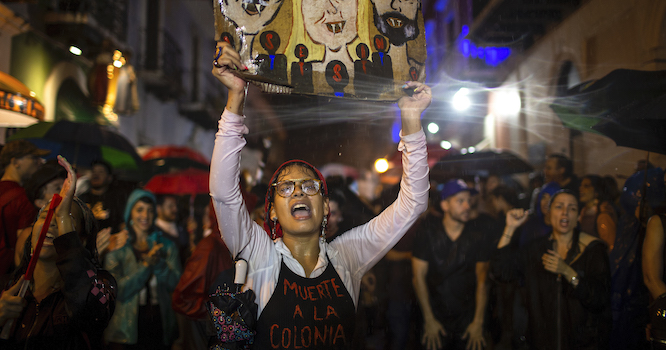 The long caravan of small trucks, pickups, vans, and SUVs, their Puerto Rican independence flags flapping briskly in the wind and their taillights flashing, quickly advanced on Route 52. The caravan, one of many that set out from San Juan just a few days after the January 7 earthquake, was laden with tents, cots, blankets, medical supplies, food, and countless other necessities. Once off the highway the vehicles snaked their way along treacherous roads to deliver their precious cargo to the makeshift tent camps, coliseums, and school auditoriums where the earthquake victims sought refuge.
The earthquake measured 6.4 on the Richter scale, the strongest to hit Puerto Rico since the 1918 San Fermín earthquake. The epicenter of the quake was sixty miles from San Juan, but it shook the building in the capital where I rented a fourth-floor apartment. One person was killed and dozens were injured. The Puerto Rico Housing Department reported in March that 8,300 houses were damaged and about 2,500 were uninhabitable, leaving 20,000 people displaced. Chuck Watson, an analyst at Enki Research in the United States, estimated that Puerto Rico's economy could sustain a loss of up to $3.1 billion.
Ponce, Puerto Rico's second-largest city and once the archipelago's architectural jewel, was particularly hard hit. The pristine white cathedral and the historic buildings that encircle the picturesque Plaza Delicias were heavily damaged. Yellow hazard tape enveloped entire streets, warning that heavily damaged buildings could collapse with the latest tremor. Rubble blocked sidewalks, buildings were boarded shut with decaying plywood, and popular working-class cafetinas were permanently closed. The damage caused by the earthquake added another layer of desolation to a city already suffering from economic depression, the lingering effects of Hurricane María in 2017, and government neglect. One of the only open businesses for blocks around was the Funeraria González on Calle Villa. Only minutes away from the damaged Plaza Delicias, the funeral home's single pastel-colored hearse, hulking and antiquated, seemed to stubbornly defy being towed to a junk heap as it waited for its next expired passenger.
Guayanilla, Yauco, Guánica, Lajas, and Peñuelas, among the poorest towns in Puerto Rico, suffered extensive damage as well. In the weeks following the earthquake, thousands of tremors tormented the residents of these towns, continuing to chip away at the structural integrity of compromised buildings.
Months later the extent of the devastation is still uncertain. Harried inspectors continue to assess thousands of buildings, bridges, and roads. Puerto Rico's professional engineering association has predicted that due to design flaws, 500 school buildings could collapse during a future earthquake. Permanent repairs for the school buildings are estimated at $1.5 billion. The Costa Sur Power Plant, the island's largest, experienced "destruction on a grand scale," according to the director of the Puerto Rico Electric Power Authority. It remains offline until it can be repaired. The archipelago's fragile and unpredictable grid has become even less reliable.
Thousands of people displaced by the earthquake languished in temporary shelters for weeks. According to Secretary of State Elmer Román, as of January 14, 8,023 refugees were living in forty-three shelters registered with the government. But he admitted that "we don't have the numbers of people who are sleeping on the sidewalks," which could be in the thousands. The Puerto Rico National Guard set up five camps that provided shelter and medical aid to 5,590 people. As Frances Robles of the New York Times reported, "Distrust of the government prompted many people to set up their own camps along busy roads rather than use shelters managed by the authorities."
As I approached Ponce during one of my trips to the southwest, the epicenter of the earthquake, I saw dozens of tents, in all colors and sizes, pitched next to the famous Letras de Ponce welcome monument. The occupants of this campamento de base (base camp) were hopeful the tremors would soon stop, and with government assistance they could return to their communities to repair their damaged homes. Finally, on March 24, the government announced the closure of all campamentos de base it administered; all the earthquake survivors had been relocated to "safe homes."
The extraordinary relief efforts in the aftermath of the earthquake were led not by the government but by hundreds of thousands of Puerto Ricans who were determined to aid their neighbors in the stricken towns. Solidarity organizations, self-managed autonomous communities, labor organizations, attorneys and legal aid workers, doctors and nurses, and construction crews sprang into action. Poverty afflicts almost half the population, but somehow those with so little of their own brought supplies to the impromptu centros de acopias (collection sites) set up throughout the island. Puerto Ricans responded with the same resourcefulness and resilience they showed in the aftermath of Hurricane María, a catastrophe that solidified a collective understanding that government could not be trusted to respond to disaster. In January Puerto Ricans once again took on a key function of the government: to provide for the well-being and security of its people.
People from every walk of life organized the national relief campaign. Organizers created a communications platform, Suministros Puerto Rico, which served as "a vehicle to distribute supplies to the areas that were most affected by the earthquake." The Brigada Solidaria del Oste, formed in the aftermath of Hurricane María, coordinated the collection and delivery of supplies to camps and shelters. The Centro de Apoyo Mutuo (CAM, or Mutual Aid Center) in Caguas not only organized a delivery caravan but also recruited acupuncturists to relieve survivors' stress and anxiety. CAM is just one organization in a national network of autonomous self-managed community entities that make up the Comedores Sociales, which was established in 2013 as the economic depression deepened so that "people can attend to their own common necessities from below." Volunteers from EspicyNipples, an LGBTQ organization, arrived in Ponce on January 12 to serve meals. AgitArte, a community-based educational and arts program, provided entertainment for children and held education workshops. The Federation of Teachers conducted open-air classes for children whose schools were closed. A local construction and hardware company donated materials and sent a crew of seventeen volunteers to construct a dormitory for children in hard-hit Peñuelas.
Help came from afar as well. New York City sent sixty-four recovery specialists through city-to-city mutual aid agreements. On March 6, New York Governor Andrew Cuomo announced that the Federal Home Loan Bank of New York would donate $500,000 to organizations leading the post-earthquake relief efforts. The New York State Nurses Association sent volunteers. The American Red Cross had 260 disaster workers in the area. The International Medical Corps offered crisis counseling. The Afya foundation from Yonkers, New York, sent medical supplies. Ohio deployed an Air National Guard unit to Puerto Rico. The Boricuas Unidos en la Diaspora organized fundraisers and served as a clearinghouse for stateside solidarity activities.
Events subsequent to the earthquakes provided disconcerting evidence of the government's ineptness, proclivity for obfuscation, and refusal to assume responsibility for botching yet another response to a major crisis. On January 8, Governor Wanda Vázquez Garced declared a national emergency and mobilized the National Guard. She visited the camps and tried to calm worried victims by promising they would not be relocated to areas far from their communities, while geomorphologist José Molinelli Freytes warned that continued seismic activity would place these people at risk. Moreover, incessant temblors increased the likelihood that victims would be afflicted by psychological trauma. When asked by reporters about the government's plans to handle a major catastrophe, Vázquez responded, "I'm going to trust God and the Virgin Mary that a major catastrophe will not occur." The reality was less reassuring; with the sole exception of the secretary for public safety, the governor's entire disaster management team was the same one responsible for the bungled response to Hurricane María.
On January 10, with a grassroots relief campaign already underway, Senate President Thomas Rivera Schatz announced that the government would also establish collection centers: "We assure you that help will get to every one of the victims." For many Puerto Ricans, who had lost trust in politicians, the announcement was a cynical PR stunt. Bad Bunny, the famed trap and reggaeton artist who played a prominent role in the 2019 summer uprising, called on his fellow Puerto Ricans to rebuff Rivera Schatz's call for donations. "People. IMPORTANTE: remember not to donate money or food to government agencies, let's not forget that they left us to die of hunger and thirst after María." The boycott was remarkably successful. Photos and videos revealed an empty collection center in front of the Capitolio.
Then, on January 18, El Leon Fizcalizador de Ponce (Lorenzo "Enzo" Delgado), who has emerged as a muckraking internet warrior, discovered a warehouse in Ponce loaded with supplies once destined for victims of Hurricane María. The discovery of the warehouse was more proof of gross government incompetence and criminal negligence. The popstar Ricky Martin joined calls for the governor's resignation. Claiming ignorance, Vázquez commented to the press that "There are thousands of people who have made sacrifices to help those in the south, and it is unforgivable that resources were kept in the warehouse." She fired three officials whom she blamed for the fiasco, but Puerto Ricans weren't buying it. Sure enough, within days Fernando Gil Enseñat, the dismissed housing secretary, revealed that the governor had known about the warehouse, exposing Vázquez as a liar.
Puerto Rican artists, entertainers, and athletes have been conspicuous in calling for protests against the government, which the pro-statehood New Progressive Party (PNP) firmly controls. Indeed, January 2020 was uncannily similar to last July, when El Residente, Bad Bunny, Ilde, Daddy Yankee, Ricky Martin, and other artists roused scores of thousands of their fans to rise in opposition to Governor Ricardo Rosselló. Seven months later, as the government failed to take any decisive action toward a relief effort, anger was building against Rosselló's hapless successor.
On January 23 thousands of protesters marched on Calle Fortaleza, renamed Calle de Resistencia during the summer 2019 uprising, toward the governor's mansion. La Colectiva Feminista en Construcción, a feminist activist organization dedicated to eradicating gender-based violence, installed a mock guillotine near the barricades that blocked one of two access points to the Fortaleza. While the inspired and raucous protest failed to oust Vázquez and Rivera Schatz, it signaled to the government how quickly a major protest could be mounted. The protesters knew that the Fuerza de Choque (a police force akin to SWAT teams) would attack them with pepper spray, rubber bullets, and tear gas. But they marched and sang Somos más, y no temenos miedo ("We are more, and we are not afraid").
In the wake of the protest, government officials and politicians continued to tell the media they were doing a great job in increasingly unreal terms. On January 24, Vázquez visited a stadium in Yauco housing displaced people and announced that she was quite satisfied with their living conditions: "It is in this manner that we are uplifting Puerto Rico." An unexpected downpour two days later transformed the field on which a tent camp stood into a vast mud puddle. A lawyer reported that "the shelter was covered in mud, biting ants climbed into the children's cots, and the bed-ridden lived in deplorable conditions." Yauco's mayor pleaded for the governor to find safe living quarters for 200 people desperate to escape from the inundated camp.
Days later, Ponce Mayor "Mayita" Meléndez denied the appalling conditions at a camp set up in the outskirts of the city. In an unforgettable radio interview, she told the stunned interviewer, "The people love living in tents, they love it . . . because activities are organized, they have entertainment, and they love the army food." Shortly after Meléndez made her outlandish comments, a deluge flooded the Paquito Montaner Stadium, forcing an evacuation. The backlash was quick and damning. Enid Santos, who runs a free clinic in Guayanilla out of a tent in front of her damaged home, fumed with indignation. In an emotionally wrenching video, she condemned the mayor's comments as ugly and heartless. "I challenge you to come sleep in my camp . . . to see if you would like to sleep in a tent suffering from cold, heat and getting wet. I urge you, Mrs. Mayita, to resign, to get out. You have disrespected us with those comments."
On January 13, I spoke with ninety-four-year-old Don Pedro Jiménez, a lifelong independentista with a rich history of political organizing and protesting. We met in San Juan at the meeting hall of the Movimiento Union Soberanista (MUS), a former progressive political party turned civic association. Jiménez seethed with youthful indignation at a rotten political class that treats the government as its personal ATM. He argued that both the sclerotic pro-commonwealth Partido Popular Democrático (PPD) and the right-wing PNP were corrupt political organizations devoid of any moral claim to govern.
Jiménez spoke about the people's resilience and solidarity with a mixture of anger and pride. He asked why working-class Puerto Ricans have to make sacrifices to help each other survive while government officials enrich themselves at the public coffers. He condemned legislators, judges, and mayors for giving themselves generous salaries and pensions as the nation drowned in debt and poverty. But while Jiménez expressed contempt for the Puerto Rican political class, he did not spare the United States from blame.
President Trump has used Vázquez's travails to double down on his ongoing campaign to humiliate Puerto Rico's political leaders. On Twitter he claimed that "much of their leadership is corrupt, & robbing the U.S. Government blind!" and that "Puerto Rico is one of the most corrupt places on earth. Their political system is broken and their politicians are either Incompetent or Corrupt." He falsely tweeted that "Congress approved Billions of Dollars last time, more than anyplace else has ever gotten, and it is sent to Crooked Pols. No good!"
Not all Puerto Ricans are unsympathetic to Trump's attack on their politicians. The comments by novelist Eduardo Lalo resonated with many who are dismayed with their government: "What the president says, of course it's clumsy and tremendously vulgar, and he says it for reasons of his own that are not substantive. But it's also objective."
Trump's fixation on Puerto Rico is inseparable from racially tinged broadsides and allusions to the archipelago as a foreign entity. But his tweets not only denounced racialized colonial subjects who failed to show him the proper veneration; they also pointed to a deepening divide between a skeptical populace and a dysfunctional colonial government. In the process, he established the context for the federal government to reassert its powers over the colony and its people.
More ominously, for almost two and a half years the Trump administration held on to $18 billon Congress had appropriated in 2017 for relief and reconstruction after Hurricane María, all while making cuts to the island's Medicaid budget. In January Speaker Nancy Pelosi demanded that Trump stop the "unlawful withholding of funds." Congressperson Nydia Velazquez proposed that "the real motivation for withholding these dollars is Donald Trump's disdain for the people of Puerto Rico and heartless disregard for their suffering." Finally, on January 15, Trump relented, but the Department of Housing and Urban Development (HUD) imposed stringent conditions. It decreed that the Puerto Rican government needed to obtain approval from the despised Financial Oversight and Management Board for Puerto Rico, which was established by Congress in 2016, before HUD would release the money. The Trump administration imposed another layer of bureaucratic oversight when it created the office of Special Representative for Puerto Rico's Disaster Recovery, led by Rear Admiral Peter Brown, who previously served as the Homeland Security and Counterterrorism Advisor. He supported the heavy-handed oversight, since "Fiscal controls to prevent corruption are an element of the interest and compassion of this administration to make sure that the money turns into action for the people of Puerto Rico."
Trump has effectively ended decades of bipartisan U.S. colonial policy in Puerto Rico. The island is now a political football used by Republicans and Democrats to gain domestic political advantage. The Republicans treat Puerto Ricans as colonial subjects with questionable claims to U.S. citizenship, dependent on the United States. Democrats are quick to call Puerto Ricans first-class Americans who have sacrificed for the nation, but they choose to overlook the systemic corruption in Puerto Rico that has driven so many thousands to the streets.
The effect of all this on insular politics has been notable. Governor Vázquez and Resident Commissioner Jennifer González have refused to criticize Trump for withholding vitally necessary recovery funding. González, a leader of Latinos for Trump and a member of the House Republican conference committee, has been praised by Trump as "wonderful to deal with and a great representative of the people." She in turn has lauded Trump and expressed gratitude for all the help he provided Puerto Rico. Vázquez has also demonstrated the requisite appreciation for the president and recently opted out of meeting a high-level Democratic delegation that included House Majority Leader Steny Hoyer and Representatives Nydia Velazquez and Alexandria Ocasio-Cortez.
Puerto Ricans are painfully aware the federal government abandoned them in the aftermath of Hurricane María. They know that Trump intentionally punishes them for the deeds of their government officials. Puerto Ricans have also come to the realization that their suffering is not simply a result of government incompetence. They are wary of amoral officials who operate under a cover of calamities to benefit their cronies. Social media abounds with grievances and denunciations of government ineptitude. Months after the January 7 earthquake, thousands of displaced Puerto Ricans still clung to an existence that each day deepened their desperation and psychological anguish. The government has gradually been degraded to the point that it cannot legitimize colonial rule nor command the loyalty of its citizens. Corrosive partisan politics barely mask the fact that neither the PNP nor the PPD will alter government for the better.
For fourteen of the last fifteen years, Puerto Rico has experienced negative economic growth. In this depressed economic environment, state jobs and contracts are highly valued. Both major parties appoint political stalwarts to government posts. People advance within the party apparatus either through nepotism or unwavering partisanship; competence and experience are not requirements. The state is the primary employment agency for well-connected professionals, service contractors, legal firms, and marketing and publicity agencies. It has been converted into a trough for loyalists and major donors. It is no wonder that it is institutionally incapable of responding quickly and effectively to any crisis more challenging than a fallen coconut tree.
Even more damaging for the practice of democracy is people's awareness that Puerto Rico is ruled by an entrenched and hard-hearted political class that holds them in contempt. After a seemingly endless swarm of earthquakes battered the southwest coast, the colonial state was once again absent. The people were, as always, presente, caring for one another when the authorities failed to do so.
---
Pedro Cabán is Professor of Latin American, Caribbean, and U.S. Latina/o Studies at the University at Albany.