The coronavirus pandemic is forcing politicians to act in ways that just weeks ago seemed unthinkable. And activists like the Reclaimers are opening the cracks still wider.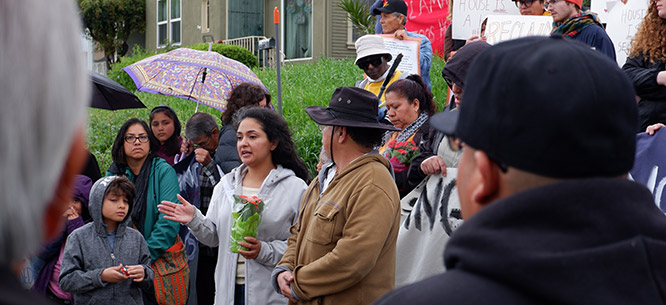 Read more of our coverage of the coronavirus crisis
here
.
This past weekend, accompanied (at a safe distance) by a handful of friends and allies, Martha Escudero and Benito Flores moved into vacant homes in Los Angeles's El Sereno neighborhood. Part of a movement calling itself Reclaiming Our Homes, and accompanied by signs reading "This house IS a home," "Housing is healthcare," and "Housing is a human right," they flocked into the vacant homes, bearing flowers and with children in tow, and prepared for self-isolation as the coronavirus continued to spread. In the days following their move-in, other homeless families have reclaimed twelve additional vacant homes in the area, all owned by the California Department of Transportation (Caltrans). "Being homeless myself and seeing people literally dying on the streets, seeing sick people dying every day in L.A., made me start realizing that, 'Well, we need to do something, and we should probably just start taking over these vacant homes,'" Flores told me through a translator.
Backed by the Los Angeles Center for Community Law and Action (LACCLA), the Alliance of Californians for Community Empowerment (ACCE), Los Angeles Democratic Socialists of America, the LA Tenants Union, and Eastside Café, the Reclaimers were inspired by the Moms4Housing in Oakland, a group of housing-insecure black mothers who last November took up residence in a vacant, foreclosed home in the rapidly gentrifying city and won their battle to stay. The Reclaimers issued a set of demands, including turning "publicly-owned vacant property into public or social housing NOW," opening up speculator-owned housing, a rent freeze and eviction and utility shut-off moratorium during the coronavirus emergency, and a halt to the criminalization of homelessness and the release of incarcerated people who do not pose a safety concern. Their arguments intrinsically link the housing and healthcare crises to the crisis of mass incarceration, understanding that the conditions created by an out-of-control housing market and an arrest-happy police department will only fuel the spread of illness. "The coronavirus pandemic—it is the spark that lit everything up, the drop that spilled the water," Escudero explained by phone.
Three years ago, Escudero told me, she was paying $1,200 a month in rent. She left the country for a little while, and when she returned, the cost of a two-bedroom apartment—for her and her two children, ages eight and ten—had shot up, she said, to nearly $3,000. When she heard about Moms4Housing this winter, she began talking to friends about whether something like that would be possible in L.A. She got in touch with people at Eastside Café, who told her about the homes owned by Caltrans—acquired under threat of eminent domain decades ago as part of a plan to extend the I-710 freeway—many of which sat vacant. Some of the vacant homes were designed by famed architects; one was the childhood home of Julia Child, the original celebrity chef.
A friend also connected Escudero to ACCE, and she met Ruby Gordillo, another of the Reclaimers, as well as Flores, who'd been living in his van since 2005 and been active in local housing organizing with LACCLA. The rapid spread of coronavirus kicked all their work into high gear.
"We know we are in some ways breaking the law, but when the law is immoral, we feel it is our moral obligation to break this law," Escudero said. "Also, we—the community—are paying the taxes for this. We are maintaining these houses while they sit vacant. The government is not working fast enough, so the community has to take matters into their own hands."
The home Escudero moved into had been vacant, she said, for something like fifteen weeks, but some of the other Caltrans-owned properties have been vacant much longer. "The neighbors tell me this is also a safety issue for them because they become drug houses. One, they were cooking meth, and it burnt down," Escudero said. "So we've been seeing a lot of support from the neighbors. They say, 'Thank you that there is a family here now.'" Tenants of the Caltrans homes have filed complaints about their landlord, and lawyers have challenged the decision of the state agency to leave hundreds of homes vacant in what was already, before the coronavirus pandemic, a housing crisis in the L.A. area.
When Flores began to go to weekly organizing meetings with LACCLA, he met more and more tenants who were being evicted or driven out by massive rent increases. "At LACCLA, they have attorneys that are helping people out, but really the legal system just isn't enough," he said. They'd fought for and won a rent control ordinance in L.A. county's unincorporated neighborhoods and were working on an anti-harassment ordinance because, he said, "if they can't evict tenants legally, they will just harass them out." But the bill has been shuffled around the city council, he said, and never brought up for a vote. When activists began to press for a tax on vacant properties, they realized just how many vacant homes existed in the county.
Escudero noted that when she was growing up, L.A.'s infamous Skid Row was just one part of downtown. Now, she said, it's everywhere. "There are tents everywhere, in every city, and for my daughters it has increased their anxiety," she said. Being homeless itself exacerbates mental health problems, she pointed out, as well as physical health issues. "Then the housing crisis becomes a health crisis." She works part-time as a caregiver for the elderly—yet another reason she needs a secure place to protect herself from illness. "I don't have a car. We ride public transportation, and we've been couch surfing for about a year and a half. We needed the space to be able to quarantine."
It is not surprising that California has both a huge homeless population—L.A. County has something like 60,000 homeless, and it's possible that's an undercount, missing couch-surfers and other precariously housed people—and one of the highest reported rates of coronavirus infection in the United States. The situation homeless people find themselves in makes transmission more likely. "How are people who are living on the streets supposed to wash their hands? How are they supposed to go to the bathroom?" Flores asked. "They are telling us to practice social distancing, but we can't do that if we are living in shelters or in cramped tents or anything like that."
"There are families waiting in shelters for three years for housing," Escudero continued. "We can't wait for years. That is ludicrous when there are vacant homes everywhere. It is immoral to have these houses vacant."
Flores has been in the United States for thirty-four years, he said, always working, often for not much more than minimum wage. "Up until 2005, that was fine. I could live modestly. I could pay my rent." But the rent hikes and harassment from his landlord drove him out of his house; he's kept working while living in his van. "I was a welder. I made a lot of wrought iron, making gates and doors," he said. "Obviously, doing that produced a lot of value, but where has all that value gone now that I have to live in the streets? That has all basically just gone to surplus value and not to my wages."
The big issue, he said, is political: politicians who talk a good game on the housing crisis, he said, "have this double discourse." They express sympathy for tenants, but they rely on corporate donations and big landlords to fund their campaigns. "On the one hand they say, 'Oh, the economy is great! We are all doing great! Everybody has got plenty of money! Let's raise rent. There's no problem with that.' Then, they turn right around and say, 'Oh, the economy is terrible! No one has any money! We are sorry, we can't raise minimum wage at all.'" The real crime, he argued, is not homeless people moving into vacant homes but politicians who are, he said, "bought and paid for."
And so, when the coronavirus hit, Flores said, "I realized that if we were going to do something, it had to be now."
A Caltrans spokesperson told reporters that the agency was "aware of the situation" but did not clarify what it intended to do. But the actions of the Reclaimers have plenty of backing. The United Teachers Los Angeles union included demands around public land—in this case owned by the L.A. school district—in bargaining its most recent contract, which resulted in last winter's strike. Alex Caputo-Pearl, the union president, spoke in support of the Reclaimers. ACCE and other community groups supporting the Reclaimers in turn have worked with the union around its education demands.
Before Moms4Housing, perhaps the highest-profile movement to reclaim vacant homes came in the wake of Occupy Wall Street, as activists with Occupy Homes organized to block evictions. In places like New York and Minnesota, they briefly attempted to move homeless families into vacant homes. Political squatting movements have a longer history, in places like Philadelphia and New York, where organizations like the Association of Community Organizations for Reform Now (ACORN)—the predecessor to groups like ACCE—moved into vacant buildings and in some cases, like in East New York in 1987, won the right to the homes and kept them, creating the still-extant Mutual Housing Association of New York.
But in a moment of crisis like this one, with unprecedented unemployment spikes and health risks, the Reclaimers may have more leverage than any of their predecessors. California Governor Gavin Newsom has announced plans to house the homeless in hotel rooms and trailers—raising the question, of course, of why this hadn't been done years ago. The coronavirus pandemic, in other words, is forcing politicians to act in ways that just weeks or even days ago they might have deemed unthinkable, and it is creating political space into which activists like the Reclaimers can step, forcing the cracks open still wider.
"I think we all need to push our officials, our legislators, and politicians at every level—especially during this pandemic—to open up housing that is vacant for everyone, specifically the most vulnerable, to keep them out of shelters and not on the streets," Martha Escudero said. "They closed the libraries and the gyms and the parks where [homeless people] usually keep up with their hygiene, and now they will be unable to do that. Plus, even the hotels and motels, it is not permanent. If they are able to be in a house that could offer a long-term affordable housing solution, that would be better for everybody." It's not just homes for the homeless, she noted, arguing that rent, too, needs to be made affordable for workers who are paid minimum wage.
Right now, Flores said, "we are still a little nervous because we are risking arrest. Every day we are looking out of the windows, and we are hearing reports of cops going by or helicopters overhead or something like that and feeling a little anxious the whole time." But to him, it's important to force the state to see their point, noting that it can cost tens of thousands more per year to put someone in prison than to pay for a two-bedroom apartment. "I think the logical solution for the state," he said, "is to help people find a home rather than just incarcerating people and criminalizing the unhoused." The prisons, of course, are themselves spreading grounds for the virus, and California is already beginning to release some prisoners to thin the population and reduce the chances of transmission.
The Reclaimers are hoping for more community support as they hold the houses—donations of furniture and appliances as well as cash and political pressure on their behalf. But really, they hope for more company. "Hopefully, this sparks a movement just like Moms4Housing did throughout the nation," Escudero said, "where if government is taking too long to find the solutions, we can maybe offer those solutions for the people."
---
Sarah Jaffe is a reporting fellow at the Type Media Center, the author of Necessary Trouble: American in Revolt, and the co-host of Dissent's Belabored podcast.