Can a prison novel set in the age of mass incarceration have a successful escape? Rachel Kushner's answer is at once hopeless and transformative.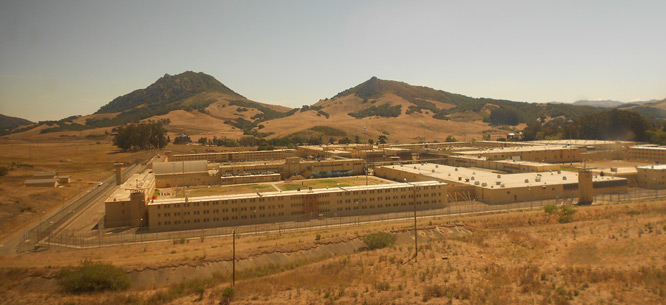 The Mars Room
by Rachel Kushner
Scribner, 2018, 352 pp.

As part of my research job at the Vera Institute of Justice, I regularly visit jails and prisons. One summer, preparing for a trip to a women's prison in the Midwest, I was looking at Google Maps while on a conference call with the warden when I saw something unusual. Someone had written HELP in enormous letters in the sand of the prison yard. Sitting in my office, I stared at this distress signal and wondered for whom the message was intended.
Millions of people are incarcerated in America, but we know relatively little about their daily lives. Correspondence to and from prisons—those contained cities—is censored, and rights to communicate and visit are very limited on all sides. For the most part, the state sets the narrative, and loved ones, journalists, litigators, and researchers get leftover bits of information. This leaves an opening for literature, one skillfully filled by Rachel Kushner's new novel, The Mars Room, which is set mostly in a fictional women's prison in California's Central Valley. Reading it feels like peering through the razor wire.
Kushner's previous novels take place against a vivid backdrop of global capitalism in crisis. Telex from Cuba is set in the U.S. sugar plantations and nickel mines in Cuba on the eve of the revolution; The Flamethrowers shows the 1970s financial crisis hitting the factory and the city. Both novels deal with political moments that are at a remove from our own. Events in The Mars Room take place between 2001 and 2008, during the era of mass incarceration. We do not know how or when this era will end.
The novel's characters place themselves within this larger context and historicize it. Sammy Fernandez, an inmate raised in California's Youth Authority in the 1970s, speaks with nostalgia of the past, an Edenic time when prisons had swimming pools and gardens:
"It was before mass incarceration," she said, as if mass incarceration were some kind of natural disaster. Or a cataclysm, like 9/11, with a before and after. Before mass incarceration. . . . It was paradise before the fall.
As prisons change, so must prison novels. In 1977 John Cheever published Falconer, which tells the story of two elaborate but successful escapes from a facility modeled after Sing Sing in New York. Cheever's characters live in a world in which prison sentences are short, and while echoes of Attica ring in one chapter, the view of punishment remains ultimately redemptive. There is no grand injustice in the lives of the characters, like in Kushner's novel.

When Cheever started writing Falconer in 1974, incarceration rates were about one third of what they are now, and mainstream criminologists were expecting them to stay that way. Activists at the time had different hopes for the future. "Imprisonment is morally reprehensible and indefensible and must be abolished," is how the 1976 Instead of Prisons: A Handbook for Abolitionists, published by an offshoot of the American Friends Service Committee, put it. Even before mass incarceration, people imagined a world without prisons. Instead, as we know, rather than shrinking, the number of people locked up grew exponentially.

Incarceration has become broad and elastic. More people are involved, and it's harder to leave and stay out once you have been caught up in the system. It's not surprising, then, that compared to the conventional, redemptive view of prison in Falconer, The Mars Room would reject more fully a system that has become so plainly inhumane. But Kushner does so without didactic sentimentality. Instead critique finds expression in her reconstruction of the lives lived inside America's fences.


The Mars Room begins with sixty women on a bus riding through the night down the mountains out of Los Angeles. They are on their way to one of the prisons that dot the Central Valley of California, the glowing perimeters of which eclipse the stars.

The novel is a tour of the whole state, from its big cities to prison towns, from courtrooms to redwood forests. This is the California that Ruth Wilson Gilmore dubbed the "Golden Gulag" in her seminal work of the same name (Kushner cited the book in an interview with the New York Times in 2014). It's an extended landscape of economic and social crisis, held in partial balance by the construction of a vast infrastructure of forced idleness and human sacrifice.

Kushner's protagonist is Romy Hall, a single mother who grew up in San Francisco's Sunset District. She gives lap dances at the Mars Room, a seedy strip club down on Market Street. Kushner, who also spent her teenage years in the Sunset, writes with nostalgia for the neighborhood and the people who have left behind the "treeless streets built on sand and bad ocean." The city changes: Russian dancers arrive and drive down wages and working conditions. Landlords raise the rent and push tenants out. At the conclusion of a snappy chapter about San Francisco youth, Romy raises the question, "Where is everyone and what has happened to them?" Like Romy, some were sent to prison.

A chapter set in a courtroom captures the coercive absurdity of the justice system. A neighbor tries to testify as witness for the defense at Romy's trial but can't because of outstanding warrants in another county. A defendant in the preceding trial is unable to speak clearly to his lawyer because cops injected him with Thorazine to ease transportation from jail. The prosecutors all look like "rich, well-rested Republicans" compared to the overworked public defenders. Romy wants to tell the jury her act of violence was rational and in self-defense—about the danger she was in and the fear she felt—but her lawyer won't let her. Romy gets two life sentences plus six years.

When Romy is sent to prison it's the early 2000s, meaning she would have joined roughly 1,350 other women in California with life or such a long sentence that it is equivalent. Counting all the people in prisons and jails in the state, you would get about 250,000 people behind bars. This is mass incarceration.

The book ends in 2008, just before the state's prison system began to shrink. California's prison and jail population has dropped dramatically in the last seven years. In terms of a rate per residents, it's the lowest since 1988. Nationally, prison admission rates have declined by 24 percent since 2006 and jail admissions rates are down 25 percent since 2008.

But mass incarceration isn't close to ending (yet). In many other states—Alabama, Kentucky, Oklahoma, and West Virginia—the growth continues, and even in California, backlash is brewing. Prosecutors and local officials are mobilizing to repeal reforms that have driven down jail populations.

But bringing mass incarceration to a close is not as simple as a set of policy reforms. There are just so many things that would need to change to bring substantive and widespread freedom. In The Mars Room, Kushner doesn't dwell on what abolition might look like. For her characters the only hope for freedom is escape.

No one has ever escaped Kushner's fictional Stanville Prison, north of Fresno, where Romy starts her life sentence. (The prison is loosely based on the Central California Women's Facility near Chowchilla.) While in jail, Romy meets a young teacher, Gordon Hauser, who has been transferred there after misconduct allegations at a prior prison teaching job. He can't help Romy with her child, but he does give her books and, eventually, a pair of wire cutters.

With help from a few friends, Romy makes a break for it, under the razor wire, through the almond groves. She steals a car and makes it to northern California, a ridge of redwoods uncut by loggers. "You run until you find a safe place and that tree was mine," she says, finally in a place of solitude where she can see the stars.


Can a prison novel set during mass incarceration have a successful escape? Kushner, like Cheever before, writes a protagonist outside of the prison fences at the end of the book. But Cheever's escapes feel real and final. The escapee blends into the crowd and becomes a civilian again. Kushner's been trying different answers to this question for some time. In "Fifty-Seven," a short story published in the New Yorker in 2015, the unnamed protagonist is incarcerated in Pelican Bay Prison—the remote, super-max solitary confinement facility in Northern California where men are held in sensory-deprivation conditions twenty-three hours a day. There's no escape. The story concludes: "Bodies in cages, groaning and restrained and counted, and still, he knows, still they will find a way to fight back." In 2016, Kushner listed "Investigation of the June 5, 2015 Escape of Inmates David Sweat and Richard Matt from Clinton Correctional Facility" as one of her two favorite books of the year; the 150-page report by the New York State Inspector General recounts how two men briefly made it out of a New York prison (Matt was shot and killed, Sweat was shot in the arm before he was caught).

In The Mars Room, Kushner rewrites this story as an event from Gordon's childhood, moving the location to a jail in the East Bay. When Sweat and Matt escaped in New York, there was a chance that they might make it north to Canada. But from the East Bay, escape loses even this glimmer of plausibility and what we are left with is the inevitability of capture.

The ethics of writing prison stories, the way that Kushner's writing tugs at sentimentality, albeit with grace, raises some substantial questions about who has the care and custody of the mass incarceration story. Telling prison stories isn't easy. But leave them alone and we defend the continued denial of the prison as a part and parcel of the world that we all live in. The novelist can bring something that a memoir writer or empirical scholar can't, and Kushner uses this creative freedom to explore the options for a wider freedom. In The Mars Room, there's something hopeless about escapes, but perhaps there is something transformative in that. If escapes don't work, all we're left with is the long, hard work of abolition.

Where Kushner succeeds it is in her extensive research—she visited prisons, talked with incarcerated people, and went undercover in a training for corrections officers—and in her creation of characters out of her observations. One transgender character, Conan, is classified as male during his arrest, held in a men's prison for weeks until he is shipped back to county jail for reclassification. Conan catches the same bus to a women's prison as Romy, and their friendship provides respite. This is not a love story, but the times Romy and Conan stick up for one another are about the closest we get to it.

Gordon, in contrast, has a kind of asymmetrical relationship with Romy: from her perspective, he can offer a real connection to the outside world, but apart from working in the prison, he's trying to get lost in the wilderness. Gordon commutes from a cabin in the mountains to the prison down in the valley and reads Henry David Thoreau and Ted Kaczynski, both known for their love of nature and for being incarcerated. Thoreau was held for just a night, because of civil disobedience in opposition to the U.S. slavery system and the Mexican American War. Ted Kaczynski has been incarcerated for more than two decades for his violent crimes, mostly at the Administrative Maximum Federal prison in Colorado, characterized by a former warden as a place "not designed for humanity." It was designed for people, like Romy, serving multiple life sentences. Kushner adapts Kaczynski's coded diary (which was deciphered by the filmmaker James Benning but remains unpublished) into discursive interludes on nature, violence, and the wild. By ending the novel among a stand of redwoods, Kushner poses the freedom and power of the wilderness as a counterpoint to our world.


When I got to the Midwest prison I asked around about the "help" sign in the sand. One of the older staff members told me that it had not been noticed at the time, but they had seen it online and found it perplexing. Some wondered if maybe it was meant for a crop duster plane. Others thought the best explanation was that it was a message from one woman to another who was being held in a prison building nearby that had units on the second floor with windows looking out on the sand. The picture is now gone from Google Maps, the sand in the yard windswept and even. What remains is the prison.

We may now be in the slow unwinding of mass incarceration, as prison populations shrink and fewer people are sent to jail. But we will know mass incarceration has ended when instead there is a grove of trees at those coordinates.
---
Jacob Kang-Brown is a senior research associate at the Vera Institute of Justice. He lives in Brooklyn.