In a country where left politics has been marred by decades of sectarian strife and a devastating civil war, can a new coalition of socialists, feminists, and greens point a more democratic way forward—and win?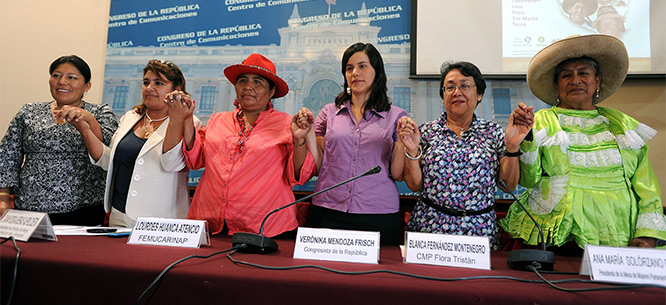 There were signs that Verónika Mendoza's presidential campaign was caught off guard by its own success in the first round of voting in Peru's presidential election this past April. Her party, Frente Amplio (Broad Front), occupies a charmingly decrepit two-story building in central Lima's dusty Plaza Bolognesi. Its walls were hung with a handful of banners and hand-made task sheets, prominently featuring their candidate's round face and warm smile. With just weeks to go before voting, Mendoza was within striking distance of second place in pre-election polling.
Two days after the election left her 318,000 votes (roughly 2 percent) shy of making it into a second-round runoff, local reporters crowded into a back room—which, just two years prior, had been host to a series of punk concerts when the building belonged to the now-defunct Socialist Party of Peru—to wait for Mendoza to speak. She strode into the room to applause and a rousing rendition of her campaign's theme. For the next fifteen minutes, she delivered a strident speech in which she announced that Frente Amplio would not enter into coalitions or endorse a candidate for the June runoff election.
The options, of course, were fairly grim for the young, media-savvy politician committed to resuscitating leftism in Peru. Frente Amplio is a coalition of various left-leaning social movements and organizations, along with politicians, like Mendoza, who were disappointed in outgoing president Ollanta Humala's embrace of the technocratic center. Pedro Pablo Kuczynski, the man who had triumphed over Mendoza for a spot in the runoff, is a seventy-seven-year old former financier who had, just weeks earlier, referred to her as a "pinko . . . who has never done anything in her bitch life." The first-place finisher, Keiko Fujimori, is the heir to a rancid political dynasty started by her father, Alberto Fujimori, who had combined investor-friendly economic policy with a personalized, populist touch that masked government-sponsored drug deals, death squads, and enormous cash payouts to allies and corrupted enemies alike.
Both Kuczynski and Fujimori had pledged to maintain the conservative economic policies put in place by Alberto Fujimori, which had tamed runaway inflation, eased Peru's foreign debt, and flooded the country with cheap imported goods. At Mendoza's campaign headquarters, a local TV reporter stumbled through a question about the two candidates, noting, "Well, as we all know, they're basically the same. . ." Laughter drowned out the rest of her question.
Vero—as she's known to Peruvian fellow-travelers—broke into a smile.
"You said it, not me," she laughed.
The old joke about leftists—leave four of them in a room for long enough and they'll come out belonging to five parties—was very much true for Peru in the 1970s and '80s. Unlike their comrades throughout Latin America, Peruvian leftists weren't facing heavy repression from a right-wing, U.S.-backed authoritarian; rather, Peru had been ruled by a nominally leftist military dictatorship during most of the Operation Condor years. As a result, in Peru there is no romantic myth about a native, martyred revolutionary left. In 1978, while Brazil, Argentina, Chile, and Uruguay were in the grip of right-wing dictatorships, left-wing parties in Peru won roughly a third of the seats in a constituent assembly.
Seeing an opportunity in the presidential election two years later, the largest of these parties—all broadly Marxist in orientation—crossed sectarian lines to form a coalition, Unidad Democrática Popular, but it fell apart shortly before the election due to infighting. Left leaders—including Manuel Dammert, who today is a member of Frente Amplio—then regrouped to form the Izquierda Unida, a coalition which placed second in the 1985 presidential election and won a number of important municipal and regional seats, including mayor of Lima.
By this time, the Communist Party of Peru had fractured in two after the Sino-Soviet split. Patria Roja (Red Homeland) and Bandera Roja (Red Flag) cadres engaged in bitter street battles in Lima, both against each other and against government-backed paramilitaries known as "buffaloes." But it was a third claimant to the Communist Party title, Sendero Luminoso (Shining Path), that would end up having the deepest impact on Peruvian leftism. Abimael Guzmán, the bespectacled philosophy professor and devout Maoist who founded the group in the Andean province of Ayacucho in 1980— the same year that democracy returned to Peru—was dead set against electoral participation. Sendero Luminoso made its entry into Peruvian politics by burning ballot boxes in a tiny rural hamlet during the 1980 election.
As the eighties progressed, Sendero widened its attacks, targeting not only government installations but anyone else who pretended to represent the peasant working class: unions, trade federations, dissenting communists, and leftists of all stripes. By the late eighties, with Peru shut out of foreign debt markets and its economy in a tailspin, Shining Path's millenarian campaign began to take on grim proportions.
During the campaign for president in the 1990 elections, the battle seemed poised between Izquierda Unida and the novelist Mario Vargas Llosa's center-right plea to liberalize the Peruvian economy. Yet IU, once again tangled in internal strife, fell apart only months before the election. Vargas Llosa was joined in the runoff by a virtually unknown engineering professor named Alberto Fujimori, who often appeared in campaign ads astride a tractor.
By positioning himself as an explicitly anti-elite candidate, Fujimori managed to pick up the votes of those left-affiliated voters who decided to participate in the elections. But once in office, Fujimori enacted Vargas Llosa's economic vision and combined it with an aggressive military and media campaign that criminalized ideological opposition by conflating all leftism with Sendero's terrorism. Yet again Peru was out of historical step with its neighbors: while unions and community organizers in Bolivia, Ecuador, Brazil, and Venezuela were laying the groundwork for victories at the ballot box later in the 1990s and early 2000s, Peruvian leftists and liberals alike were caught between Fujimori and Sendero.
Fujimori's henchmen and the Peruvian military—aided by a compliant and corrupted press, judiciary, and nominal political opposition—intimidated, tortured, killed, and disappeared left-wing activists and suspected sympathizers in Lima, the altiplano, and the jungle. The army was aided by collaborators like Juan Luis Cipriani, the Catholic cardinal and current archbishop of Lima, who refused to record human rights denunciations while he served as archbishop of Ayacucho, according to Peru's Truth and Reconciliation Commission.
Senderistas (along with cadres of the Movimiento Revolucionario Tupac Amaru, another left-wing guerrilla group) did much the same to those who strayed from the party line. Maria Elena Moyano, a black feminist and community organizer in Lima's Villa El Salvador neighborhood, was shot and killed in front of her children by Shining Path militants, who then proceeded to dynamite her corpse. Dozens of queer and transgender Peruvians, frequently targeted at nightclubs, were murdered, their bodies mangled and dumped in mass graves. Rural syndicalist organizers and trade federationists were compelled to join Sendero—or face the machete.
By 2000, after twenty years of war, nearly 70,000 Peruvians had been killed.
Peru is included in sweeping regional analyses when convenient and otherwise generally ignored by the international press. This principle was on display after Kuczynski narrowly defeated Fujimori in the runoff this June: many saw in his victory further sign that the Latin American left is on the retreat. But just as Peru was out of step with its neighbors in the 1970s, '80s and '90s, so too was Peru's inclusion in the "pink tide" always ambiguous.
When he first ran for the presidency in 2006, Ollanta Humala appeared to herald Peru's contribution to the left-populist wave sweeping the region. A former army colonel and son of indigenist Marxists, Humala drew his support from the rural south of the country, where concerns about the economic and environmental effects of mining are a key issue for many voters. While he soared into the runoff, he was ultimately defeated by Alan Garcia, the man who had presided over Peru's economic disaster in the mid-1980s. Garcia combined a promise to maintain the fiscal and monetary policies first implemented by Fujimori—which brought a sharp uptick in economic growth, if uneven effects on reducing poverty—along with an explicit disavowal of Chavez-style left-nationalism.
When Humala next ran, it was against Keiko Fujimori in 2011. Fujimori, who began her career in Peruvian politics as a teenager—she was named first lady after her parents' divorce—has spent most of her adult life rebuilding and strengthening her father's coalition and platform. She remained in Peru while her father fled the country for Japan in 2000 after dozens of videos emerged showing his spy chief, Vladimiro Montesinos, distributing stacks of cash to journalists, judges, and opposition politicians. After her studies at Boston University and Columbia Business School (likely paid for, Peruvians grumble, with their tax dollars), Fujimori came home with an American husband. She won a congressional seat in 2006, a convenient perch for the 2011 race. Then as now, the campaign ultimately became a referendum on her father's legacy, which, even sixteen years after he left office, represents more than just recent history. (Alberto Fujimori, who submitted his resignation from the presidency by fax from Japan in late 2000, was detained in Chile in 2005 and extradited to Peru in 2007, where he was tried, convicted, and sentenced to twenty-five years in prison for running a death squad, Grupo Colina, in the 1990s.)
Humala won the election, coming into office astride a left-nationalist coalition that saw in him a chance to expand social programs in Peru on the model of Ecuador, Bolivia, and Venezuela. But he made his peace with the conservative technocrats in the central bank before even taking office. In his administration's first few months, the left-nationalists quickly abandoned ship, allowing Humala's finance minister, Luis Castilla, a former World Bank economist who had served under the previous administration, to quietly maintain and even expand the free-market policies begun under Fujimori.
Enter Verónika Mendoza. Mendoza, who was raised in Cusco and studied psychology and anthropology in France, had held a number of roles in Humala's Nationalist party before being elected to congress in 2011. But she abandoned the party after the army killed two protesters during a clash over a gold mine in 2012 and joined Frente Amplio shortly after it was formed in mid-2013.
The Frente, which came out of the left's disappointment with Humala's presidency, is not a hard-left party. Its ranks are filled with socialists, environmentalists, and feminists from a wide range of backgrounds, and party leaders intend to keep it that way. In the lead-up to the April vote, Mendoza and the rest of the Frente Amplio slate preached an inclusive leftism that forcefully advocates for civil rights and the environment, abortion access and renegotiated mining and gas contracts. Wary of the mistakes of left-wing parties who get mired in ideological debate, Frente Amplio had held open elections for spots on its ticket—a first for a Peruvian political party—leading to Mendoza's victory over the better-known Marco Arana, a former priest and environmental activist.
"We saw a lot of people come out then," said the Frente's congressional leader Marisa Glave, who was elected to represent Lima. "Our bet has been to say 'whoever wants to join can join.' Our doors are open."
The Frente Amplio's rise comes as the Fujimoristas, under Keiko and her brother Kenji, have steadily expanded their base of support into the north—formerly the solid territory of Garcia's APRA party—following the Nationalist coalition's collapse in congress after 2011. Seeking to avoid the mistakes of last election, this year Fujimori pledged to distance herself from her father, declaring that she wouldn't use a presidential pardon to get him out of jail. For much of the campaign, it seemed she had hit upon a winning strategy: she maintained 30-percent-or-better support in polls in a crowded field from December onward, turning this year's race into one for second place.
The campaign quickly turned carnivalesque. The man who at first seemed most likely to secure a place in the run-off was Cesar Acuña, a bumbling, folksy millionaire from the northern port city of Trujillo, where he is suspected to maintain ties to drug cartels. (He claims his wealth is derived solely from a for-profit chain of colleges that he owns.) But Acuña's campaign took a dive after the revelation that he had obtained his own university degrees—including a doctorate in education—fraudulently. At the same time, Julio Guzmán, a telegenic technocrat who positioned himself as a centrist "outsider," began to rise in the polls. Then, in March, Peru's electoral commission disqualified both: Acuña had handed out cash to voters in front of TV cameras, while Guzmán's campaign had violated its own rules for internal elections. Both were forbidden from campaigning; any votes for them would be nullified.
The disqualifications of two top candidates did little to budge Fujimori's numbers but threw the rest of the field open, making room for Mendoza, who quickly proved adept in Peru's scandal-obsessed media world. While her rivals were bickering in Lima, she was delivering forceful speeches throughout Peru's often-ignored interior. She seemed equally at home among indigenous southern campesinos, environmental activists in the Amazon, and drag queens at Lima's gay pride parade. She is young—only thirty-five—and an engrossing public speaker, as well as a sharp debater. In February, she appeared on the scabrous right-wing pundit Aldo Mariátegui's popular talk show. "Bonsoir chère Verónique," he mockingly began in mangled French. (Mendoza, whose mother is French, has French citizenship and two French university degrees.) "Allillanchu kachkanki, Aldo," she deadpanned in Quechua, directly into the camera—"a very good afternoon to you, Aldo." The two other strong remaining candidates, two-time former president Alan Garcia and Kuczynski, seemed flat-footed in comparison.
In April, Mendoza won 19 percent of the popular vote, while the party picked up twenty seats in the 130-seat unicameral congress—two more seats than Kuczynski's party, making it the second-largest party in the legislature. Kuczynski's two-point lead in the popular vote, however, pushed him ahead to a place in the runoff.
"PPK's campaign was a disaster from the beginning," Diego Salazar, a columnist and editor at Peru21, a daily newspaper, told me. "But the Virgin appeared for him twice. Guzmán and Acuña ran better campaigns than he did, but they were disqualified. And in Peru, there is a deep fear of the left. That fear got him into the second round."
Over the course of the remainder of the campaign, with Mendoza out, Peruvian leftists were in a bind. Peruvian citizens are obligated to vote, and while some Mendoza supporters vowed to cast blank ballots, it quickly became clear that a vote for no one was a tacit vote for Fujimori, whose get-out-the-vote operation was much more robust than Kuczynski's. His stiff, out-of-touch style was opening the door to a second Fujimori presidency.
A week before the June run-off election, Mendoza released a video declaring her intention to vote for Kuczynski and encouraging her supporters to follow suit. "A blank vote favors Keiko in the final count of votes," she told Frente Amplio constituents against the backdrop of a grey Lima sky. "For that reason, we must vote PPK in order to close Fujimorismo's path to the presidency." Polls tightened, and by election night, Kuczynski had pulled off a narrow victory against Fujimori.
With Mauricio Macri's victory in Argentina, the suspension of Dilma Rousseff in Brazil, and the faltering grip of left-leaning presidencies in Ecuador, Bolivia, and Venezuela, there's little question that the "pink tide" has receded. Did it skip Peru altogether? Kuczynski, who has been celebrated in the financial press as an emblem of the current "post-populist moment," is hardly a centrist, as Patrick Iber recently described him in Dissent. His background in finance, his open embrace of foreign investment, his support for U.S.-backed trade deals, his unvarnished affiliation with a tiny white elite all speak to an ideological position to the right of the Latin American political spectrum.
But even as atrophying, corrupted left parties have helped steer the electorate in other South American countries to the right, Peru—where the Shining Path had long drained leftism of its nostalgic heft—is now home to a party with a real chance to not only exert its influence in opposition, but also to open a space for the left in a region increasingly wary of its standard-bearers. Frente Amplio is a fledgling party that did better than anyone could have reasonably expected it to do, and then turned around and made the kind of clear-eyed political maneuver that guaranteed its survival and laid out a plan for growth.
Brandon van Dyck is a political scientist at Lafayette College who studies left-wing parties in Latin America. His research suggests that successful left parties share two things in common: years of thankless ground-level organizing and fierce ideological opposition. "It's a lot easier to build a party when you're building on polarization and conflict," he told me by phone. "You have strong attachments, and then the party builds on those attachments." Both Kuczynski and Fujimori play a convenient ideological foil to Mendoza and Frente Amplio, and the one in power is unlikely to prevent them from expanding their gains. Kuczynski has little popular appeal and seemingly no intention to build his party now that it has served as an electoral vehicle. Fujimori's authoritarian tendencies, meanwhile, have been on full display since her defeat; it took her nearly a week to concede, and even then she refused to speak with Kuczynski.
Kuczynski, for his part, has been playing nice with the Fujimoris; soon after the election, he apologized for referring to Alberto's government as a "narco state." He has little choice: Keiko's Fuerza Popular controls seventy-three out of 130 seats in congress. Her younger brother Kenji, meanwhile, is an immensely popular congressman who repudiated his sister after she refused to promise to release Alberto from prison.
Still, the current political scenario in Peru holds a potential for democratic left politics that hasn't existed in generations. In July, Kenji presided over the swearing-in of Indira Huilca, a twenty-eight-year-old first-time congressional representative from Lima whose father, Pedro, was a labor leader said to have been killed by a Fujimorista death squad in 1992. "A lot of people have come out and joined us for this moment," Glave, Frente Amplio's congressional leader, told me. "Either we take advantage of that or we lose."
---
Lucas Iberico Lozada is a writer and translator currently based in Rio de Janeiro.