Ilana Garon: Organizing School Reform
Organizing for Educational Justice:
The Campaign for Public School Reform in the South Bronx
by Michael Fabricant
University of Minnesota Press, 2010, 304 pp.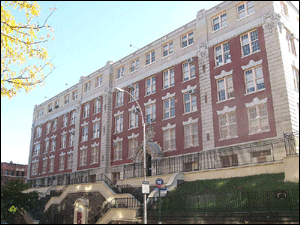 EARLY ON in Michael Fabricant's Organizing for Educational Justice: The Campaign for Public School Reform in the South Bronx, one of the residents of South Bronx Community School District 9 explains her decision to become involved in a school reform movement within her neighborhood: "[S]o many kids in our community are denied what they rightfully deserve. Why should they get the worst of everything? Why should they get the teachers who are least skilled? Why? They deserve better than that. I want them to be educated. Hispanic and black kids have been ignored." The resident in question, Ocynthia Williams, holds down a thirty-five-hour workweek and pursues a bachelor's degree in the evenings; furthermore, none of her four children are enrolled in District 9 schools. Yet Williams' commitment is unshakeable: "We need to try everything that can possibly make a difference," she states.
It is this combination of desperation and persistence that led to the formation of Community Collaborative to Improve District 9 Schools, or CC9, a coalition of parents and community-based organizations (CBOs) that began with a small group of concerned citizens in 1995, and coalesced in 2001 into a powerful force for education reform. The group has been noteworthy not only for having been built by an involved parent base, but for obtaining large grants to hire organizers and later to improve school instruction, for defeating a gerrymandering scheme designed to split up the schools in the district, and for pushing forward an educational agenda for its troubled constituent schools that finally brought tangible results.
Since the late 1980s, District 9—a two–square mile area sandwiched between the Harlem River and Crotona park, and running from 161st to 180th Streets—has been plagued with all manner of corruption on the part of its school board members, including the misuse of school resources, larceny, alleged drug use, receiving kick-backs from vendors doing business with the district, stealing equipment, extortion from principals and teachers, and a particularly embarrassing incident in which parents were charged for participation in a latchkey program that should have been free. Multiple board members were convicted in connection with these crimes, and on two separate occasions, the entire school board was suspended.
Of the 31,000 students in District 9—of whom 98 percent are either black or Hispanic, and 90 percent qualify for free lunch—only an abysmal 23 percent met city or state reading standards in a 2002 exam (numbers that, while alarming, were not inconsistent with data across a number of districts in the South Bronx). In the mid-1990s, parents and CBOs in the South Bronx formed ad hoc campaigns to push out a ranking superintendent, and within District 9, to remove the principal of a low-performing school. These campaigns were successful in the short-run, but ultimately, participants saw that removing school officials had only limited effect on learning and instruction; though officials were held accountable for poor results, student competency levels did not improve. The parents and CBOs involved in these early campaigns concluded that lasting reform would require systemic change that neither could bring about single-handedly; they had to decide whether to "surrender to neoliberal policies, including disinvestment in public education, privatization, and the allure of testing as an inexpensive solution," or join forces in rejecting the approaches that had consistently failed to meet the needs of their children in favor of more radical action.
The alignment of a growing number of concerned parents with members of six CBOs (which included faith-based initiatives, housing programs, community centers, and public health providers), under the guidance of Eric Zachary, a community organizer and staff member at New York University's Institute for Education and Social Policy, resulted in the formation CC9—a group committed to proactive planning (instead of just reactive responding) and targeting resources in order to bring about education reform within their community schools. Their crusade is the focal point of Fabricant's story.
Among its many accomplishments, CC9 is noteworthy for putting support systems in place to give voice to hard-working, low-income community members—constituents who had previously been ignored by the school board. CC9 provided translators at meetings and distributed pamphlets in Spanish, so that language barriers would not impede members' participation; they offered childcare and even family meals, "allowing single mothers to concentrate for a time on the public work of changing the schools rather than the immediate needs of the family," according to Fabricant. The creation of a "CC9 family" relationship was integral the fabric of the organization: when the spouse of one member died, the CC9 community provided an "outpouring of love" in the form of money, cards, and other support. Another parent recounts how, if she were to miss a meeting, other parents would call to ask why she hadn't attended, giving her a "warm feeling."
But the emotional and familial functions of CC9 in no way eclipsed its practical focus: participants in sessions with school board members or in media appearances were coached beforehand, often by Eric Zachary himself, to help them prepare arguments and give them confidence. "It made me feel more comfortable because if you are well versed in what you are doing, you're going to feel more secure," one CC9 member says. Meetings opened with ice-breakers and closed with solidarity chants, making new members feel included and forming cohesion within the group. The result was empowering for CC9 participants. According to one woman, "I never knew I could speak to people and get them to listen, speak to people and move them, and speak to people and impart knowledge that wasn't trivial." Through these efforts, CC9 increased parental turnout to 500 attendees at crucial hearings and public events and collected thousands of petition signatures that enabled a substantive reform agenda to be pushed forward.
The mainstay of CC9's agenda was the "Lead Teacher" program, launched in 2004 in ten District 9 schools. (In 2002, these same ten schools had been in danger of being gerrymandered into different "clusters" under a new Department of Education reorganization plan, a decision that would have fragmented CC9's work and hampered its ability to move forward. In response, members of CC9 sent petitions to the new superintendent of the region, Irma Zardoya, conveying parent support for the CC9 cluster. They also sent flowers, made calls to Zardoya's office, and showed up en masse at her public appearances. Zardoya ultimately supported their goals, enabling the CC9 cluster to be formally recognized by the Board of Education.) Through the Lead Teacher program, highly qualified, experienced educators were hired to serve as mentors for the staff in the ten participating schools. The goal was to create sustained professional development in these schools, improving the quality of instruction and, in doing so, raising student achievement. In an area with high teacher turnover, CC9 also hoped to improve teacher retention rates through the establishment of a more collegial, supportive professional environment.
Out of a pool of 200 applicants, thirty-six lead teachers were selected to participate in the program; these teachers were offered reduced class schedules to allow them time to mentor colleagues, and their salaries were increased by $10,000. The program was implemented with the support of both the United Federation of Teachers (UFT) and the NYC Department of Education (NYCDOE), perhaps the greatest testament to CC9's efficacy; on top of the quarter of a million dollars in grants that the Lead Teacher program had received from various foundations, NYCDOE pledged $1.6 million to support the project, and UFT provided all lead teachers with four hours a month of professional development and field supervision.
Two years into the program, teacher turnover rates had been cut in half in schools participating in the Lead Teacher program. Student achievement had increased as well; gains made by students in third grade English language arts classes (where most Lead Teachers were placed) exceeded those made by other students around the city, and the percentage of fourth graders reading at grade level increased from 17 percent to 47 percent. The program was considered so successful that it was replicated citywide, expanding to over 100 schools (with 200 Lead Teacher positions) by 2006.
From the perspective of an educator in a troubled Bronx public school (one that is not in CC9), Fabricant's book doesn't offer any shocking insights or novel suggestions in the vein of education reform; most any teacher would agree that allowing novices to receive consistent mentoring by experienced educators, the goal of the Lead Teacher program, would indeed produce improvements in daily instruction. And in fact, as Fabricant mentions several times, both NYCDOE and UFT were already interested in seeing a Lead Teacher–type program implemented when CC9 arrived on the scene; impressive though the group's mobilization is, particularly given its humble origins, one wonders if the Lead Teacher program might not have been implemented eventually through other means, even if CC9 had not become involved.
Furthermore, Fabricant states that the CC9 campaign "did not produce a huge infusion of new resources or an overhaul of public education." How could they, he argues, given the size and influence of CC9 versus the behemoth that is the nationwide, or even citywide, educational crisis? In education budgeting, the nearly $2 million raised by CC9 through NYCDOE and outside foundation grants, while an impressive haul for a group of low-income parents and nonprofit groups, is nowhere near enough capital to make the kinds of systemic changes that would ultimately close the achievement gap. This paucity of financial resources faced by inner-city schools is exemplified, courtesy of educational activist Jonathan Kozol, in the book's first chapter: whereas schools in neighboring Manhasset, Long Island spend $22,311 per student, New York City spends only $11,627. Thus, significantly more than $2 million would be necessary to remedy the inequality between the 30,000 District 9 students and the same number of their suburban counterparts.
Rather than offering viable solutions to the education crisis, Fabricant's book serves as a sort of "how-to" manual for mobilizing grassroots political activism in communities that are not often given a voice in their own governance. Fabricant provides a step-by-step analysis of the long, painstaking process of dialogue and consensus-building (hindered, at times, by disparate interests and tensions between different subgroups) that led to the formation of CC9, and the often unsuccessful attempts of coalition members to be taken seriously and avoid being shut out of decision-making by their city-appointed leadership.
The most inspiring sections of the book are Fabricant's interviews with the CC9 members, particularly women, whose lives have been changed meaningfully through their affiliation with the coalition. Several of the participants mention having been involved in abusive relationships, the difficulties of raising children as single mothers, and their frustration at the community failure that inevitably results from dysfunctional schools. In CC9, they have found not only empowerment, but also a raison d'être. One woman states: "I've seen things go down the tubes in my other jobs and not cared. But here, it actually affects me. If it doesn't work, it affects me, and if it works, I am very proud." In this respect, Fabricant not only conveys the power of parental involvement as a force for education reform; he also provides an inside look at the clockwork of democracy, and a call to arms for those seeking to bring about real infrastructural transformation in disadvantaged communities.
Ilana Garon is a ninth through twelfth grade English teacher in the New York City public school system.
Photo: High school in the Bronx (Jim Henderson/2008/Wikimedia Commons)