Javier Valdez was the sixth journalist murdered in Mexico so far this year. What will it take for his killers to see justice?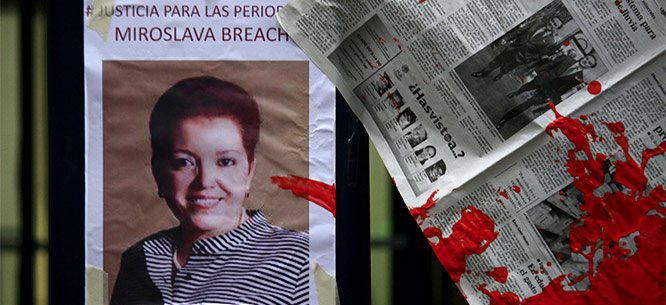 The last contact I had with Javier Valdez, the award-winning Mexican drug-war journalist brutally slain one month ago today, was by WhatsApp. I had sent Javier, who liked his friends to call him Bato, a message asking if he was interested in commenting for a story I was writing on the five journalists already murdered in Mexico between January and March this year. One of the victims, Miroslava Breach—a mother of three and local correspondent for the national daily La Jornada shot dead as she prepared to drive her teenaged son to school March 23 in Chihuahua City—had been a close friend of his.
Valdez was busy that day, but, always generous to foreign journalists, he took the time to record a voice message answering my questions regarding Breach and the wider phenomenon of violence against the media in Mexico. In response to whether he feared for his own safety, he stated: "The effect of the violence is a kind of self-censorship. You have to know the rules—how the gangs or police or a local politician here or there will respond to a certain story—but those rules can change quickly."
Change they did. Six weeks later, the fifty-year-old Valdez—a recipient of the International Press Freedom Award from the New York-based Committee to Protect Journalists (CPJ) and the author of five books on drug trafficking in Mexico—was dead, forced out of his car by gunmen in broad daylight in his hometown of Culiacán, Sinaloa, made to drop to his knees, and shot twelve times. The exact motive for his death remains unknown.
Since January, no fewer than six journalists have been murdered in unrelated incidents in Mexico while a seventh survived a near-fatal shooting. With nine killings last year, Mexico was ranked the third most dangerous country in the world for the media by the France-based Reporters without Borders (RSF) for 2016. Perhaps most disconcertingly, almost none of the killers see justice. By one estimate, more than thirty journalists have been killed in the country since 2012, yet only three of the murders have been solved. This climate of impunity allows the killings to continue.
It is important to clarify two misconceptions regarding the recent wave of attacks on the Mexican press. First, unlike countries under one-party or authoritarian rule, Mexico is a burgeoning, if deeply flawed, democracy in which there is no conspiracy by a central authority to silence journalists. Secondly, while the international media routinely links the killings to the country's high-profile drug wars, the cartels have been only one factor among many in the attacks, with public officials—police, military, and even elected representatives—also accused of direct or indirect involvement. Recent reports even suggest that local officials are responsible for more journalist deaths than the cartels.
Yet until recently, and despite a growing international spotlight—the New York Times and the Washington Post have both published moving editorials on the subject—solidarity among media outlets and the general public in Mexico has often been limited. On May 23, in the wake of Valdez's death, thirty-two Mexican outlets published an open letter proposing a series of roundtable events to address the violence, the first of which are taking place this week in Mexico City under the banner of the Agenda for Journalists. Yet it is notable that it has taken this long and scores of cold-blooded killings for the country's media to take a genuinely united stance.
Attacks on the Mexican press in recent years have come in various forms, and the motives for them likely differ widely. Javier Valdez was a seasoned crime reporter working in a region of northwest Mexico known as a major drug trafficking hub. His colleague Miroslava Breach reported on a variety of issues, yet at the time of her murder she had most recently covered the drug cartels' infiltration of municipal elections in the deadly northern border state of Chihuahua. Yet the motives for many other attacks are decidedly less clear. Ricardo Monlui Cabrera, killed in the Gulf Coast state of Veracruz in March, reported on matters concerning the local sugarcane industry. Marcos Hernández Bautista, murdered in the southern state of Oaxaca in January 2016, covered indigenous issues and local politics in a region notorious for social unrest.
It is impossible to understand why such violence and impunity could flourish without considering the context in which the Mexican media currently operates. During seventy-one years of de facto one-party rule under the Institutional Revolutionary Party (PRI), which officially ended in 2000, both print and broadcast media in Mexico were heavily censored by the ruling party. Over the past two decades, twin phenomena—political pluralization and the dawn of digital media—have seen a freer climate of reporting than at any time in the country's history. A variety of media ranging from large multinational firms such as TV giant Televisa to small left-leaning publications like Proceso and countless digital outlets compete openly. Criticism of government and other public institutions—the judiciary, police, labor unions—is published and broadcast daily.
At the same time, Mexico has transformed from a largely closed economy and single-party state to a free-market democracy still marred by corruption and inconsistent rule of law. Elections in Mexico State, the country's most heavily populated entity, earlier this month were wracked by accusations of vote buying, coercion, and illicit campaign finance. Put simply, while public transparency has improved somewhat at the federal level, local governance in Mexico is often plagued by the kind of mafia politics that predominated in the days of authoritarian rule.
Unsurprisingly, many commentators today speak of the "two Mexicos"—one bustling and cosmopolitan, with living standards comparable to those in European nations or in its northern neighbor, and the other hamstrung by levels of violence and poverty matching those in the world's most war-torn countries. It is no coincidence that the vast majority of journalists murdered in recent years were local reporters toiling in highly volatile regions of Mexico where gang rivalries, corruption, and conflicts over land and public resources are still a daily reality. These reporters may do vital work, yet, isolated from the national spotlight and poorly paid, they receive scant support and frequently put their lives in danger to cover stories.
If the display of solidarity by the Mexican public with murdered journalists has been disappointing, at least some of the blame lies with the country's media itself, which is still some way from fulfilling its responsibility to act as a counterbalance to power. Though it is growing more diverse and open, the media climate in Mexico remains highly politicized and the industry suffers from a range of problems, from unethical reporting to bribery, particularly at the local level. According to the polling firm Parametría, eight out of ten Mexicans lack confidence in their press.
Outlets are generally divided between oficialista (establishment) and militante (anti-establishment) organizations, and it is notable that even amid the current wave of violence these opposing forces have rarely come together in solidarity. Marco Levario Turcott, editor of the magazine Etcétera, a media watchdog in Mexico City, told me that while the wide variety of political coverage available today is to be celebrated, it often leads to deeply biased reporting, a phenomenon that he believes has also influenced the nature of the protests in defense of fallen journalists. "In Mexico, we don't have a culture of solidarity within the journalism profession," he told me in an interview. "The few acts [of protest] we've seen have also been drawn along political lines.
"That a wide variety of views are represented in the media is an enormous advance," he added. "But it is often to the detriment of quality journalism."
Furthermore, graft within the industry continues. As documented in a 2014 report by the World Association of Newspapers and News Publishers (WAN-IFRA), many outlets in Mexico depend heavily on government advertising and officials frequently use the threat of withholding contracts to influence coverage, notably of corruption and security issues. According to the report, official advertising often represents more than 50 percent of the budget of local outlets, while individual journalists may be offered advisory positions to government to justify payments made to them, a type of bribe colloquially known as the chayote.
Yet the independence of the so-called militant press is also frequently questioned. Héctor de Mauleón, a well-known columnist for the national daily El Universal—widely seen as an establishment publication—received little support from his colleagues on the left after he was threatened publicly for a series of reports on corruption in a leftist-governed district of Mexico City. Likewise, the 2016 murder of Elidio Ramos Zárate, who was covering teacher protests in Oaxaca, received scarce attention because of the implication that far-left paramilitary groups linked to the powerful CNTE labor union were responsible. The result is that the lines between journalism and political activism become blurred.
Talented, dedicated journalists work on both sides of the political divide, yet their best reporting often goes underappreciated. Esteban Illades, editor of the political and cultural magazine Nexos, pointed to the recent investigation by online news site Animal Político into a money-laundering racket by the government of Veracruz, which led to the arrest of a former governor, as an example of how the Mexican media is more openly defying the powerful, yet he admitted that significant challenges remain.
"If the media in Mexico don't openly reveal their sponsors, commercial relations, or even their political line, it's impossible for readers and viewers to trust them," Illades said.
On the quality of reporting and the opportunities available to journalists, he also expressed concern. "More Mexicans are studying journalism than ever before, but it doesn't mean that schools are getting better at teaching these subjects," he explained. "And once journalists are out of university, their prospects are dire: an entry-level reporter earns about $250 a month [USD] without benefits."
The harsh reality is that public solidarity may only go so far in addressing the crisis. Despite the presence of a Special Prosecutor for Attention to Crimes against Freedom of Expression (FEADLE), created in 2006 and designated to investigate any form of attack on the media, the majority of such cases are passed on to state-level authorities that often lack the resources or sufficient investigative capacity to resolve the crimes. A recent report revealed that of 798 cases of aggression against journalists presented to the FEADLE between July 2010 and December 2016, only three resulted in criminal convictions.
It is important to stress that widespread impunity for murders of media workers are merely a reflection of broader institutional failure. According to a recent study by the International Center of Studies on Impunity and Justice at the University of the Americas in Puebla, only about 4.5 percent of crimes in Mexico are solved while only 7 percent overall are reported to authorities. According to a 2014 report by the Committee to Protect Journalists, 90 percent of journalist murders worldwide go unpunished, taking place as they do overwhelmingly in countries that suffer from wider levels of impunity.
Mexico approved a major criminal justice reform in 2008, the cornerstone of which was a transition from written-based to oral trials, or, in criminal-justice terminology, from an inquisitorial justice system to an adversarial one. Unfortunately, the reform has thus far produced mixed results, with several of the country's thirty-two states yet to implement the changes and others citing ongoing difficulties with coordination and training. Furthermore, even in those states that have implemented the procedural changes, adequate police reform is still pending and prosecutorial independence is often lacking in cases with political overtones.
Yet again, these obstacles are evidence of the work still to be done by activists and authorities to see through meaningful reforms and push the country toward a fuller democracy. Political support will be crucial, yet is too often absent. All the country's major parties routinely overlook corruption within their ranks as they desperately seek to consolidate power. While politicians themselves frequently come under threat from violence and the majority employ private security measures, they often neglect the importance of a free press to strengthening Mexican democracy, and few have stepped forward to participate in the nascent movement to ensure justice for the country's journalists.
The open letter sent by Mexican media outlets to the federal government in the wake of Javier Valdez's murder announced the formation of a working group to address the absence of mechanisms to protect journalists and listed a range of measures that might be taken to rectify the problem. These include an immediate response to critical cases, alternative measures to combat impunity, a deeper role for civil society, greater professional solidarity, cooperation by security forces in the prevention of attacks, and a sustained analysis of the social impact of such crimes. Several major international outlets are also supporting the initiative.
One can only hope that this marks the beginning of a more constructive dialogue between media professionals and authorities in Mexico as to how the crisis can be tackled in the short term. Yet the bloodshed is likely to continue unless Mexico also sees major political and criminal justice reforms. Likewise, Mexican society must recognize the importance of a free press in the strengthening of democracy and protection of civil liberties more generally. Toward both ends, it is paramount that both domestic and foreign journalists keep up the pressure.
---
Paul Imison is a British freelance journalist based in Mexico City. Follow him on Twitter @paulimison.