Andrés Manuel López Obrador's landslide victory in Mexico's presidential election reflects widespread dissatisfaction with the status quo—and a broad-based mandate to transform the country.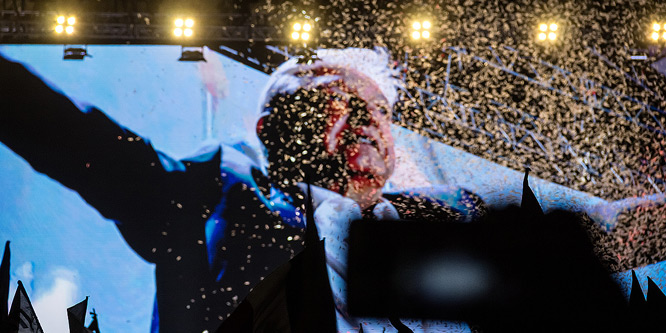 On July 1, Mexico delivered a stunning victory to Andrés Manuel López Obrador. He closed his presidential campaign by offering a "fourth transformation of Mexico"—he considers the first three to be independence from Spain, the nineteenth-century liberal Reform, and the Mexican Revolution of 1910—giving a hint of his sense of history and the scope of his ambition.
This transformation, he has pledged, will be "radical but peaceful." He promises a moral regeneration of the country, a new era of modesty and "republican austerity" in government service. He says that he will not live in the official presidential residence, Los Pinos, turning it over to an arts and culture space for the public. He wants to use savings from eliminating corruption at all levels of government to finance social policy, fighting poverty while supporting the development of Mexico's internal market. He plans to tackle violence by moving away from a mostly punitive strategy that has arguably exacerbated the problem, to an alternative approach that focuses in the "social roots" of crime—marginalization, poverty, lack of social mobility—and even considering some sort of amnesty and pacification process. Perhaps the best summary of his agenda is a slogan he has repeated for more than a decade: por el bien de todos, primero los pobres ("for the good of all, the poor should come first").
In scenes across the country, there was jubilation mixed with relief. Six years ago, when voters brought the PRI back to power after the presidencies of Vicente Fox and Felipe Calderón, both from the center-right party, the PAN, the atmosphere was more of resignation. Few people took to the streets to revel in Peña Nieto's victory. His message was more about competence than change. It was enough for him to win but far from generating much genuine popular enthusiasm.
Peña Nieto's administration ended up being marred by an endless stream of negligence and corruption scandals, by a new spike in violence levels, and by no substantial reduction in poverty or inequality rates. So to the discontent already accumulated during the twelve years of PAN governments, Peña added another six years of fresh disappointments. His approval ratings were the lowest of any president since Mexico became a democracy. It is no surprise, then, that this past Sunday night, when AMLO—who had been in the opposition to Fox, Calderón and Peña—won, his old and new supporters flooded public plazas to celebrate throughout the country.
AMLO gathered unexpected strength as his campaign went forward. While his rivals, both electoral amateurs, had many troubles finding their voice, crafting a credible message, and bringing together their respective coalitions, AMLO was able to soften the roughest edges of his public image, reach out to new voters, and prove himself a seasoned and commanding candidate. His performance in debates was mediocre, with most observers often judging Ricardo Anaya of the PAN-PRD-MC coalition to have been the sharper debater. But it mattered little: AMLO drew large crowds to his campaign events, working assiduously throughout the country, and stuck to his consistent themes of anti-corruption, anti-poverty, and anti-violence. Polling showed a consistent and growing lead, and proved accurate.
In the end, AMLO's message was very effective in capturing popular dissatisfaction with the status quo. His victory is the largest electoral landslide in the history of Mexican democracy. He is the first presidential candidate to have received an absolute majority (as opposed to a plurality of the vote) since 1988—when Mexico was still under an authoritarian regime where fraud was prevalent. He had the largest vote share in every state but one, conquering unlikely territories for his social movement in the wealthier and more industrialized north of the country.
Such an impressive performance was all-encompassing not only geographically but also demographically. According to one exit poll, he won a plurality of voters in every category. He did almost equally well among men (51 percent) and women (49 percent). He did well among the young (45 percent), and got more than half the voter share among the middle-aged. Differences were small among education levels: he had 49 percent of the vote of those with no education, and 47 percent of those with university educations. He did best among middle-income voters—53 percent of the votes of those with incomes between $150 and 300 a month—but had 41 percent of the vote among the poorest, and 44 percent of the vote of the richest. His victory, then, was not that of one class or group over another, but a substantial and broad-based endorsement of a new direction for Mexico.
According to preliminary results his three-party coalition, "Juntos Haremos Historia" (Together We Will Make History), will have legislative majorities in both houses of Congress: 61 percent in the House and 53 percent in the Senate. AMLO's party, MORENA, will control the lion's share of those majorities: 38 percent in the House and 43 percent in the Senate.
The traditional parties suffered astonishing declines. The PRI was thoroughly defeated, not only at the federal but also at the local level: out of nine governorships in play, it won none. The PAN, Mexico's emblematic conservative party, will have its smallest legislative bloc since 1991. And the PRD, the party of the center-left formed after the 1988 elections, has been almost totally supplanted by MORENA. AMLO's party won four of those governorships, perhaps five (the results from Puebla are still disputed), plus the mayor's office in Mexico City, which is the second-most-powerful political position in the country. That office will now be held by Claudia Sheinbaum Pardo, a scientist who served as AMLO's environment minister when he was mayor between 2000 and 2005.
AMLO's critics fear tendencies they describe as "populist": he identifies himself as the embodiment of the people and can be dismissive of the democratic legitimacy of his opponents. He can oversimplify complex policy and institutional problems, portraying them merely as issues of moral or political will. Yet throughout his career, AMLO has proven he can be pragmatic as well. In spite of the formidable reservoir of institutional power he has just won, AMLO has already sought to assuage his adversaries' concerns, saying that under his administration no one will be above the law, that everybody's rights will be guaranteed, and that he will respect the roles of different branches of government. He has also promised to send an initiative to Congress to allow for the President to be held responsible for acts of corruption. "The changes will be profound," he promised soon after his victory was announced, "but they will be carried out within the established legal order."
At the same time, a big-tent movement growing as rapidly as lopezobradorismo has undoubtedly attracted a motley crew of characters, all sorts of opportunists, and some figures of more than questionable reputation. Indeed, AMLO's win cannot be understood only as a consequence of civic discontent. It was also the result of a multitude of breaks by local political operatives and patronage machines away from traditional parties, mostly from the PRI and the PRD, and their gravitation towards MORENA. In that regard, lopezobradorismo won over its opponents not only by defeating them but by cannibalizing them.
AMLO will now face the challenge of turning such a heterogeneous electoral coalition into a coherent and honest government. How much patience will he be granted by "the markets" and some anxious sectors of the business community, as well as from his own eager political base, remains to be seen. Balancing the push and pull of forces from all the different groups that rallied around his candidacy will put his leadership skills to an unprecedented test.
Ahead is a long, five-month transition period, during which AMLO will have to put together his cabinet (he announced some preliminary appointments during the campaign, but nothing prevents him from changing them), choose his agenda and policy priorities, and plan on how fulfill his promises. For now his supporters can breathe a sigh of relief. Many are settling in for the long haul, aware that the road ahead will be winding and change may be slow. "Like millions of others, yesterday I left behind, in some public plaza, the clothes of the euphoric campaign sympathizer to wake up today with the clothes of a more cautious citizen: expectant and vigilant of your government," wrote Pepe Merino, a member of Sheinbaum's campaign team in Mexico City. "After these days of celebration," argued historian Humberto Beck, the left must return to its critical spirit with renewed energy, "monitoring and holding accountable the more troubling aspects of López Obrador's agenda." Still, in 2006, when AMLO lost by a very narrow margin and alleged fraud, declaring himself "the legitimate president of Mexico," many thought that this day would never come. But with this groundbreaking victory, no one can doubt now that AMLO is exactly that.
---
Carlos Bravo Regidor is associate professor and coordinator of the journalism program at the Center for Economic Research and Teaching (CIDE) in Mexico City.
Patrick Iber is assistant professor of history at the University of Wisconsin–Madison. He is the author of Neither Peace nor Freedom: The Cultural Cold War in Latin America (Harvard University Press, 2015) and a member of the Dissent editorial board.