This summer, two popular bills to democratize New York's energy system died in the state legislature. A revived campaign will need both sympathetic legislators and the direct action tactics of social movements.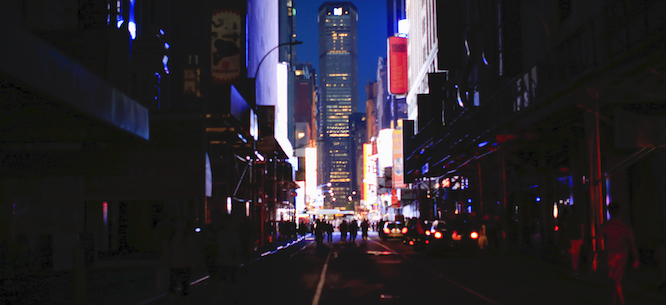 In early June, the New York State Legislature concluded its session without passing either of the two bills put forward by Public Power NY, which aimed to move the nation's biggest city and one of its most progressive states off fossil fuels to a power system based on democratically controlled renewable energy. The campaign was seen as offering a blueprint for what could be achieved on a bigger scale through a federal Green New Deal to provide clean energy for the nation. (I have been attending weekly state strategy meetings of the Public Power campaign for the last year.)
The refusal of New York state legislators to take meaningful steps toward an energy transition has ominous implications not just for New Yorkers but for the country and the planet. Electricity production currently generates a quarter of U.S. carbon emissions. Since we need to electrify everything—including carbon-intensive sectors like transportation and the heating and cooling of homes and buildings—this is the decisive fight in the struggle against climate breakdown.
How do we win what Alyssa Battistoni and Jedediah Britton-Purdy call "democratic decarbonization"? It could be said that we've already turned the tables on fossil capitalism. Ideas about public power as a solution to the failures of investor-owned utilities have become part of public discourse in the course of just a few years. This is no small thing, since the majority of Americans have gotten their power from investor-owned utilities since the creation of the modern grid over a century ago. The fact that the idea of public power is being embraced by an increasing number of elected officials adds to a sense of gathering momentum. But how do we ensure that legislation mandating democratically governed renewable energy is passed? And how do we do it in the vanishingly short amount of time we have?

Power Failures
In late June, an Exxon Mobil lobbyist was caught in a Greenpeace sting video describing his firm's strategy to gut meaningful climate provisions from the Biden administration's infrastructure bill. The cynicism of the corporation's tactics was breathtaking: the lobbyist described his firm's public support of a tax on carbon emissions as a "great talking point" for the company, which believes that such a tax will never become law. Of course, Exxon's ecocidal behavior is not exactly news: fossil fuel companies have a long history of actively broadcasting disinformation about the climate crisis in order to quell efforts to shift away from consumption of fossil fuels.
The investor-owned utilities that provide most Americans with electricity engage in similar dirty political tricks in order to maintain their economic stranglehold. Utilities around the country have done their best to slow the growth of renewable energy by supporting laws and regulations that reduce green targets. These kinds of measures are often generated by the right-wing American Legislative Exchange Council (ALEC). Legislators use ALEC boilerplate language to write anti-renewables laws and take campaign donations from industry groups like the Edison Electric Institute, which in turn funds ALEC.
All of this blatant corruption has left the United States with a shambolic grid that is straining and, in some cases, buckling under the stress of increasingly extreme weather. From the debacle in Texas last February, when a polar vortex knocked out power across the state for days, to blackouts across the Pacific Northwest in the midst of a dangerous heat wave early in the searing summer of 2021, climate change is generating punishing conditions for which the nation's creaking energy infrastructure is ill-equipped.
Meanwhile, citizens are becoming increasingly dependent on reliable power for access to life-saving cooling and heating during extreme climatic conditions. It is a savage irony that the country's poorest people, those who contribute least to carbon emissions, are most at risk when the power goes out, leaving them exposed to heat- and cold-related illnesses and deaths. The stress on the grid and on vulnerable communities is only going to build as climate change produces more intense weather extremes and as political pressures to cease using fossil fuels intensify.
The collapse of the grid in Texas last February was, according to Naomi Klein, the terminal failure of a "40-year experiment in free-market fundamentalism," including successful efforts to deregulate the electrical sector in the 1990s. While New York has not suffered such a cataclysmic grid failure, it is equally subject to the baleful influence of powerful private energy companies. Like those in Texas, these companies put returning profits to shareholders and executives above maintaining the grid, meaning that power outages are an increasingly frequent occurrence.
Worse still, New York's power mix is very dirty: despite the state's much-ballyhooed "Reforming the Energy Vision" initiative, only 5 percent of New York City's energy currently comes from renewable sources like solar and wind. America's largest city is actually slated to burn far more fossil fuels in the future; the nuclear power plant that supplies 80 percent of its non-fossil energy shut down in April. Due to the failure of investor-owned utilities to build out renewable power, the energy deficit produced by this closure is going to be filled by fossil fuel-burning "peaker" plants. Most of these dirty plants are located in communities of color, leaving their inhabitants to pay with their lungs and lives for the energy their fellow citizens consume to cope with extreme weather.

Public Power
Founded only two years ago in response to a proposed rate hike for consumers in New York City, the Public Power campaign has created two game-changing bills that gained dozens of co-sponsors within the New York State Legislature: the New York Build Public Renewables Act (NYBPRA) and the New York Utility Democracy Act (NYUDA).
The first of these bills proposes to expand the New Deal–era New York Power Authority (NYPA), which currently provides reliable and affordable power to public entities like CUNY and SUNY campuses and public housing across the state. Under NYBPRA, NYPA would be empowered to own and build new renewable generation, storage, and transmission facilities, with an initial aim of providing 100 percent renewable energy to all state and municipal properties and transportation by 2025. The bill also directs NYPA to sell renewable power directly to consumers, providing them with an alternative to the for-profit utilities that charge some of the country's highest rates for shoddy service.
Convincing labor unions that support for fossil capitalism damages their interests must be a key part of the Public Power campaign going forward. The energy industry has long pursued a strategy of pitting unions against environmentalists, an approach that has garnered support from building trades unions for fossil fuel infrastructure like the Keystone XL pipeline. The fracking boom has generated some well-paying jobs (although not as many as proponents claim), but for-profit utilities also have a history of trying to bust their workers' unions. In addition, the energy industry isn't just poisoning the communities near wells; they're also poisoning their workers. A recent investigation revealed that pipelines and related infrastructure are contaminated with radioactive elements like radium that can cause sores, skin lesions, and cancer.
Workers deserve a better alternative. To that end, all projects under the newly reconstituted NYPA would pay prevailing wages and be subject to project labor agreements, ensuring a just transition for people currently working for corporate utilities. According to a recent report by the Community and Climate Project and the Democracy Collaborative, the expansion of NYPA through Public Power legislation would create between 28,000 and 51,000 well-paying jobs. The expansion of renewable energy infrastructure mandated by the Public Power legislation would add an estimated $90 billion to the state's economy—at a time of dire need for the average New Yorker.
The Public Power campaign aims to bring genuine energy democracy to a sector that has long been marked by the capture of public regulatory bodies by oligarchical corporations. State regulators have been caught meeting behind closed doors with utility industry lobbyists in states like Texas, where Clean Air Act regulations for coal plants were nullified. The campaign's push for utility democracy, NYUDA, would initiate a transition of the state's distribution utilities from private to public ownership within two years. Democratically elected utility boards would be created to oversee the operations of these new public distribution utilities. The measure would also order the creation of an oversight body with representation from environmental justice organizations, labor, community groups, and engineering experts.

The Road Forward
Public Power legislation should have carried easily in the New York State Legislature, which enjoys a Democratic supermajority. With the profit motive removed from the energy sector, utility rates would have gone down. The two proposed bills would bring New York's energy infrastructure on target to meet the ambitious energy transition goals dictated by the state's Climate Leadership and Community Protection Act of 2019. But instead of beginning to fulfill the CLCPA's promises, elected leaders punted the chance to clean up our electric grid and establish a nation-leading model for an equitable green recovery.
The Public Power campaign was emboldened by the defeat in 2018 of the Independent Democratic Conference. This group of state senators had sided with Republicans (and Governor Cuomo) for years to kill progressive legislation like early voting and single-payer healthcare. Democrats won a veto-proof supermajority in the state senate during the 2020 elections, and the legislature now includes six openly socialist lawmakers. The time was ripe to put forward the kind of system-changing policies that climate scientists have repeatedly argued are necessary in order to avoid pushing planetary ecosystems beyond the breaking point. The Public Power campaign worked over the months the legislature was in session to assemble a large group of sponsors for the New York Build Public Renewables Act, ultimately ending up with close to seventy backers (fifty-one out of 150 assembly members, and sixteen of sixty-three senators).
But Public Power campaigners found their efforts stymied by the byzantine and corrupt operating procedures in the legislature, which allow legislators to pay lip service to progressive causes to appease activists without actually helping push bills forward. The fate of the New York Build Public Renewables Act, which didn't make it out of the Senate Energy and Telecommunications Committee to a vote, is typical of this dynamic. As speakers in a post-session autopsy on "Why Big Bills Didn't Pass" argued, conservatives manipulated the legislature's operating procedures to block universal healthcare and climate change legislation even though a majority of members in both houses were co-sponsors. Progressives need to challenge this misconduct if the public is going to see the life-saving laws it supports pass.
Public Power activists responded to the failure to pass climate legislation by calling out prominent politicians, including State Assembly Speaker Carl Heastie. In a searing video, Bronx-based activists stood in front of Heastie's shuttered office and pointed out that although Heastie claims he has continuously fought to protect the environment, he has taken tens of thousands of dollars from the fossil fuel corporations that make the Bronx one of the most polluted places in America. These damning allegations were based on the Public Power campaign's analysis of campaign finance data, which showed a history of for-profit utilities making campaign donations to leading state politicians, spending clearly intended to buy their support.
Public Power NY advocates are currently assessing the work done over the last year and strategizing about how to build political power so that the campaign will ultimately succeed. A few things are already clear. According to Patrick Robbins, coordinator of the New York Energy Democracy Alliance, ensuring that the campaign and the bill support the labor movement is key. So, Robbins says, is garnering support for the campaign throughout the entire state, since fossil capitalism has all too often tried to split coalitions along class lines by suggesting that people in New York City treat the rest of the state as a sacrifice zone. To these ends, the Public Power campaign has been organizing statewide orientation sessions and rallies that help people understand how the failures of for-profit utilities affect their regions and cities. Seeking to fortify upstate coalitions, the Rochester-based organization Metro Justice hosted an Energy Democracy 101 webinar. And Public Power has been working with labor unions to make sure the language used in legislative proposals clearly sets out to benefit worker rights.
In addition to this organizing work, climate activists must make the price of constructing more world-destroying fossil infrastructure so steep that renewable alternatives become publicly accepted as the only way forward. Direct action protest is a key component of this struggle. As Lee Ziesche of the Sane Energy Project told me, National Grid only halted construction of its fracked gas pipeline in North Brooklyn after activists locked themselves to the pipeline to shut down work, alerting the community and the media to the fact that a dangerous, polluting project was being built. The movement is currently leading community members in a gas bill strike, refusing to pay monthly rates that fund the construction of dangerous fossil infrastructure.
Although the pandemic curtailed public protests, and legislators across the country are increasingly seeking to outlaw civil disobedience, the struggle against fossil capital demands increasingly creative forms of public disruption. The Public Power campaign can draw on tactics developed during other struggles, from the civil rights movement to ACT UP. Politicians who take money from or otherwise support fossil capitalism need to be "zapped," a tactic deployed by ACT UP to publicly call out and embarrass politicians for their failures and corruption. The work of community education and empowerment against fossil capitalist infrastructure can also be done through rabble-rousing, bicycle-led, boom-box-beat-laden toxic tours like the one organized by the No North Brooklyn Pipeline campaign this spring. Activists may even turn to sabotage of fossil capitalist infrastructure. Such disruptive work must remain nonviolent if the movement is going to continue to win adherents, but given the obdurate determination of fossil capital to keep burning up the planet, fossil infrastructure cannot remain untouchable forever. As scholar-activist Andreas Malm puts it, respect for such destructive private property will cost us the earth.
We need what energy democracy activists call an in-against-and-beyond the state struggle, working not just to build support for public power within the state legislature but also mobilizing increasing public pressure on elected officials, including through raucous street demonstrations and nonviolent direct action. Contemporary movements like Public Power are trying to make big changes by working within the existing political system. Given the long tradition of leftist aversion to any engagement with state power, this can feel refreshing and even radical: a generation of activists is proposing big structural changes and then pushing the establishment to embrace them or get out of the way. But over the last year the Public Power campaign has run headlong into the inertia and corruption of the political system even in a nominally progressive state like New York. It has consequently become clear that the campaign can only succeed by working with sympathetic legislators while simultaneously adopting the direct action tactics of autonomous social movements. In this way, the Public Power campaign can use the gathering momentum of the climate insurgency against fossil capital to build pressure on legislators to support energy transition. In other words, democratic decarbonization requires people's power in the streets.
---
Ashley Dawson is Professor of Postcolonial Studies at the City University of New York. His latest book is People's Power: Reclaiming the Energy Commons (OR Books, 2020).