Since last July, Indian-occupied Kashmir has been rocked by massive, ongoing protests. The question is: why now?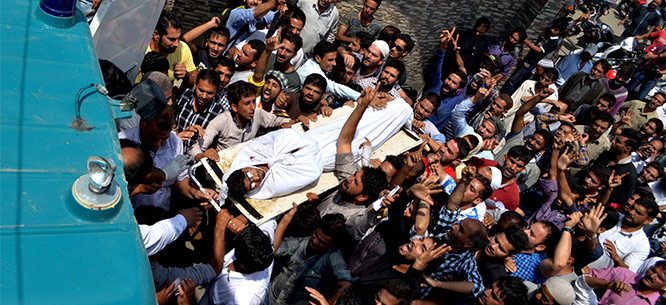 Last September, Khurram Parvez was scheduled to appear at a session of the UN Human Rights Council in Geneva to discuss the ongoing crisis of Kashmir. Parvez, an influential Kashmiri human rights advocate and a founder of the Jammu Kashmir Coalition of Civil Society (JKCCS), appeared at the New Delhi airport for his flight only to be detained and barred from leaving the country.
Only a year earlier, Khurram had presented a paper in Geneva entitled Structures of Violence: The Indian State in Jammu and Kashmir, a paper that exposed the impunity accorded to the Indian army, police, and paramilitary forces in Indian-occupied Kashmir. Their numbers are estimated at around 700,000, making Kashmir the most densely militarized zone in the world, under brutal occupation since the Partition of India in 1947. Over the years, Khurram has worked with JKCCS to produce high-profile documentation of, among other atrocities, the disappearances in Kashmir of more than 8,000 people since 1989; the mass rape in Kunan Poshpora in 1991 by Indian armed forces that has been referred to as the single largest documented mass rape in the subcontinent; and numerous reports on the killings and torture that continue to the present day.
But 2016 was different. That July, almost the entire of Indian-occupied Kashmir had erupted in civil uprisings following the extrajudicial killing of Burhan Wani, a charismatic young commander of the Kashmiri separatist group Hizb-ul-Mujahideen, which along with other militant groups has seen a startling rise in popularity among Kashmiris in recent years. And shortly before Khurram's scheduled departure, India had rejected a request by the UN High Commissioner for Human Rights to send a fact-finding mission to Kashmir to investigate the resulting crackdown.
Kashmir—territory claimed by India as part of the state of Jammu and Kashmir—has a long history of separatist movements that India insists are fomented by Pakistani militants. Since 1947, India and Pakistan have fought two wars over the region (and come perilously close at several other occasions) and failed to reach a peace agreement. The UN called in 1948 for a plebiscite allowing Kashmiris to determine their own fate, but it has never been held. Violent secessionist groups began to crop up in the late 1980s. They were met with tens of thousands of Indian troops, and their numbers have since dwindled to a tiny fraction of their 1990s peak, despite the recent revival. Meanwhile, nearly every summer since 2008, largely nonviolent protesters throughout Indian-occupied Kashmir have defied the Indian state to demand freedom, or azadi. But 2016 was different: all ten districts comprising Kashmir rose up, and as the uprising has continued into 2017, areas long considered dormant have become hotbeds of street protest.
The response from the Indian armed forces has been called "the world's first mass blinding," earning widespread condemnation from leftists and civil society in India and Pakistan alike, as well as from the Pakistani establishment. In the months after Wani's death on 8 July, Indian troops killed more than ninety people and injured 17,000—many of them children, many of them partially or completely blinded by the "irregularly shaped" metal pellets police and armed forces shot at unarmed protesters.
And yet the cries for freedom rang out through the winter and into the spring. Azadi—more a slogan, an open-ended call for independence, than a program—is the phrase that Kashmir's freedom movement has rallied around since 1947. But the exact nature of the movement has always been shaped by the particular circumstances of the time. Indian-occupied Kashmir today faces a historic level of disillusionment with electoral politics, which are widely seen as an exercise in futility. Separatists' call to boycott April's parliamentary elections led turnout to drop as low as 2 percent in final polls; at most polling stations, no one showed up to vote at all. Amid such disillusionment, the azadi movement, while still chiefly nonviolent in nature, is rallying behind the insurgency in a manner that has not been seen in Kashmir in decades. When Indian forces kill Hizb-ul-Mujahideen militants—like Wani last July, and Farooq Ahmed Hurrah this March—it has become customary for thousands to emerge to offer funeral prayers. The militants are mourned as martyrs. Pro-freedom and anti-election protests almost always follow, despite a vast spread of police and army checkpoints to prevent people from coming out. The question is: why? And why now?
After being barred from leaving the country, Khurram Parvez returned to the Kashmiri capital of Srinagar, where he lives with his wife Sameena and their six-year-old son. Sameena recalls that night vividly. At 12:30 a.m. Khurram and Sameena were getting ready for bed when the local police knocked at their gate. Six policemen told Khurram that the local superintendent of police was asking for him. They had no papers to authorize an arrest, nor gave him any other reason to believe that was their intention, so Khurram went willingly.
But when he arrived at the police station, there was no superintendent to be found; the police had been ordered to detain him. Khurram remained there until he was transferred to a sub-jail well outside Srinagar. Four days later, Khurram was ordered to be released by a district judge, only to be re-arrested under the Public Safety Act (PSA). He was transferred to another jail more than 150 miles away. According to police filings, Khurram had allegedly been "using his human rights work as a cover for being part of the 'secessionist camp' and 'threatening public order.'"
The PSA, along with the Armed Forces (Special Powers) Act (AFSPA), is precisely the law that Khurram and a wide array of civil society groups, journalists, activists, and lawyers have long argued allows Indian armed forces to act with total impunity in occupied Kashmir. Under the PSA, persons can be detained for up to two years without indictment or trial. The act has been used gratuitously since its enactment in 1978 to whisk away troublesome Kashmiris, many of whom have never been heard of again. This pattern only accelerated when the AFSPA, first enacted in the 1980s in response to the insurgency in India's northeast, was extended to Kashmir in 1990. Between 1989 and 2011, 70,000 Kashmiris are estimated to have been killed. 8,000 have vanished. 6,000 have been found in mass graves. And in the second half of 2016, more than 9,000 persons were arrested, almost 600 under the PSA—meaning they could spend months if not years detained without trial.
The unrest in Kashmir has dramatic geopolitical stakes. Last fall, it again brought Pakistan and India to the brink of war. In September, a raid on an Indian army camp near a northern Kashmiri village killed nineteen soldiers. Soon thereafter, India conducted a strike on alleged militant camps across the border in Pakistani-administered Kashmir. In late November, Pakistan accused the Indian army of firing on a bus, killing nine passengers, and on an ambulance carrying rescue workers, sparking skirmishes at the Line of Control (LoC), the de facto border between Pakistani- and Indian-administered Kashmir. In television studios across India and Pakistan, the nationalist fervor that has equal power to grip and bore the nations with its metronome-like regularity was at its highest pitch since the 2008 Mumbai attacks. The Indian mainstream media repeated endlessly that the civil unrest in Kashmir was being fomented by Pakistani militants; their Pakistani counterparts vehemently denied any involvement.
As always, it was civilians who bore the brunt of the escalating tensions. On the Indian side of the LoC, hospitals were overrun by patients with metal pellets embedded in their retinas. Muhammad Faysal, a twenty-five-year-old teacher and medical volunteer, described the area as an open-air prison smelling of gas and gunpowder. He tells me that his whole life has been one of protests and fear of being killed.
Muhammad is one of the thousands who, almost every summer since 2008, have taken to the streets across Indian-occupied Kashmir, armed with little more than stones. In 2010, a seventeen-year-old boy was killed by police in Srinagar. His death triggered mass demonstrations and in turn a slew of further killings by the Indian armed forces—largely of teenage boys—making 2010 the bloodiest year in the valley since 1989.
Much has changed since then. It is not just the scope of the uprising—which, unlike in years past, has rippled across the entire valley, from rural areas to urban. The nature of the separatist movement has changed, too. Militant groups including the explicitly pro-Pakistan Hizb-ul-Mujahideen, in decline since the 1990s, are seeing a resurgence. Their new recruits, mostly teenage boys, come just as often from the ranks of the affluent and employed as from the poor and unemployed.
Together with the motley of parties and civil society groups that make up the Hurriyat Conference (the political platform of the azadi movement), homegrown separatist groups like the Hizb-ul-Mujahideen and to some degree Pakistani militant groups have coalesced in the years since 2010 to form a united front against the Indian occupation. Protests since Wani's death, like those in years before, have remained largely nonviolent in nature, but militants like him are widely celebrated as resistance heroes. The Indian state, for its part, makes little distinction between stone-throwers and armed separatists, targeting both with the same deadly force.
When Burhan Wani was just fifteen years old, his brother Khalid was assaulted by the Indian armed forces after the two were pulled over on their motorcycle. An aspiring cricketer from Tral, the son of the school headmaster, Wani vowed to "avenge" his brother and, six months later, joined the Hizb-ul-Mujahideen. He instantly became its figurehead. Handsome, charismatic, and adept at social media, he became a YouTube celebrity, recruiting youths to the armed resistance. It wasn't long before the immensely popular Wani became the most wanted man in Kashmir. He was barely twenty-two when, on July 8, 2016, he was killed in a gun battle with the Indian armed forces.
What has prompted a new wave of youth to take up arms? Many on the Indian and Pakistani left, who have long maintained solidarity with the beleaguered Kashmiri people, have struggled with the same question. To be sure, today's insurgency is tiny compared to that of the 1990s, when more than 14,000 "terrorists" and 2,000 "foreign militants" were killed in Jammu and Kashmir. At the time, militants crossed the LoC into Pakistan and trained with Pakistani militant groups, returning to the Indian side to carry out attacks. But over the years, the groups disbanded and eventually splintered—as much a consequence of infighting and factionalism as of a shift towards electoral politics: Kashmiri parties like the Jammu and Kashmir National Conference (JKNC) and the current ruling party, the People's Democratic Party (PDP), began to wrestle for elections by pandering to Kashmiri calls for freedom. But they have done little to shift the balance of power in Kashmir, leading many of their would-be constituents to sour on electoral politics—as they see it, a dance of pro-India parties wearing different masks. Currently, the PDP is in a coalition government in Jammu and Kashmir with Narendra Modi's Hindu nationalist Bharatiya Janata Party (BJP), a move that has driven many even further from electoral politics. It is in this context that the valley's youth have felt a renewed pull toward armed insurgency.
The Indian mainstream media's sensational coverage of the new insurgency is perhaps out of proportion to its scale: in 2016, only 143 militants were estimated to be active in the Valley, 89 of them local Kashmiris who had grown up under occupation. The difference from the 1990s is stark. Nevertheless, the stamp of the local militancy on the azadi movement is indelible—something the Indian government and its supporters have seized on, in turn, to present the movement as a predominantly military one rather than a civil uprising. As the peripheral voices of dissent in India grow ever more besieged under Modi, disentangling these dynamics has only become more difficult.
Long before his death, I had begun to inquire with contacts in the valley about the enigmatic Burhan Wani, seeking to understand his appeal. In 2015, the vast majority of mainstream Indian newspapers were filled with fearsome headlines about the return of militancy to Kashmir. Columnists fumed about the need to clamp down on Kashmiris before they got out of hand. Meanwhile in Pakistan, media outlets provided either a suspiciously indifferent silence or reflexive sympathies for the Kashmiri people, without noting the Pakistani government's role in fomenting militancy. I quickly learned that much of the reliable reportage on Kashmir comes from local journalists themselves and not, as Kashmiri journalist Hilal Mir puts it, from the "air-dropped 'war correspondent' from New Delhi who wears a cricket helmet and embeds himself with troopers in a bullet-proof vehicle, roams around in the curfewed city and acts like he is covering the war in Syria."
Before Wani's death, the local journalists I spoke to tended to downplay Wani's appeal, perhaps to avoid reckoning with the uncomfortable implications of the growing armed insurgency—one that seems organic and inevitable to many young Kashmiris who have seen only occupation in their lifetimes, but is sobering for those who have lived through the valley's earlier spirals of violence. At the height of the insurgency in the 1990s, separatist militants, too, killed hundreds of civilians, and the violence prompted tens of thousands of Kashmiri Hindus to flee the valley for neighboring Jammu. Few in Kashmir wish to see a new civil war, and some I spoke to had little patience for the militants' mystique. Referring to Wani, one journalist brusquely told me: "He's just a good-looking boy with a gun. That's it."
Why, then, did he mean so much more to a rising generation of Kashmiris? By November, towns and villages across Kashmir began to put up slogans like "We are all Burhan Wani." Town squares were renamed Burhan Wani Chowks. Fatimah, a twenty-three-year-old student who recently returned to her home in Srinagar, recounts a meeting of young Kashmiri activists she had attended recently. One of her friends said that he saw himself in Burhan. Fatimah adds: "His political understanding was so similar to how many young Kashmiris think, including me. Wani had a community presence. He travelled across Kashmir and people knew him because he stayed in their houses and had meals with them." Muhammad, the hospital volunteer, agrees: "Burhan was a really popular rebel. He was in everybody's phone, everyone knew him by face."
Iqbal, a student and journalist I spoke to online, describes immense sadness in his family in the days after Wani's death. Wani's funeral was attended by thousands of people in Tral at a venue so crowded that it was impossible to conduct funeral prayers. Throughout the valley, people held their own funeral rituals for him.
The mass protests that followed continued unabated into the fall. One night in mid-September, Iqbal went with his friends and family to offer prayers at an Eid gathering place near an army camp. Once the prayers were finished, some of the congregants raised pro-Pakistan slogans. Troops rampaged out of the camp, beating anyone in sight. A close friend and neighbor of Iqbal's, Mansoor, ran with some other boys towards a nearby stone quarry to collect stones. The protest carried on all night. Iqbal learned of Mansoor's fate the next morning when his body was discovered. The soldiers had dragged him to camp and beaten him to death. They left his body in the stone quarry.
For Iqbal, the answer to why the youth of Kashmir are driven to the streets or even to arms is simple. "When you live in occupation, you suffer on a daily basis. That thing gives birth to a grumbling discontent."
The Kashmiris I speak to often make the analogy with occupied Palestine, which has been the focus of a decades-long international solidarity movement. They ask: why the silence on Kashmir? Why has the valley's plight fallen so far off the international radar, in spite of calls for support from well-known leftist voices like Arundhati Roy and Tariq Ali?
Perhaps, they tell me, it is because their own voices, explanations, and experiences—defying the simplistic narratives that mainstream South Asian and international media outlets seek—have been ignored and diluted for far too long.
The killing of Wani, who was the face of the freedom struggle to a new generation, radically changed the dynamics of the uprising of 2016. The brutality of the armed forces, the sheer numbers and spread of the demonstrations, and the difficulties imposed by long curfews, brought a more organized resistance to the fore. For one, Hurriyat leaders took to releasing a weekly protest calendar: a "civil curfew" in which shops and businesses closed in favor of mass street protests. Fatimah tells me that, by and large, people followed the protest calendar. "People might disagree with [the Hurriyat's] model of resistance, i.e. the civil curfew, but they support their stance on azadi."
Iqbal says that in 2016 he saw a level of consensus he could never have imagined. "Everything was so organized: People came out to help those people who were in need, community schools were established, and most of all pro-freedom demonstrations were organized on a regular basis."
Of course, the unprecedented show of united resistance also drew out women and children. Ten days after the death of Wani, the residents of a village in South Kashmir were called to support their neighbors in an adjacent village. Armed forces had allegedly beaten and captured three boys playing cricket. Villagers spilled out from both villages. As they dispersed, army soldiers opened fire. One woman ran across just as her elderly mother was shot and slumped to the ground. Another left her home frantically to find her son and was killed as well.
Muhammad insists that Kashmiris have an iron will. In mid-July, he penned a dispatch from a town south of Srinagar, where volunteers were running soup kitchens for the displaced, and hundreds had lined up to donate blood. "We are the state when the state fails," he wrote, as volunteers attended to the injured, the sound of tear gas and pellet rounds piercing the air.
Essar Batool, a social worker and the co-author of Do You Remember Kunan Poshpora?, tells me that even her quiet neighborhood in Srinagar, which rose only once to protest in 2010, has not seen a single day of inactivity. She recalls the day an eleven-year-old boy was found dead near a water reservoir, covered with pellet wounds: "It blurs together. There is just the sound of tear gas shells exploding, birds flying away, the taranas [songs] blaring from mosques." Eleven-year-old Nasir Shafi's funeral, as with those of many killed in 2016, was attended by thousands of demonstrators defying curfew, in turn sparking clashes with the armed forces that wounded nearly a hundred people.
So it has continued into 2017. On election week this April, protests that broke out along the Srinagar-Leh highway after the killing of a twenty-one-year old truck driver spilled over into the polling booths. At the Caravan (a Delhi-based magazine that provides rare context and clarity on the Kashmiri conflict), Srinagar-based journalist Moazum Mohammad notes that separatist leaders have called on Kashmiris to boycott elections many times before, but this time, their call was almost universally heeded. More than 200 protests took place across Kashmir, with protesters marching to polling booths to demand they be shut down. Eight people, including a teenage student returning home from his aunt's house, were killed on April 9 alone as security forces opened fire, often indiscriminately. Hospitals across Srinagar were again flooded with patients with bullet injuries and pellet injuries to their eyes.
In 2012, I visited Neelam Valley, the heart of Pakistani-administered Kashmir. Along the winding roads, I was often chilled by the silence, suffocated by the thick, oppressive dust in the air. I wondered to myself: this was the valley of which Jahangir said "if there is a heaven on earth, it is here," the valley Salman Rushdie described as the closest thing he had seen to paradise on earth? The hills and mountains rose majestically, yes, but there was also a wrenching sense of unease. People walked in broad daylight as if trying to hide in their shadows, alongside the ruins of buildings destroyed in the 2005 earthquake. On that visit, I was convinced that Pakistan, along with its pundits, news agencies, and activists had, too, long washed its hands of Kashmir. If it was a cause célèbre, it was a dismally neglected one, even though our country had been fighting over it since 1947.
Anam Zakaria, author of Footprints of Partition and an upcoming monograph on Pakistani-administered Kashmir, is one of the few who reports from the region. Zakaria is critical of the Pakistani government's motives. Recently, Pakistani Prime Minister Nawaz Sharif announced that he had tasked the government of Pakistani-administered Kashmir to create a joint strategy with local leadership in Indian-occupied Kashmir—namely, the Hurriyat. To Zakaria, the move seemed like a tactic to feign genuine concern about Kashmiris, to appear to engage in dialogue merely to undercut India.
Indeed, the skirmishes with India that catch the residents of Neelam Valley most in the crossfire do not paint a picture of a country particularly interested in maintaining peace. As Zakaria reports, as mortar shells from across the LoC begin to hit the homes of people in the Neelam Valley, "people are leaving their homes and livelihood behind and trying to move to cities . . . further away from the LoC." Locals in Pakistani-occupied Kashmir have protested militant activity and movement across the LoC. And Pakistan's blithe willingness to turn a blind eye to the public activities of notorious terrorists, like Hafiz Saeed—the alleged mastermind of the 2008 Mumbai attacks and a virulently anti-India demagogue whose group Jamaat-ud-Dawa has used the Kashmir conflict as the primary justification for violent attacks—to serve its own agenda hardly indicates interest in the self-determination of Kashmiris. (Saeed was finally put under house arrest by the Pakistani government this January. Islamist groups in turn railed against the government for betraying the people of Kashmir.)
Just a year or two ago, a number of journalists I had spoken to indicated that, while Kashmiris saw India as the brutal occupying force, they were not too keen on Pakistan either; they were aware it had its own agenda. But speaking to young Kashmiri protesters about the nature of both Pakistani-backed and homegrown militancy, things began to seem more complicated. Shafat, a local reporter, tells me there is little doubt that Pakistani militants from Lashkar-e-Taiba and Jaish-e-Muhammad have a presence in the valley. But the Hurriyat and the average Kashmiri protester don't seem to mind, he says; they make little distinction between a Kashmiri militant and a Pakistani one. "All are martyrs to Hurriyat," he says, "and there is open moral support to all militant leaders."
He adds that even though there is no evidence that the Hurriyat has ever actively worked with any of these groups, widespread pro-Pakistan sentiments among protesters has made the Hurriyat wary of distancing themselves from Pakistani militants, for fear of being labeled the "collaborator class." The Kashmir Reader's Hilal Mir, for his part, scoffs at the inherent assumption Indian media makes that a resistance movement can only achieve ideological purity when it eschews all contact with foreigners, militants, or opposing armed forces.
Still, Iqbal and Shafat warn me not to make too much of the azadi movement's fondness for Pakistan. Iqbal concedes that Kashmir has become more an issue of ego for India and Pakistan alike. Pakistan's lonesome criticism of India on the international stage has warmed many Kashmiris to it, Iqbal says, but to assume that Kashmir is fighting to accede to Pakistan would be to ignore Kashmiris' age-old demand for freedom.
In such a context, pro-Pakistan slogans begin to feel less like political aspirations and more like messages of defiance, or reminders to India that Kashmiris' allegiances are their own to claim. A Pakistani slogan is more incendiary than a freedom slogan; siding with the "other" is worse than separatism. Sameena tells me that Pakistan only seems better because they are currently under Indian occupation. "People express solidarity with Pakistan most of the time to annoy India in the best possible way," she tells me.
On November 29, 2016, Khurram Parvez finally left Kot Balwal jail, following a seventy-six-day campaign by activists demanding his release. He posted on Facebook that he was "deeply touched by the love and solidarity expressed by so many friends from across the world."
Around the same time, people on Facebook began sharing a video from 2011 of a reporter from an Indian TV channel pressing the Hurriyat leader Syed Ali Shah Geelani with questions like "How will Kashmir stand on its own feet?" Geelani smirked: "Don't worry about us. We are only worried that the forcible occupation should end."
With the new crises following the elections, Geelani, who had warned that the discontent would continue on into 2017 and that Kashmir was facing a deep alienation from electoral politics, is now beginning to be regarded as prescient. Many in the Hurriyat have begun to warn that 2016-17 have ushered in a new phase in Kashmiri separatism and towards azadi. As deadly skirmishes continue along the Line of Control, it remains to be seen whether the valley will slip further into violence, or whether the ongoing uprising will finally force India to the negotiating table.
I spoke to Khurram soon after his release, congratulating him. Heartfelt in his appreciation for my solidarity, Khurram insisted his work would continue.
As we talked, I received a notification on Twitter. The famous Srinagar-based poet, Mohsin Bin Mushtaq, had sent me one of his most recent poems, entitled "Love in the times of curfew." It read,
alley of
the beloved
is barbed
in concertina wire
oh breeze
of pepper shots
take my greetings
to the
beloved.
---
Kamil Ahsan is a doctoral student in developmental biology and MA candidate in the history of science at the University of Chicago. His writing has appeared in Aeon, The American Prospect, Jacobin, Salon, The Rumpus, and other outlets.