The rezoning of northern Manhattan has exposed the failings of New York City's top-down housing program, which puts the profits of landlords and developers over the rights of tenants.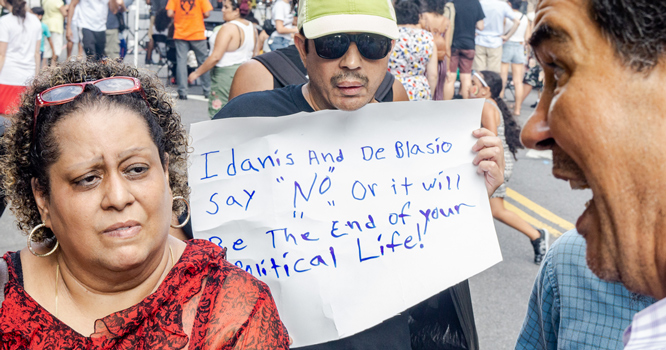 On a blistering Saturday afternoon in August 2016, hundreds of angry residents gathered in front of a two-story parking garage in northern Manhattan, where Broadway curves around Fort Tryon Park and Washington Heights turns into Inwood. They were protesting the city's plan to rezone the site in a neighborhood that currently allows for five- to eight-story residential buildings so that a private developer could build a luxury high-rise. Sherman Plaza was to be the city's first high-end redevelopment under progressive Mayor Bill de Blasio's Mandatory Inclusionary Housing policy (MIH), the centerpiece of his affordable housing plan, under which he promised to build or preserve 200,000 units of affordable housing over a decade. This, in turn, was a cornerstone in his bid to end the "tale of two cities," one rich and the other poor. Now, well into his second term, de Blasio is presiding over an expanding homeless population and broad community resistance to his housing program, which involves rezoning ten Latino and African American working-class communities to expand upscale residential and mixed-use buildings using MIH.
MIH, approved by the City Council the previous March, is designed to leverage the private market to alleviate the city's housing crisis. The idea is to stimulate private investment in low-income neighborhoods by giving developers tax relief. In return, developers must include at least 20 percent below market-rate rental units in their new buildings. Versions of this 80-20 scheme have existed in New York City for decades; de Blasio's contribution was to make it mandatory in all rezoned areas—that is, requiring any new residential buildings in those areas to include at least 20 percent of subsidized units, with rents set in agreement with the city.
Confident that MIH would become law, Acadia Sherman Avenue LLC and Washington Square Partners applied to the City Council's Zoning Committee for permission to build the high-rise tower in January 2016. In exchange for tax breaks, the developer proposed reserving 30 percent of rental units for families earning at least $62,000—below market rate but well above the median income of residents living in the neighborhood. Two months after MIH became law, Community Board 12 quietly approved the Sherman Plaza rezoning.
Neighborhood residents were not happy about this "spot upzoning." Calling themselves Northern Manhattan is Not for Sale, a group of residents denounced the proposed building as a Trojan horse of gentrification in Inwood and Washington Heights, areas that have long been home to a sizeable working-class immigrant community, mostly from the Dominican Republic. Developments like Sherman Plaza, the organizers argued, would not just attract wealthier residents but propel housing costs upward for the whole neighborhood, leading to the displacement of current residents and locally owned businesses. Nor was the group swayed by Borough President Gale Brewer's negotiations with the developer, which brought the building from a slim twenty-three stories down to a bulkier seventeen and set aside half of the units at below-market rents, including 20 percent for families earning $31,000.
Which brings us to that August showdown over the rezoning—not the last, as it would turn out. The rally would have been unremarkable had it not been for the appearance of Ydanis Rodriguez, who represents Northern Manhattan in the City Council. Rodriguez has consistently followed de Blasio's lead on rezoning. When housing activists met with him weeks earlier, he rebuffed their concerns, saying that while some residents might oppose the new tower because it will bring wealthier, mostly white people into the community, this "diversity" was "good for his daughters and for the neighborhood." Rodriguez stood on the sidelines for most of the two-hour rally, but as it was winding down, he and his brother tried to wrestle their way onto the podium—only to be blocked by the organizers. Rodriguez took to Twitter later that evening to call opponents of the upzoning "Trump-like."
By custom, City Council members defer to the local councilmember on zoning. The following week Rodriguez announced an evening press conference at Sherman Plaza, to reveal how he would vote at the Council meeting the following day. He arrived to a boisterous crowd: drummers, vuvuzelas, and chants of "Ydanis, comprende, Inwood no se vende!" There were boos when he praised de Blasio for introducing "the most progressive housing plan in modern history." After a rambling, forty-minute speech, he finally said, "We have not been able to get to the point where I feel it is in the community's best interest to move this spot zoning forward. Therefore . . . I will not be supporting the rezoning of Sherman and Broadway." The crowd erupted into cheers, and Rodriguez looked visibly relieved. The next morning the City Council voted against the rezoning.
Fast forward to August 6, 2018, nearly two years to the day after housing activists confronted Rodriguez over the Sherman Plaza development. This time, Northern Manhattan Is Not for Sale and their allies were marching to protest another rezoning, this one far more sweeping than the project rejected in 2016. Nine protesters were arrested for blocking traffic in civil disobedience. Called Inwood/NYC, the plan involves rezoning 59 blocks at the northern tip of Manhattan for substantial residential and commercial development. Under MIH, private developers will receive tax abatements for up to thirty-five years in exchange for including some rent-restricted units in their luxury towers from 10th Avenue and east along the Harlem River waterfront—in an area currently zoned for manufacturing and one- and two-story commercial buildings. Inwood/NYC advertises a "pedestrian-friendly streetscape" with "access to the Harlem River through new waterfront open space." The two-story Inwood Public Library will be torn down and rebuilt as part of a high-rise apartment complex with 175 vaguely-defined "income-targeted" units.
The August 6 rally was a last-ditch attempt to block the rezoning, and tensions were high. It came just a few days after members of the coalition had occupied Rodriguez's office overnight to demand he withdraw his support for the rezoning.
But to no avail. Two days later, on August 8, Inwood/NYC was approved nearly unanimously by the City Council. As with so many neighborhood rezonings before it—all of them met with stiff grassroots opposition, largely from low-income residents of color—the Inwood vote displayed the council's willingness to override the community's interests in favor of those of real estate and its allies in City Hall. But with Inwood, one gets the sense that de Blasio's progressive agenda for New York City may be at a crossroads.

A Cautionary Tale
The redevelopment of Williamsburg, Brooklyn looms large as a cautionary tale in the collective imagination of housing activists all over the city. After upzoning Williamsburg in 2005, Mayor Bloomberg gave 421a tax credits and density bonuses to private developers in exchange for including 20 percent of rental units at below-market rate.
This is the same tax abatement that is part of de Blasio's MIH. It is the most important and expensive taxpayer-subsidized program for developers that most New Yorkers have never heard of. Created in 1971 as the city veered toward economic catastrophe, it offered modest abatements for any kind of private building as a distorted Keynesian response to high unemployment during a national recession. (After the city nearly went bankrupt, Donald Trump was one of the first developers to receive substantial tax cuts under 421a to build the Hyatt Regency at Grand Central Terminal, a 40-year "deal" that cost taxpayers $360 million.) Housing policy researcher Leo Goldberg shows how upzoning Williamsburg for taller and denser building, in conjunction with 421a, led to the "most explosive growth" of luxury construction in the city's history and the "rapid displacement" of working-class black and brown residents.
Even Amanda Burden, Bloomberg's Planning Commissioner, acknowledged in 2013 after leaving office that a supply-side approach to housing does not drive down housing costs. "I had believed," she said, "that if we kept building . . . and increasing our housing supply, prices would go down." Instead, she continued, "we built a tremendous amount of housing. . . . And the price didn't go down at all." Between 2002 and 2013, more than 10,000 residential units were added, and the number of units renting for more than $2,000 increased by 687 percent. Property values shot up nearly 250 percent. Median household income increased from $46,255 to $71,325. What was once the city's largest mixed-use, industrial and residential, working-class community is now an exclusive enclave for the wealthy. Walk through Williamsburg today and you will find an abundance of high-rise luxury condominiums, fancy hotels, upscale restaurants, a Whole Foods and an Apple store.
Remarkably, the city has never undertaken a longitudinal study of the human costs of upzoning, so we will never know for sure where the displaced residents went. According to the Coalition for the Homeless, the number of homeless New Yorkers sleeping in municipal shelters is 82 percent higher than it was a decade ago. In 2017, more than 129,800 different homeless men, women, and children slept in the shelter system, including 45,000 different children. Nine out of ten are black or Latino. The primary cause of homelessness, particularly among families, is lack of affordable housing.

Nonprofit Support for Commercial Development
If we live in an age of neoliberalism, few policies better exemplify its principle of operation than New York City's trickle-down approach to affordable housing. In early 2015, the public-private Economic Development Corporation (NYCEDC) unveiled its "Inwood NYC Action Plan." A nonprofit corporation whose contract with the city allows it to administer billions of dollars in subsidies, grants, and sales of public land, the EDC has a vexed history. Its origins can be traced back to the city's financial crisis, forty years ago, which brought about a convergence of interests between the city's public-sector unions and its banks. Hours before the city would have filed for bankruptcy in 1975, financier Felix Rohatyn and developer Richard Ravitch persuaded Albert Shanker, president of the teachers union, and Victor Gotbaum, of the municipal public employee District Council 37, to bail out the city in the amount of $3.7 billion using their unions' pension funds. The largest public-sector unions became the city's new creditors, and their leaders began to favor "fiscal responsibility" instead of public investment. Concerned with creating a business climate that would guarantee payment of their loans, they helped create the Financial Services Corporation of New York City in 1979, which would in 1991 merge with the Public Development Corporation to form the EDC.
Today the EDC is the mayor's instrument for negotiating tax breaks, city land deals, and infrastructure benefits to developers. It also defines affordability levels for proposed developments that use MIH in exchange for tax rebates. The mayor appoints the president and the board. Alicia Glen, de Blasio's Deputy Mayor for Housing and Economic Development—who came to government from Goldman Sachs—sits on the board. Her former chief of staff, James Patchett, also a Goldman Sachs alum, is president. The corporation is self-funded by profits from the projects it brokers. It works closely with the Department of City Planning, but with its own bottom line, and as a private agency it is subject to limited government oversight.
In the summer of 2016, the EDC and CB12 began a year-long series of workshops with community residents and other neighborhood stakeholders. These "charrettes" were ostensibly for the city to gather comments and incorporate them into the final proposal. Glossy EDC brochures claim that Inwood/NYC was "community-guided," a result of "years of engagement with over 2,300 residents, local nonprofits, businesses, and elected officials."
I attended the last of these meetings in June 2017, at Allen Pavilion at 220th Street on Broadway. It was a raucous event. Wayne Benjamin, chair of CB12's Land-Use Committee, was in charge. Residents had been attending these events all year and they arrived angry and frustrated, ready for a fight. Many carried signs saying "R7A," a reference to demands for "contextual rezoning," which would include height limits and other restrictions to preserve neighborhood character. Maps of the area to be redeveloped, along with questions the participants were meant to answer, were arranged on tables. Attendees could not have been less interested in the EDC's agenda, which was mostly about pedestrian access to the Harlem River waterfront. They denounced the autocratic process, hurling invectives at Benjamin; and Benjamin, distraught and harried, berated them like they were children.
Tom Angotti, a former senior planner with the city and the author of Zoned Out! Race, Displacement and City Planning in New York City, calls these meetings "rituals of community involvement," so the city can say, "We listened to the community." Nobody in that room had power—not the community board and not the neighborhood residents or businessowners. Little wonder that Benjamin had such a hard time getting anyone in the room to concentrate on the EDC's worksheets.
Nevertheless, the following month, the EDC made a concession to neighborhood activists when it announced that the more middle-class residential area west of Broadway would be protected with contextual rezoning while the rest of the project would remain intact. This bore an uncanny resemblance to Bloomberg's divide-and-conquer strategy when he redeveloped Fourth Avenue along the border between Park Slope and Gowanus in Brooklyn, beginning in 2003. With the support of liberals in the City Council, including then-councilmember de Blasio, Bloomberg protected brownstone Park Slope and upzoned Fourth Avenue, a mixed-use, predominantly Latino stretch of small businesses and mid-rise apartment buildings. Luxury high-rises and upscale businesses have since displaced most of the working-class immigrant residents.
If the city was trying to divide northern Manhattan along similar socioeconomic and ethnic lines, it didn't work. Anxious residents and business owners from both sides of Broadway showed up and testified at public hearings. In February, a coalition of community and small-business groups released the Uptown United Platform, a set of concrete recommendations for the redevelopment of Inwood using tax incentives and subsidies to guarantee 100 percent affordability for all new buildings in upzoned areas (at levels that matched the incomes of local residents) and similar incentives for landlords to renew affordable leases with small businesses. In addition to height and density limits throughout the area, the recommendations would protect the Lenape sacred burial grounds in the North Cove and an African burial ground at 212th Street and 10th Avenue, where the remains of slaves including those owned by the Dyckman family—namesake of one of the neighborhood's main commercial corridors—are buried. The recommendations set a precedent for a truly collaborative, community-driven planning process, that would protect long-time residents and locally-owned small businesses while also bringing new affordable housing.

It's the Land Market, Stupid
But the wheels of the real-estate machine were already in motion. A year before the EDC rolled out Inwood/NYC, speculators were already buying up rent-stabilized buildings in Inwood and Washington Heights as investments, to be sold at vastly inflated prices as the market heated up. Tenant advocates call this business model of buying and flipping rent-regulated buildings "predatory equity." Now that the market is hot, new owners use all manner of tactics to force tenants to move. Some make buildings uninhabitable by denying services. Others refuse to accept rent checks and begin eviction proceedings for nonpayment. Still others arrange for major construction projects without proper permits, making it impossible for regulated tenants to stay.
Recent revelations about Jared Kushner, the president's son-in-law and, until becoming Trump's senior advisor, CEO of Kushner Companies, provide a window into the practices of the real-estate empires that make the city unlivable for working-class residents. Last March the watchdog group Housing Rights Initiative revealed that Kushner Companies filed false paperwork with the Department of Buildings between 2013 and 2016 for more than eighty construction permits in thirty-four rent-regulated buildings in gentrifying neighborhoods in Manhattan and Queens. The company claimed that none of the buildings included rent-regulated units, thus avoiding greater oversight, including unscheduled "sweeps" by inspectors to make sure that the company was not harassing tenants. More than 300 regulated units were made uninhabitable with loud construction that continued through the night and on weekends. Noise combined with leaks, dust, rats, and other construction-related issues forced tenants to move from their regulated apartments and ultimately led to a sharp rise in deregulated units.
In September, a follow-up investigation by the Housing Rights Initiative revealed how widespread such practices are. In a span of just two years, the group found, landlords lied on more than 10,000 building permits, claiming they didn't have rent-regulated when they in fact did.
This is just one of the many tactics New York City landlords use to bring rents above $2700, the current threshold for deregulation. Once a unit is deregulated, the landlord can charge market rate. For years the Real Estate Board of New York (REBNY) has successfully lobbied for state laws to sanction a variety of methods to achieve deregulation. Twenty years ago they were instrumental in getting the state legislature to approve 20 percent vacancy increases; six years later they got preferential rents. Preferential leases give landlords the option of renting units to tenants at a rate lower than the legal regulated rent, which is determined by the apartment's rental history. When a lease comes up for renewal, landlords can hike rents back up to the legal maximum. If that legal maximum is more than the tenant can afford and the tenant moves out, the landlord gets to add another 20 percent "vacancy bonus" to the next tenant's rent, moving the unit that much closer to deregulation. When preferential rent came up for a vote in 2003, then-State Senator Eric Schneiderman called it a "declaration of nuclear war on rent-regulated tenants." ProPublica estimates that in 2015 more than 266,000 of the city's approximately 876,000 stabilized units had preferential leases.
De Blasio acknowledges that there is a relationship between his rezoning plans and increased housing insecurity for low-income residents. His promise of free legal representation for any tenant with household income below $50,000 and who faces landlord harassment is meant to address this, but in the context of large-scale rezoning plans, which themselves increase the cost of land and incentivize landlords to chase tenants from regulated units, it is like pushing someone from a ship—into a storm of the city's own making—and throwing them a life raft.
Small businesses face a similar dilemma, as commercial landlords have been charging them exponentially higher rents or simply refusing to offer new leases while they wait for more upscale establishments to move in. Empty storefronts dot the landscape as far south as 155th Street, with corporate chains slowly filling them in.

How to Push a Rezoning Through
So who governs the rezoning process? Once the proposed rezoning gets out of the Department of City Planning office, it begins the Uniform Land-Use Review Procedure (ULURP)—a complicated way of saying that the rezoning is essentially a done deal unless the City Council votes against it. Community boards play an "advisory" role, but their advice is often ignored. Last winter Community Board 12 voted against much of the EDC's rezoning plan and recommended a long list of changes, most of them consistent with the Uptown United Platform, and said the Inwood Public Library should be considered separately by the community and not coupled with Inwood/NYC. The vote was a moral victory. But it did little to sway the process.
Neither did Borough President Gale Brewer's advisory vote against the proposed rezoning a month later. Brewer underlined concerns about small business displacement and its adverse effects on the lives of families whose businesses serve as anchors in the community, and said she would not back EDC's plan for Inwood unless substantive changes were made. Her recommendations, however, did not include density or height limits, expanding contextual rezoning, or separating the public library from the plan.
This left only City Council to approve the plan. A week before the council's Subcommittee on Zoning was due to vote, CUNY architecture and urban planning professors Shawn Rickenbacker, John Krinsky, and Susanna Schaller released a study of Inwood/NYC that they had undertaken at Rodriguez's request. After reviewing the proposal and supporting documents, including the Uptown United Platform, Community Board 12's resolution, previous rezoning proposals, and data collected by the Association of Neighborhood and Housing Development and NYU's Furman Center, they concluded that without a thorough study of "displacement dynamics," taking into account predatory landlord and lender behavior, the rezoning seemed "both premature and frankly, negligent." The authors noted that while parts of Inwood are still "largely affordable" to many residents, the community is already in the process of gentrification. In a deeply rent-regulated neighborhood like Inwood—where more than 60 percent of residents live in rent-stabilized units, and 30 percent of those with preferential leases—the idea that displacement could be addressed using MIH quotas "at almost whatever level," writes Krinsky, is "not simply fantastical but hallucinatory."
In a remarkable display of hubris, Rodriguez ignored the report he had commissioned and, after last-minute closed-door negotiations with the Zoning Committee, he produced a modified plan that would leave Inwood's commercial stretches untouched. Housing activists recognized that in the context of the large rezoning, this change would put small businesses at even greater risk, subject to spot rezonings for taller and denser buildings as commercial redevelopment proceeds. Even Crain's New York Business said that future residential redevelopment along those prized transit-rich corridors will "almost certainly be exclusively market-rate."
The subcommittee approved the plan, and within hours housing activists occupied Rodriguez's district office in Washington Heights—where they remained for more than 24 hours until they were ejected by the NYPD with the support of City Hall police. One protester, CB12 member Ayisha Ogilvie, was taken into custody. Zoning Subcommittee Chair Francisco Moya, who had voted the plan forward, rescinded his support in a strongly worded letter accusing the de Blasio administration of using "divisive tactics to push its agenda" on a working-class community of color while "propping up a system that enriches developers." Moya demanded that the mayor call a moratorium on all neighborhood rezonings and establish a task force to study the human costs of these rezonings. A few days later came the August 6 march, when activists marched through Inwood, blocked traffic, and were arrested. Others set up an Ydanisville at the northern tip of Fort Tryon Park to illustrate what will become of longtime low- and moderate-income residents who are displaced as a result of Inwood/NYC.
On August 8, the morning of the City Council vote, an article by the three CUNY researchers appeared in the Daily News under the headline, "The Zoning Game is Rigged." They called Inwood/NYC's MIH-backed promise of affordable housing "textbook snake-oil salesmanship." That afternoon, several hundred housing activists—locked out of City Hall in scorching heat for more than two hours—chanted "Let us in!" as the Council approved the plan. One Inwood resident and housing researcher told me she had been attending City Council zoning hearings since 2007 and had never before seen residents locked out. If billionaire Mayor Bloomberg pushed rezonings as part of his branding of New York as a "luxury" city, as historian Julian Brash writes, he let residents attend hearings and votes: he had nothing to hide. De Blasio's promise of affordability and a democratic, collaborative process in contrast rings hollow.

Moving Forward
Housing advocates in Inwood are preparing a civil rights lawsuit to challenge the rezoning. This will not be the first lawsuit of its kind against the city. Using Title VIII of the Civil Rights Act of 1968 (the Fair Housing Act), previous lawsuits have failed because it is difficult to prove racial discrimination when it is the market that discriminates as opposed to restrictive covenants and redlining of an earlier era. The CUNY report, and a more recent study issued by the Pratt Center for Community Development, show that the city's environmental review manual, which is the basis of the required environmental impact statement on the rezoning—and without which the rezoning could not move ahead—fails to examine the relationship between neighborhood rezonings and displacement of working-class residents of color. Inwood resident and housing advocate Phil Simpson argues that the city's rezoning process ignores the rights of protected groups by erroneously assuming that their rent-stabilized housing is secure. The challenge will be to show that even without overt discriminatory intent, the rezoning puts pressure on a large low-income community of color.
The lawsuit, which builds on failures of previous legal strategies, is not a replacement for the ballot box. If we've learned anything at all from the 2016 presidential election, it is that voting matters. New York, a reliably blue state in presidential elections, has one of the lowest voter turnout rates in the country. In 2017 only 14 percent of the electorate, on average, turned out for the mayoral and City Council primaries. In Rodriguez's District 10, insurgent candidate Josue Perez—who promised to vote against Inwood/NYC—won 31 percent. It only took about 7,000 votes—representing somewhere around 7 percent of the district's adult population—for Rodriguez to hang onto his seat and push the rezoning through the city's review process.
The state primary election this past September was more promising. It served as a referendum on the Independent Democratic Conference (IDC), a group of Democratic senators who caucus with Republicans to preserve the real-estate-friendly status quo. In exchange for keeping in place vacancy decontrol, preferential rents, and the 421a tax abatement program, and the LLC loophole that allows developers and property owners to bypass state restrictions on corporate campaign donations, IDC candidates have received hundreds of thousands of dollars from developers and REBNY.
In a stunning rebuke, Democratic challengers took down six of the eight state IDC senators, including the Bronx's seemingly invincible Jeff Klein, who organized the IDC in 2011 during Andrew Cuomo's first term in Albany. Voters in the 31st State District—that begins in Northern Manhattan and snakes down to West 25th Street—ousted first-term incumbent Marisol Alcantara, who accepted more than $160,000 from the IDC and had the backing of councilmember Rodriguez, for whom Alcantara once worked as campaign manager. Jackson beat Alcantara by 17 percent. He promises to caucus with the Democrats to end vacancy decontrol and repeal the Urstadt Law that gives the state senate power over the city's rent laws. Achieving these goals will depend on what happens in the general election. If all anti-IDC candidates are elected on November 6, the Democrats will still have to flip at least one Republican district in order to take control of senate. With the rent stabilization laws coming up for renewal in 2019, the stakes for city tenants could not be higher.
Another lesson from the Inwood saga is that institutions of governance must become more democratic. The city's ULURP review process works well for developers and city technocrats because most of the process is time-limited, decisions are made behind closed doors, and the emphasis is on the technicalities of zoning rather than on comprehensive community-based planning. Even the community boards, as limited a role as they play, are not democratically elected—their members are unpaid volunteers, half of whom are appointed by the councilmember and the other half by the borough president. CB12's vote against Inwood/NYC, after a year of running workshops on behalf of the EDC, shows the board struggling to become relevant in the decision-making process.
New Yorkers could assert more democracy in the community planning process by pushing for an amendment to strengthen community boards in the current city charter revision commissions that is now underway. Hearings, which are ongoing, will conclude next fall and culminate in ballot initiatives in November 2019. (The initiatives that are on the ballot for next week's election are the result of a different charter revision commission, led by the mayor.) Boards should have a line in the budget to hire professional planners who can undertake expensive environmental impact studies independently of City Hall; their members should be elected by voters; and they should have binding influence on policy. All of this would provide a level of accountability and democracy that is completely absent.
In the meantime, four neighborhoods are still in the pipeline for rezoning under de Blasio. Not all the rezonings are as top-down as Inwood/NYC. Some have evolved out of a more collaborative process between residents and stakeholders and the Department of City Planning. Nevertheless, they all rely to a large degree on courting private developers with MIH and tax breaks. These schemes invariably raise land value, which encourages speculation and landlord harassment, making the city unlivable for the working class.
After the City Council voted down the Sherman Plaza rezoning in 2016, de Blasio warned activists not to "cut off your nose to spite your face." Two years and four major rezonings later, the housing program is largely going his way. But the dilemma facing tenant advocates in a city so defined by real estate remains.
It's not that neighborhoods should not be redeveloped—it's that they should be developed for and by residents, and not for the 1 percent. As long as the market is the main vehicle for building affordable housing, New York's "tale of two cities" will continue. Breaking this cycle remains the city's defining challenge.
---
Adele Oltman is a social historian and the author of Sacred Mission, Worldly Ambition: Black Christian Nationalism in the Age of Jim Crow. Her writing has appeared in the Nation, Jacobin, and City Limits. She is currently working on a book about healthcare in New York City after the Second World War.