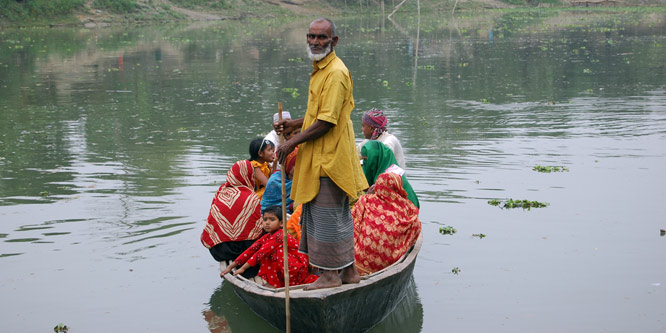 This is part two of a three-part collaboration between Hot & Bothered and Cited, an award-winning documentary radio show out of the University of British Columbia. Over the course of the three broadcasts, Kate Aronoff and Daniel Aldana Cohen will be joining Cited producers Sam Fenn, Josh GD, and Gordon Katic to talk environmentalism, jobs, climate migration, indigenous sovereignty, and more. Here's episode 2.
What does climate migration really look like? On today's show we meet two Bangladeshi Canadians, Afroza Begum and her son Souri Zaman, whose stories speak to the unequal ways climate change is felt around the world. Living in Toronto, Begum now works with Bangladeshi community groups on settlement services, helping new immigrants with housing, employment, and language learning. She and Souri help us parse the layers of the term "climate refugee," which is often used but little understood.
If you like what you're hearing, subscribe to the Hot & Bothered feed on iTunes, Stitcher, or wherever you get your podcasts to get all three parts of our series with Cited and to catch up on season one. And while you're at it, tune into more excellent recent episodes from Cited, including a prizewinning documentary on a Vancouver heroin clinic and a series on mass incarceration in collaboration with Jacobin's The Dig.
Plus: Read Daniel's recent case for working-class environmentalism in Public Books.
Special thanks to the Cited team for producing this series and to the Pacific Institute for Climate Solutions for partnering.
Hot & Bothered is hosted by Kate Aronoff and Daniel Aldana Cohen and produced by Colin Kinniburgh. Browse the full archive here.