It's impossible to contemplate a Green New Deal without sharpening our understanding of the original New Deal—its labor movement, its ambitious experiments, and its racial inequalities.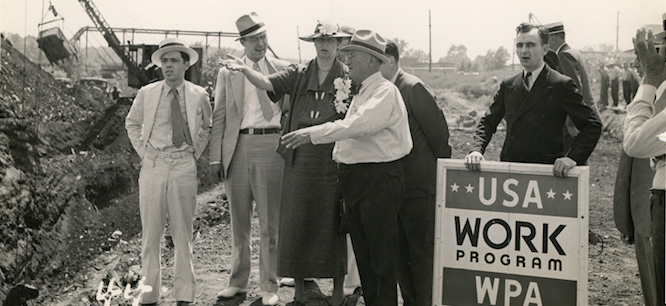 This podcast episode is part of a special mini-series on Designing the Green New Deal. The Hot & Bothered podcast will return from a hiatus next Thursday, April 9. Tune in with Kate and Daniel for weekly episodes on how we tackle climate change amid the coronavirus emergency.
To win a Green New Deal, we need to deepen and expand mass movements and coalitions. Last fall at the University of Pennsylvania, we organized a massive conference on Designing a Green New Deal, with contributions by academics, journalists, organizers, and designers. In this four-part mini-series, we bring you audio of the discussions.
The New Deal was a mix of failures and successes. Understanding how these occurred is essential to informing the present, covering topics ranging from labor organizing to experimental federal governance to massive energy infrastructures. This episode features the author and academic Raj Patel, MIT planning scholar Jen Light, Places editor Nancy Levinson, UPenn landscape architecture professor Nicholas Pevzner, and author Mary Annaise Heglar.
Daniel, Kate, and special guest (and conference co-organizer) Billy Fleming introduce the episode. The conference was co-hosted by the McHarg Center for Urbanism and Ecology and the Socio-Spatial Climate Collaborative, or (SC)2.
Check out the full Hot & Bothered archive here. Hot & Bothered is produced by Colin Kinniburgh. Music: Mercurias Meet Victor Rice, "Carregar (Instrumental)," courtesy of Total Running Time.
Further reading
A Green New Deal for Agriculture (Raj Patel and Jim Goodman, Jacobin)
The Nature of Cities (Jennifer Light, Johns Hopkins University Press)
After the Storm: Climate Change and Public Works (Nancy Levinson, Places Journal)
The Green New Deal, Landscape, and Public Imagination (Nicholas Pevzner, Landscape Architecture Magazine)
What Climate Grief Taught Me About the Coronavirus (Mary Annaise Heglar, The New Republic)