Two years ago, New York implemented a program promising free tuition. But policies that don't offer support to part-time students only deepen inequality in higher education.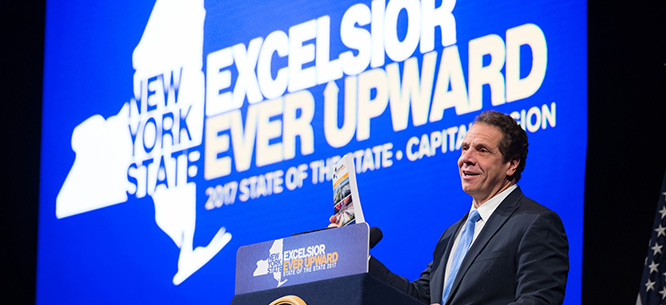 A few weeks ago Senator Bernie Sanders kicked off his 2020 presidential bid with a rally at Brooklyn College. Among the slew of campaign pledges Sanders made during his speech, the one that resonated most among a crowd full of college students was his call for free college tuition for all. Over the past few years, the idea—a signature Sanders policy proposal in the 2016 Democratic primaries—has gone mainstream, gaining traction among national policymakers and politicians alike. On the state and local level, there are now over 350 tuition-free college programs, using both public and private funds. California alone has forty-three.
Two years ago, New York Governor Andrew Cuomo announced his own statewide free-college experiment. Known as the Excelsior Scholarship, the program claimed to make New York's public colleges tuition "free" for all students whose families earn $110,000 a year or less (the cap was increased to $125,000 this year and will eventually go as high as $200,000). When first announced, Excelsior was met with a shower of praise by progressives such as Sanders, who stood by Cuomo's side when he announced the plan. "What Governor Cuomo is proposing is a revolutionary idea for higher education, and it's going to reverberate not only throughout the state of New York, but throughout this country," Sanders proclaimed to a crowd of students and faculty at LaGuardia Community College in Queens. However, as bold as the program initially seemed, it came with caveats that went unmentioned in Cuomo's speech.
The Excelsior Scholarship is exactly that—a scholarship, and not the "free" college program that made national headlines. Thousands of students whose families' earnings fall below the $125,000 threshold have been unable to qualify for it, and many others qualified but later had the scholarship revoked because they were not able to meet one of a number of requirements with which students are forced to comply.
In the meantime, tuition at the City University of New York has only gotten more expensive. CUNY's board of trustees has increased tuition over 35 percent since 2011, including a $200 hike in annual tuition last year. "How much more can students bear?" asked Hercules Reid, vice chairman of legislative affairs for the CUNY University Student Senate.
"When I first heard about Excelsior, I thought it was going to make my life so much easier," said Yerania Galarza, a junior at Queens College majoring in nutrition science who transferred last fall Yerania from Queens Borough Community College. She was enthusiastic to begin studying at a four-year college. When she learned that her federal financial aid package would only cover part of her tuition she was told by an advisor that she would be able to qualify for the new Excelsior Scholarship. Galarza's advisor informed her that as long as she maintained thirty credits a year, or five classes per semester, she would continue to be covered by the program. Optimistic about her future at Queens College, she applied in the fall and was awarded $600 per semester.
During the spring semester, Galarza began to find it difficult to balance her strenuous work life and her heavy course load. "The work was catching up to me, so I felt that I had to drop a class just so I could breathe." When she decided to drop her one-credit gym course, she found out that not only did she no longer qualify for the scholarship but that her initial award had reverted into a $1,200 loan. "When I found out I no longer qualified I was shocked," said Galarza. "Maybe because the program was new I thought it had some glitches or something. But when I went to the finical aid office, it seemed like nobody knew how the program worked. All they would do is refer me to the website."
In fact, last August, SUNY financial aid officers expressed their own frustration with how the program has been rolled out. "We have gone months without formal written guidance," said Sarah Buell, a SUNY financial aid officer from western New York. "We are essentially, in our 64 campuses, establishing 64 different versions of this program." In response, the state set up a website and hotline to address student and administrator concerns. State officials have attributed the complicated maze of red tape to growing pains that are natural for any new program of Excelsior's magnitude, but for students the pace at which the issues are being worked out doesn't seem fast enough.
Online, Galarza found a disorganized website that left her with more questions than answers. She tried calling the hotline, but the operators weren't allowed to look at her personal information. When she asked for more details regarding the requirements to remain in good standing in the program, she was never given a clear answer, nor could they tell her why she was disqualified from the program because of only dropping a one-credit class. "It's pretty dumb to force students to take five classes, especially if the student is an incoming freshman," she said. "They're just going to have a hard time handling that kind of workload for the first time."
Yerania's story is far from unique. A recent study published by the Center for an Urban Future found that 68 percent of students who applied for the scholarship were denied. The majority of those were denied because they were unable to attend college full-time as Excelsior requires. At LaGuardia Community College, the venue where Cuomo chose to announce the Excelsior Scholarship, 45 percent of students are registered part-time, making a large portion of the student body ineligible for the program. "The students who really need financial assistance the most and who stand to benefit the most from tuition-free public college are the ones who are left out," said Julia Salazar, the democratic socialist New York state senator from Brooklyn. "Middle-class students and low-income students shouldn't have to be fighting over scraps. We could provide tuition-free public college for everyone."
Based on income alone, the vast majority of LaGuardia students would be eligible for free tuition. Sixty percent of students receive financial aid; 72.5 percent of students' families make less than $30,000 a year. Moreover, of the 45,694 students enrolled in a degree program at LaGuardia, only 6 percent are white. Given these sorts of numbers, many believe that Excelsior is blatantly discriminatory against low-income students and students of color who can't afford the privilege of attending school full-time without sacrificing job and family obligations.
"The Excelsior Scholarship is a good start but needs reform," said Emily Skydel, the Free and Quality CUNY campaign coordinator for New York Public Interest Research Group. "For example, aid must be offered in the summer and winter semesters. We've already heard from students who have lost the scholarship due to stringent credit requirements that are unrealistic."
Other advocates believe a more extensive overhaul is necessary. "The Excelsior Scholarship should be scrapped completely, and we should have a return to fully free tuition," said Corrinne Greene, a student activist at Brooklyn College and chapter president of Young Progressives of America. "The program is discriminatory and provides no assistance at all for those who don't qualify on technicalities." Greene, a vocal grassroots activist fighting to make access to CUNY a right guaranteed by the state, has no shortage of suggestions for reform. "I believe there is a very good historical model for how CUNY and SUNY should be funded. Our tax dollars are offered up as incentives to large companies frequently," she said. "At minimum, we need to immediately return to the historical levels of state funding for SUNY and CUNY." She supports earmarking revenue from legalized recreational marijuana for educational and criminal justice reform.
The Excelsior program is far from unique in forcing low-income students to be enrolled full-time and making them hop through a number of obstacles to qualify for free tuition. In addition to credit requirements, a proposed program in West Virginia makes free tuition conditional on maintaining a 2.0 grade-point average, passing a drug test each semester (which students are required to pay for), and performing eight hours of community service during their time of study. Restrictions like these make it even more difficult for low-income students to succeed. Such programs don't treat education as a right but as a privilege that can be taken away at any time, with the most vulnerable students most likely to fail.
Part-time students represent 37 percent of the nation's college student population, according to a study by the Center for American Progress. On average, part-time students are over twenty-four years old and are supporting themselves financially. Nearly three-quarters of them are juggling a job and school, and 42 percent work at least forty hours per week. Almost four in ten live with dependents. Tuition-relief policies that ignore these realities fail to serve the very people they should benefit most.
With so much responsibility outside of school, most part-time students never see graduation. Supporters of full-time enrolment requirements for programs such as Excelsior point to the lower graduation rates as a reason to incentivize students to attend school full-time. It's possible that Excelsior could push students deciding between part- and full-time to opt for the latter, but the clear result is a program that punishes people who have no choice but to attend school part-time. "On average, a traditional, full-time student with a family income of $30,000 or less attending a four-year institution would have half of her cost of attendance covered by aid," note the authors of the Center for American Progress study. "An adult 25 or older attending part-time with the same income could expect to receive aid covering only 17 percent of her cost." They conclude that "While state policies that tie financial aid to on-time credit accumulation are relatively new, it appears that they can help some students do better while leaving others behind."
The race for the Democratic presidential nomination will likely once again make tuition-free public college a focal point of national debate. This time, experiences like those under the Excelsior Scholarship should push us to go beyond the slogan. In February, a coalition of students across CUNY and SUNY joined together to do their part in an open letter to Sanders that asked him to rescind his endorsement for Excelsior. "You can remind Cuomo and the entire Democratic establishment what real free college for all looks like, how it can be achieved, and why it will transform our country for the better," said the letter. They called the program "a disaster for many low-income students here at CUNY who are struggling to afford higher education."
With its strict credit requirements and stipulations about graduation time, New York's "free" college program adds unnecessary burdens on students who have been historically marginalized from academic institutions. A free-college-for-all program should take into account the complex realities college students face and not force a one-size-fits-all approach that can do more harm than good. Politicians and policymakers must be ready to acknowledge the mistakes of New York's experiment and offer an alternative model rooted in economic and racial justice.
---
Amir Khafagy is a New York City–based journalist. He has contributed to such publications as CityLab, Jacobin, Shelterforce, Curbed, City Limits, and In These Times. Find him on Twitter @AmirKhafagy91.