After years of tireless organizing, the campaign to close down own of the country's most notorious jails secured a landmark victory in March. But activists say it's not enough.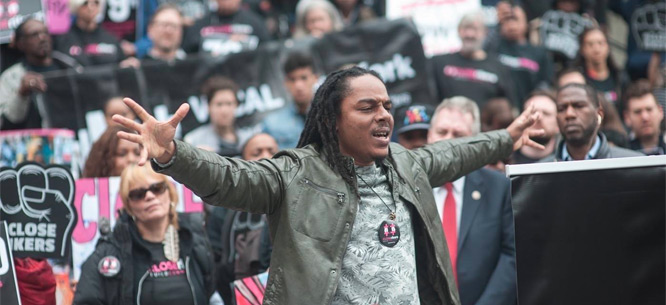 On a cold Monday night in mid-February, New York City Mayor Bill de Blasio took the stage at the Apollo Theater in Harlem for his annual State of the City address. In a speech focused mainly on the affordable housing crisis, he took a few moments to thank the police officers who have publicly loathed him since the day he took office:
We are safer than we have ever been. And let us thank the men and women of the NYPD, and . . . everyone that works together with the NYPD to have achieved this extraordinary success. The era of neighborhood policing has begun. The era of stop and frisk has ended.
A frequent object of derision among the NYPD and its leadership, de Blasio was attempting to walk a delicate tightrope—appeasing progressives with a denunciation of stop and frisk while praising cops enough to deflect criticism from the law-and-order types.
But across the street, a group of about a hundred protesters was not having it. "Hey hey! Ho ho! Rikers Island has got to go!" they yelled, breath visible in the frigid air as they shuffled behind a row of steel crowd-control barriers. Soon enough they were on the move, a unified mass heading east on 125th Street. "Hell yeah," someone shouted in response to the anti-Rikers chants. "Burn it down," a middle-aged woman offered as she made her way down the sidewalk against the current of protesters. It was obvious from these reactions that many locals needed no convincing—they were already on board.
Six weeks later, in a surprising turn, de Blasio announced that he was on board as well. His pledge to close Rikers Island came as a sudden departure from his earlier equivocation on the subject—he had previously said that shutting down the jail complex was "noble concept" but not logistically feasible. "We can do it," countered Andrew Cuomo, the centrist governor who has made a sport out of antagonizing de Blasio and this time found himself in the unusual position of attacking the proudly liberal mayor from the left. Finally de Blasio relented, promising on March 31 that Rikers would be closed within ten years, provided that the city was able to reduce the jail's population to 5,000 from its current 9,300. Cuomo was unimpressed. If it were up to him, he claimed at a reception for Al Sharpton's National Action Network in late April, he would sign legislation to close Rikers in three years instead of ten. Without mentioning de Blasio by name, he grandstanded, "if . . . the parents of the children who were in Rikers Island were rich and powerful, do you think it would take ten years to close [it] down?"
By that time, many of the protesters who had greeted de Blasio that cold night in February were back in the streets to register their dissatisfaction as well. On April 24, activists with the #CLOSErikers campaign held a rally outside City Hall, on the very steps where the campaign had launched a year earlier. Its leader Glenn Martin, dressed casually in a black hoodie instead of his usual suit, addressed the gathered crowd before turning to the hundreds of protesters standing on the steps behind him. "Just a short time ago we stood here—we said close Rikers, they said never. We said twelve months, now they say ten years. We say now!"
The injustices plaguing the complex New Yorkers have for decades nicknamed "Torture Island" are stark, and the urgency of closing it clear. Some of the protesters held up signs with statistics written in bold pink on a black background: 89% of people at Rikers island are black and Latino. 79% of those detained are awaiting trial. At the bottom of the signs was a small logo for the group JustLeadershipUSA (JLUSA), which has spearheaded the #CLOSErikers campaign.
Glenn Martin started JLUSA in 2014 with the aim of cutting the U.S. prison population in half by 2030. Martin, once locked up himself, makes a convincing case that the people directly affected by mass incarceration are best equipped to fight it. Born in Bed-Stuy and raised on public assistance, Martin first went to Rikers at sixteen and was stabbed four times on his second day there. Later he spent six years behind bars for armed robbery—one year at Rikers, five in Attica, where he earned a liberal-arts degree. Since his release he has made it his life's mission to protect others from the viciousness of the carceral state and to help ex-offenders through the reentry process.
"New York is a city of armchair liberals," says Martin. "We're a city that is super-segregated and we have set of progressive values that don't always play out in our policy making or the way we engage with each other." To Martin, Rikers is a microcosm of the prison-industrial complex that has led us down a dark but reversible path. "I don't think we live in a country that has an abundance of sympathy for just about anyone," he observes. "We are very punitive and we don't leave a lot of space for redemption, transformation, and second chances even though rhetorically we suggest that we do."
Despite the attention that Kalief Browder's story brought to the campaign (Browder spent three years in Rikers awaiting trial on a false charge of stealing a backpack before taking his own life), the public is just beginning to understand the kinds of brutality that inmates face. Martin, for his part, thinks that "carving out the perfect prisoner"—focusing overwhelmingly on cases like Browder's—is a misguided strategy. Instead of dividing prisoners into those who deserve time and those who don't, the public should follow the lead of the incarcerated themselves in envisioning more humane alternatives.
The act of closing Rikers should be seen as a step "on the road to abolition," says Martin—prison abolition, that is. Prison abolition, as opposed to prison reform, seeks to dismantle the prison industrial complex entirely and replace it with a humane alternative. What this alternative would look like is a matter of great debate, but the goal of ending the prison system has found proponents among socialists, anarchists, and left-leaning activists of all stripes.
Martin bristles at the notion that reform and abolition are incompatible. "If you are a staunch abolitionist and your suggestion is that we can go from having 2.2 million people locked up to having no one locked up, that's extremely elitist and very academic and doesn't match the reality of what it takes to reform the system." Closing Rikers is what André Gorz called a "non-reformist reform"—not the incrementalism that Martin rejects, but an achievable goal meant to further a broader, transformative political project. When activists demanded an end to solitary confinement for minors, Rikers began chaining kids to their desks instead. Without a larger overhaul, minor reforms will lead to little more than variations on the same abuses. But closing an entire jail complex is a step toward more radical change.
Martin was a member of the Independent Commission on New York City Criminal Justice and Incarceration Reform, put together last year by former chief Judge Jonathan Lippman at the request of City Council Speaker Melissa Mark-Viverito. Just as Mayor de Blasio announced his intention to close the jail, the Lippman Commission delivered him a 148-page report driving the message home. "Closing Rikers Island is a moral imperative," the report reads. "The Island is a powerful symbol of a discredited approach to criminal justice—a penal colony that subjects all within its walls to inhumane conditions." Joining Martin on the commission were twenty-six other experts from the academic, judicial, and nonprofit worlds. The commission, along with pressure from administration higher-ups like Mark-Viverito and Comptroller Scott Stringer, was vital in leading de Blasio to overcome his skepticism and come to the same conclusion Martin did years ago.
On March 1, the Lippman Commission held a forum in the Bronx, a final opportunity for community members to voice concerns before the commission released its final report. It began with a panel in a large room of the Andrew Freedman Home, an enormous mansion in the South Bronx that once functioned as a retirement home for the formerly wealthy and now sits incongruously among the projects and tenements surrounding the Grand Concourse. Hosted by commission member Stanley Richards, who also sits on the New York City Board of Correction, the panel featured Reverend Wendy Calderón-Payne of the Urban Youth Alliance, Rubén Austria of Community Connections for Youth, and former Rikers inmate Barry Campbell, who detailed his nightmarish ordeals in last year's Bill Moyers-produced Rikers documentary.
The panel confirmed outrages that have been widely reported, especially in the wake of Kalief Browder's suicide. At Rikers, America's economic divide is hidden in plain sight: about three-quarters of the 10,000-odd people at the facility on a given day are locked up because they can't afford bail. Nine out of ten, as the #CLOSErikers protesters emphasize, are black and Latino, belying the notion that "race issues" such as police brutality and mass incarceration are separate from political economy. As Reverend Calderón-Payne pointed out, allowing rich kids to walk free while keeping the poor locked up because they can't afford bail is a slap in the face of the city's working class. What's more, the so-called "ready rule" means that prosecutors don't have to give defendants the speedy trial they have a right to under the Sixth Amendment, as long as they can claim to be "ready" for the trial within six months. As a result, many languish behind bars for years while attorneys and judges postpone their trials with multiple adjournments. As Rubén Austria pointed out, the South Bronx—a neighborhood that sends a disproportionate number of residents to Rikers—is one of the poorest congressional districts in the country, a fact often lost amid images of the city's immense wealth.
Holding a single prisoner at Rikers for a year costs New York City taxpayers some $132,000, money that could have been invested in the communities those prisoners overwhelmingly come from. Instead, the New York City Housing Authority gets stuck with $17 billion in backlogged repairs while a largely segregated public education system replicates the inequalities shaping the lives of its students and their families beyond the school walls.
The audience at the Lippman Commission forum was comprised largely of black and Latino teenagers, who cheered the panelists as they enumerated the ways in which the city has failed its children, from education to mental health. After the panel ended, the floor opened up for questions and a line immediately formed down the aisle, reaching almost halfway out of the room. One after another, attendees—many of them former inmates, with an occasional law enforcement official thrown in—elaborated on the corruption and cruelty they had witnessed firsthand at Rikers, corroborating the testimony of the panel. The people's verdict was in, should anyone care to listen to it: Rikers is hell.
The question of bail underscores how closely race and class are intertwined in America. African Americans and Latinos are poor at higher rates, poor people can't afford bail, and so the jails are filled with poor people of color. The racism inherent in mass incarceration doesn't necessarily arise out of any racist attitudes among the correction officers, who often share their background (Martin's brother is a former Corrections Officer), or even among the politicians to whom these jails owe their existence, but for the simple reason that there is no financial incentive to treating the poor with dignity.
JLUSA's Director of Policy and Campaigns Janos Marton points out that the problem with bail is more discretionary than legislative. "A district attorney could tell his assistant district attorneys, 'we're not going to ask for bail in misdemeanor cases or drug possession cases or nonviolent felony cases' and that requires no change in law." The problem, Marton says, is that such statutes as partially secured bail—under which a defendant would only have to pay the full amount if they skipped their court date—are legal but underused. Marton believes we need "different values" from judges and district attorneys who "say all the right thing on the stump about criminal justice reform" but betray their promises once in office.
For every outwardly racist elected official—Donald Trump, Joe Arpaio—there is a politician whose rhetoric may be tolerant but who presides over much the same machinery of punishment and control. De Blasio, his call for Rikers' closure notwithstanding, has yet to prove that he is not one of these politicians. A former Hillary Clinton campaign staffer who rose to prominence on a post-Occupy platform of modest redistribution and police reform, he has consistently come under fire from both right and left.
Marton points out that de Blasio was "very spooked" by the shooting death of two officers in 2014, and swerved to the right on criminal justice as a result. When Officer Randolph Holder was shot and killed the following year by someone who had been placed by a judge in a drug diversion program rather than jail, the mayor immediately called for harsher bail policy. At times it seems that de Blasio is so fearful of the right-wingers calling him a crypto-communist or a cop hater that he takes for granted the left's role in getting him elected. "It always puzzles me," says Marton, "why politicians don't think they can get outflanked on the left. It can happen to anyone really . . . it happened to [Christine] Quinn the same way it happened to Hillary in '08." His pledge to close Rikers may signal that de Blasio now realizes that a rightward shift is out of touch with the demands of a rising progressive generation.
Vowing to shut down Rikers brings de Blasio closer to cementing a legacy that he's so far evaded: that of a mayor who finally made good on his promise to usher in a new era of left-wing politics in New York City. When the history books are written, all the "tale of two cities" talk from his stump speeches won't add up to much, but closing down the rotten core at the center of New York's barbaric criminal justice system will not be soon forgotten. It would be an overdue reward for the activists and organizers whose anger first set the stage for de Blasio's ascendancy. And it might even be enough to drown out the charges of cop-hater (from the right) and corruption-plagued bureaucrat (from critics on all sides).
One of the ugliest components of capitalism is its tendency to create a surplus population at the bottom of the social hierarchy. The members of this underclass are likely to be unemployed, in debt or living paycheck to paycheck, and far more likely to be jailed at a young age. In this way, prisons function as holding cells for those unable to find a stable place in an economy that was never designed to accommodate everyone. Angela Davis put it succinctly in her seminal book Are Prisons Obsolete? when she wrote, "The prison has become a black hole into which the detritus of contemporary capitalism is deposited." As the war on poverty gave way to a war on the poor in Reagan's 1980s, this surplus population expanded rapidly and the prisons expanded along with it.
The violence of facilities like Rikers may be partially hidden under a veneer of liberal tolerance, but like a piece of gauze covering a wound, the blood underneath eventually seeps through. No politician, whether it be a law-and-order conservative like Giuliani or a reform-minded liberal like de Blasio, has the right to brag about New York being the safest major city in the country without acknowledging the hidden violence upon which New Yorkers' current safety is built.
For Harlem native Sharozz Segrede, a blind rapper and subway performer who goes by the name Mr. Outtasite, Rikers was an introduction to crime rather than a deterrent. He first found himself on the island in 1986 as the innocent victim of a routine sweep after a robbery, he says, back when he was only fifteen years old and still had his sight. "The robbery I had nothing to do with—I just happened to be riding the train going downtown. Some teenagers committed a robbery and cops just started snatching black kids off the train." He spent a year and a half on Rikers awaiting trial, eventually pleading guilty with time served just to get out.
That first time changed him. "It brought out a negative side of me—less trust in people." Since then, he's been there four or five times for robberies he did commit—living testament that prison is more likely to create a criminal than rehabilitate one. The first time he came back after losing his sight was in 2015, and he was furious at how disabled people were neglected by the Rikers staff. While performing on the subway he met a #CLOSErikers member who encouraged him to get involved on behalf of the "invisible demographic" of disabled prisoners (apart from physical disabilities, about 40 percent of those locked up at Rikers have been diagnosed with a mental illness).
Rikers is a place just far enough out of sight for it to be out of many New Yorkers' minds, particularly the minds of those who would never imagine they might end up there. To them, the slashing and stabbing and beating and rape that go on behind the jail's walls do not really occur in New York City but in a place so unfamiliar as to seem unreal.
Still, slowly but surely, the public conversation around Rikers is changing. A year ago, Martin says, there were fifty organizations partnered with the campaign to close it. Today there are more than 140. The fact that organizers now appear to have the ears of their local politicians is a welcome development, but it hasn't made the organizers' demands any less adamant. If policymakers drag their feet, the movement to shut Rikers down will only grow.
---
Rob Bryan is a freelance journalist from New York City. Follow him on Twitter: @rbryan86.