Building on the legacy of the assassinated Rio councilwoman Marielle Franco, a new wave of local candidates is fighting to transform the country's democracy.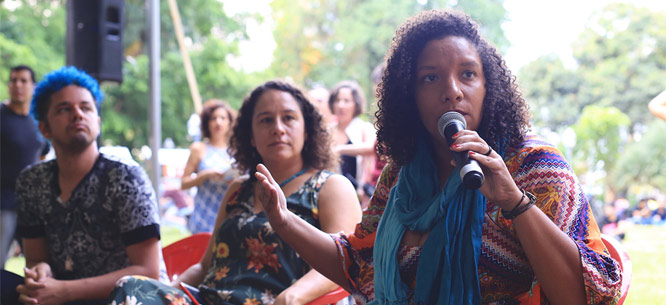 Renata Souza, candidate for Rio de Janeiro State Chamber of Deputies from Brazil's Socialism and Liberty Party (PSOL), knows she has big shoes to fill and a difficult path to walk. Souza was the chief of staff—and a close friend—to Marielle Franco, the Rio de Janeiro city councilwoman gunned down in a drive-by shooting in March 2018. In the wake of Franco's assassination, Souza pledged to run for office herself, to carry on Franco's commitment to fighting for the rights of Rio's disenfranchised—particularly the poor and predominantly black residents of the city's favelas, for women of color more generally, and for LGBT citizens, especially those from poor communities.
These positions make Souza vulnerable to the same backlash, vitriol, and intimidation that Franco confronted during her short, inspiring political career, and that reached a tragic climax with her assassination. (Six months after Franco's death, two suspects have been arrested, each with connections to militias notorious for violent exploitation of favela turf as a source of economic revenue. The broader conspiracy behind the crime remains opaque.) Souza is equally steadfast, summing up the foundation of her courage with a reference to African-American feminist Audre Lorde: "Our silence will not protect us."
This makes Souza one of the most compelling candidates at any level in Brazil's upcoming elections, which will take place on October 7. The presidential election presents a perplexing field: the most popular candidate, former president Lula, is in jail and finally, officially withdrew his candidacy this week after months of uncertainty. Enraged demagogue Jair Bolsonaro looms on the militaristic right—his position perhaps only strengthened after he survived a stabbing attempt last week—while a cluster of candidates elsewhere along the spectrum struggle to distinguish themselves. (Lula has tapped former São Paulo mayor Fernando Haddad to run in his stead, and Haddad is struggling to build national recognition in advance of the vote.) Candidates in many downballot elections have sought alliance either with the new right associated with the burgeoning evangelical population or with the business elite in order to rise to the fore. The race for state governor of Rio de Janeiro, for example, looks like it will come down to former soccer star Romário, now linked incongruously to the moralist evangelical base, and former Rio de Janeiro mayor Eduardo Paes, architect of the city's Olympic debacle and closely linked to its powerful real-estate and construction consortia.
Souza offers a breath of fresh air in this stultifying context. To win, she will need to tap into the same kind of hope in the face of adversity that animated Marielle Franco's vision—now made even more precarious and urgently necessary by Franco's assassination.
Like Franco, Souza is herself a black woman, born and raised in the network of favelas known as the Maré Complex, on the city's north side, near the international airport. She and Franco initially met through a pre-vestibular, or prep course for the college entrance, created by one of the pioneering NGOs in that favela. Franco was a few years ahead of Souza, and helped her turn success within the prep course into a full scholarship to the Pontifícia Universidade Católica, Rio's most prestigious private university. Souza has since gone on to earn a Master's degree, followed by a PhD in Communications from the Universidade Federal do Rio de Janeiro. She is now conducting post-doctoral research while running for office.
Souza's dissertation, "The Commons and the Street: Youth Resistance in the Face of the Militarization of Everyday Life in the Maré Complex," examines the evolution of activism in the favela during the period of military occupation and "pacification" accompanying the World Cup of 2014 and the Summer Olympics of 2016. These mega-events served as the pretext for transforming a fragile community-policing pilot program into a strategy of heavily armed confrontation and intimidation. These policies have reaped a bloody toll: after declining somewhat in the 2000s and early 2010s, levels of urban violence have risen precipitously in the last four years. Police killings of alleged suspects—predominantly favela residents—have risen particularly sharply. Police generally claim that these victims were shot while resisting arrest. As favela residents know well, such claims are rarely investigated.
Souza's research finds, however, that communication among favela youth connects street knowledge with broader networks within and beyond the favela, enabling new strategies of political mobilization. Franco and Souza embodied this practice: the pair cemented their alliance in 2006, when police pursuing a suspect through Maré's narrow alleys shot and killed a three-year-old boy. With Souza's participation, Franco led residents in the impromptu organization of a human chain surrounding the local police post—a tactic that prevented further police backlash against the grief-stricken residents, and shifted the outrage of those residents towards political mobilization.
In the wake of that tragedy, Franco and Souza went to work for Marcelo Freixo of the PSOL, volunteering for his victorious campaign for State Chamber of Deputies and then working within his political office. Alliance with Freixo connected Franco and Souza to networks of power reaching beyond Maré. Freixo encouraged Franco to run for city council in 2016 and she won in a landslide with one of the highest vote totals in that year's election. Souza is now running for Freixo's seat in the State Chamber of Deputies, while he runs his own campaign for the Federal Chamber.
Reflecting on this trajectory and her connections to Franco, Souza observes:
Without doubt, the assassination, the summary execution of Marielle Franco threatens Brazilian democracy. As long as those of us who struggle for human rights live in this democracy, we are under threat. . . . But we understand that the more Marielles we have, the stronger we are in facing this atrocity. A feeling is emerging, from many women with whom I have spoken, that we need to make that society perceive that change is possible.
Souza is not alone in seeking to fulfill Marielle Franco's legacy through candidacy for electoral office. Candidates like Luciana Boiteux, running for Federal Representative, and Mônica Francisco, running for State Deputy, are—like Souza—candidates with long history of favela activism in Rio de Janeiro, running on platforms that emphasize defending the civil rights and citizenship of Afro-Brazilians and favela residents. As in the United States, these candidates are part of a larger wave of female candidates—still too incipient to justify claims of an electoral "Year of the Woman," but which nevertheless holds out the promise of decreasing gender imbalance in elected office in Brazil, where 89 percent of seats at the federal level are held by men.
Souza's platform includes specific material goals such as strengthening access to clean water and sewage networks and expansion of low-income housing; complex political goals such as confronting police violence and pressing for transparency and accountability in investigations of that violence; and less tangible but equally important goals of expanding political representation and recognition of black women and favela residents. This platform has broad appeal, but Souza confronts structural obstacles in reaching the electorate: Brazilian political campaigns depend heavily on required public access television time conceded by the networks to political parties in proportion to their representation in federal congress. As the PSOL's representation is small, its television time is minimal, making it difficult for Souza to spread her message throughout the state. She has the advantage, however, of years of social media savvy developed through her community activism in Maré. Her campaign may mark a transition of state-level campaigns away from emphasis on obligatory television time and towards a combination of social media and tireless street-level campaigning.
As Souza recognizes, her campaign, like that of Franco, also marks an evolution in favela activism. The previous generation of favela activists—the ones who created the entrance-exam prep course that brought Souza from the favela to the university, for example—concentrated on using local neighborhood associations as a proxy for unaccountable city and state government. Souza credits her forerunners with giving her the opportunity to press for more: she is demanding that city and state government not only become accountable, but that they make way to include her, and candidates like her. Souza's vision, and her courageous commitment in the face of danger, give hope that Brazilian democracy may survive the contentious elections of 2018. If Souza and her allies can prevail, it may someday emerge stronger and more inclusive.
---
Bryan McCann is Professor of Latin American History at Georgetown University and former president of the Brazilian Studies Association (BRASA).