A provision of the GOP tax bill opened parts of Alaska's majestic Arctic National Wildlife Refuge (ANWR) to oil drilling. The conservationists who created the refuge could have seen it coming.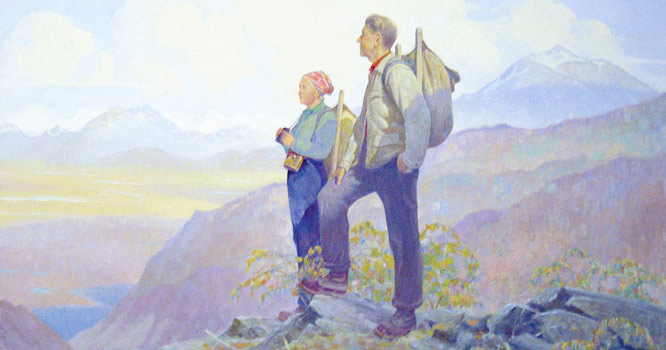 Since December 2, 1980, when President Jimmy Carter signed a bill setting the boundaries of the Arctic National Wildlife Refuge (ANWR), Congressional Republicans have attempted almost fifty times to open it to oil drilling. In December 2017, they finally succeeded—this time by including the ANWR provision in their self-styled tax reform bill.
The provision opens ANWR to oil development, although only a portion of the refuge, the so-called 1002 area, can be drilled. Conservationists reacted with predictable outrage. Busily pumping oil wells, accompanied by sprawling pipelines—the signs of healthy economic growth to Alaska lawmakers and the state Chamber of Commerce—portend desecration, if not eternal ruin, to environmentalists, who have described the refuge in northern Alaska as a "temple," a "crown jewel," and a "sacred place."
A former Wilderness Society official said sacrificing ANWR wilderness to oil drilling "makes as much sense as burning a van Gogh to heat your home."
President Trump, by his own admission, knew little or nothing about ANWR until he got a call from a friend "who's in that world and in that business"—namely, oil. "I really didn't care about it, and then when I heard that everybody wanted it, for forty years they've been trying to get it approved, I said, 'Make sure you don't lose ANWR,'" he told congressional Republicans at their recent retreat in West Virginia.
The legendary conservationist John Muir could have seen it coming. "Nothing dollarable is ever safe, however guarded," he wrote more than 100 years ago. Muir had not only seen the redwoods; he had seen Congress.
One cannot study the history of ANWR without feeling a sense of inevitability. Faced with a choice between preserving natural beauty and providing oil and gas, elected officials in Washington and Juneau, and their allies in oil, had the resources to prolong the fight to drill ANWR for several generations. And they did.
Yet what optimism the founders of the Arctic National Wildlife Range, the smaller predecessor to the much larger refuge, felt as they embraced the dream of protecting a corner of Alaska long before most of us were born.
The original dreamer, Robert Marshall, was a son of money and privilege, born in Manhattan in 1901. His father Louis, a prominent attorney, immersed himself in early Republican conservation efforts. From his youth, Robert made outdoor life his calling.
"Blank spaces on the map always fascinated me," Marshall wrote, and in the summer of 1929, he went to one of the blankest spaces on the map of North America—the headwaters of the Koyukuk River flowing south from the Brooks Range—where he made the mining village of Wiseman home. Wiseman enchanted Marshall. On cold winter nights, he made notes, often in the spirit of the proverbial visiting anthropologist, and wrote what became Arctic Village, a hymn to frontier life often honored with the encomium "Alaska classic."
In the book, Marshall treated Alaska Natives with the same respect and deference he showed non-Native miners. He quizzed them not only on their subsistence hunting and fishing practices but their philosophy of life, including their religion, taboos, marriages practices and thoughts about the miners. Marshall's prose suggests he was a remarkably patient, non-judgmental listener.
Marshall eventually returned to the east, where he became a U.S. Forest Service official and founder of the Wilderness Society. In Marshall's mind, all of Alaska north of the Yukon River, except an area around Nome, where extensive mining had occurred, should be protected from "the tyrannical ambition of civilization to conquer every niche on the whole earth."
Robert Marshall died in November 1939. But he had inspired others to take up his cause, particularly George Collins, a senior planner with the National Park Service, and Lowell Sumner, a biologist with the service. Collins and Sumner spent parts of 1952 and 1953 exploring the little-known eastern Brooks Range and the coastal plain near the Arctic Ocean. Collins told an interviewer, "The scenery was enthralling . . . beyond description." Collins may have been at a loss for words, but he had a policy prescription at the ready: federal action to preserve the area.
To manage what Collins called the "project" for wilderness protection, environmental leaders turned to Olaus Murie.
Born in western Minnesota in 1889, Olaus first came to Alaska as a government scientist and studied wilderness life first hand, traveling thousands of miles by dogsled as he compiled notes for future publications. In 1924, he married Margaret "Mardy" Murie of Fairbanks, who became his partner in decades of conservation battles. After retiring from the government, he became a leader in the Wilderness Society.
In the early and mid-1950s, the Muries came to Alaska with "legal protection" of northern Alaska atop their agenda. Olaus was convinced the idea needed Alaskans' support and sought to convince them through his "go-easy" approach. "I met with many people, from Fort Yukon to Juneau, and I can't remember a time when I came right out and said: 'Support the wilderness proposal,'" Olaus wrote. "I told them what our experience was, and I sincerely wanted them to make up their own minds."
Mardy Murie was optimistic but believed conservationists needed to bolster their efforts through a letter-writing campaign to the Secretary of the Interior. Letters from conservationists across the country followed, including one from William Balderston, chairman of radio and television giant Philco, who wrote, "We can perform no greater service to future generations . . . than to preserve the wild life that has been so bountifully bestowed on us."
The Muries were now entering politics, knowing full well that "legal protection" required the action of elected officials, appointed officials or both. Their most important ally was Fred Seaton, whom President Dwight Eisenhower chose to replace Secretary of the Interior Douglas McKay in 1956.
Seaton, a dapper Nebraska newspaperman, became the youngest member of the Cabinet when appointed at forty-six. He already had proven himself as a Pentagon staffer.
His predecessor McKay had become known as "giveaway McKay" for his affection for developers. Seaton was determined to restore the Republican Party to its place as heir to Teddy Roosevelt's conservationist mantle.
The "legal protection" of some of northern Alaska was a conservation opportunity for him. And he understood how to tie protection to traditional economic opportunity.
On May 1, 1959, Seaton sent Congress a bill that would create a roughly 9 million–acre wildlife range of "biologically irreplaceable land in northeastern Alaska." The House passed the measure in February 1960, but the Senate never voted on the bill.
Alaska's Ernest Gruening, who had impeccable liberal credentials, used Senate hearings to complain about environmental extremism. At these hearings, some Alaskans testified in support of the range, but many were against it, including Wenzel Raith of Fairbanks who blistered range proponents as "frothy sentimentalists," insisting that conservationists "who usually hide behind their mama's skirts have teamed up with the horse-trading politicians to swaddle us in red tape."
The historical record provides no indication Alaska Natives, one-sixth of the state's population, participated in any decisions regarding the range. Today, the Inupiat of northern Alaska are divided about ANWR drilling, and many of their Athabascan (or Gwich'in) neighbors are against it. The North Slope Borough, the most powerful local government in the region, and influential Alaska Native corporations, representing those who have benefited from oil development at Prudhoe Bay and the Trans-Alaska pipeline, have come out in favor of drilling—but always with do-no-harm clauses attached to their formal statements. Government and corporate leaders also have flown to Washington to lobby for drilling, usually emphasizing that they, the indigenous people of the Arctic, know what is best for the region.
Meanwhile, a local organization called the Gwich'in Steering Committee passed a resolution against drilling, and forty-two villages supported the resolution. Gwich'in delegations have gone to Washington to lobby against drilling, stressing their fear of damage to caribou and other subsistence resources. Robert Thompson of the Inupiat village of Kaktovik, the only village within the boundaries of ANWR, has been an especially vigorous opponent of drilling. In an Anchorage Daily News op-ed, Thompson wrote: "Hunting is a large part of our Gwich'in and Inupiat cultures, and to take an action that will adversely affect this can be seen as cultural genocide."
On December 7, 1960, outgoing Secretary of the Interior Fred Seaton issued Public Land Order 2214 officially creating the 8.9 million-acre Arctic National Wildlife Range, an area almost half the size of South Carolina. Olaus Murie was jubilant, but for Alaska elected officials, this December 7 became as much a day of infamy as December 7, 1941. Both sides ignored Fred Seaton's more complex intentions, including his belief that oil and gas drilling could be allowed under the right terms. As Seaton's Under Secretary Elmer Bennett said in a 1959 speech, sound conservation "means the management and use of our renewable resources on a sustained yield basis and the orderly development without waste of non-renewable resources."
There was no drilling, primarily because the oil industry soon became interested in the vast nearby Prudhoe Bay oil field, which is on state land.
The Alaska National Interest Lands Conservation Act of 1980 (ANILCA), passed by President Jimmy Carter and a Democratic Congress, doubled the size of the range and changed its designation to "refuge." Again, conservationists celebrated and Alaska officials howled. The measure also contained a provision establishing the so-called 1002 area, 1.5 million acres, along the coastal plain. The 1002 area was the result of a compromise between Alaska Senator Ted Stevens, who wanted the land open to oil exploration, and Arizona Congressman Morris Udall, who sought protection. The decision about oil exploration in the 1002 was left to Congress.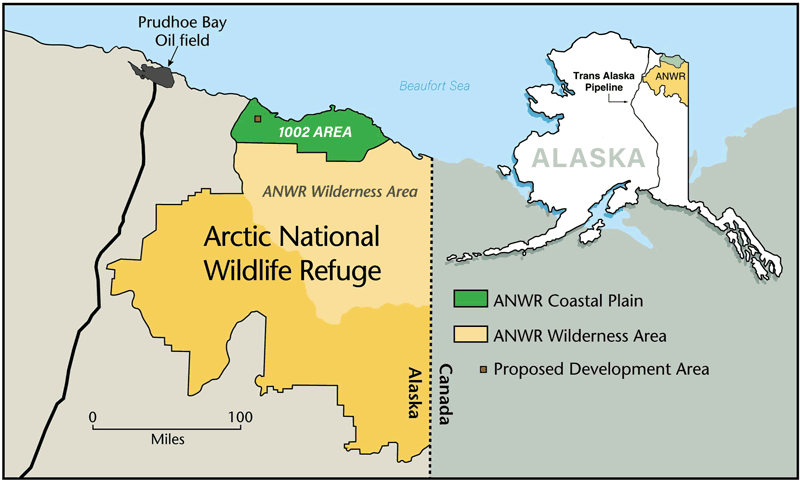 If it took Congressional Republicans more than thirty-five years to settle the matter, it wasn't for lack of trying. Ted Stevens himself returned to the Senate floor many times to attempt to open ANWR to drilling, including in 2005 with a rider he added to the annual defense appropriations bill. (He called the day the Senate voted to block it "the saddest day of my life.") It took Republicans' no-holds barred push for a tax bill late last year—and Alaska Senator Lisa Murkowski's initially uncertain vote on that bill—for exploration in the 1002 to become law.
The oil industry and its allies say they have no intention of damaging ANWR. Of course, nobody comes forward in favor of damaging wilderness anywhere, not even President Donald Trump. Industry spokesmen, Alaska elected officials, business leaders, and lobbyists say the same thing, echoing former President George W. Bush: "We can do both—taking out energy and leaving only footprints." Conservationists like John Muir and Olaus Murie didn't believe that. Neither do their successors.
The "blank spaces" on maps of Alaska that fascinated Robert Marshall in the 1920s are no longer blank. Most of a hundred years later, they have a bull's-eye on them.
---
Michael Carey is a columnist for the Anchorage Daily News. He has been writing about Alaska for fifty years.