Ann Snitow, feminist writer, teacher, activist, and longtime member of Dissent's editorial board, died on Saturday, August 10. Here she is remembered by her friends, colleagues, and comrades.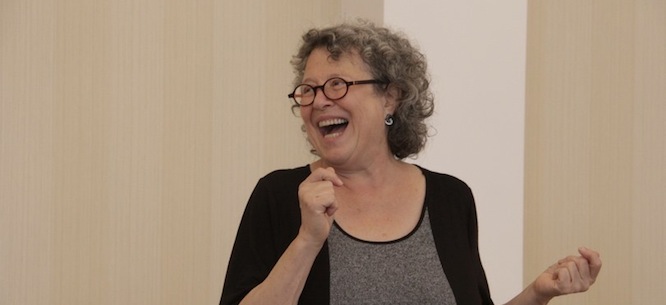 Ann Snitow, feminist writer, teacher, activist, and longtime member of Dissent's editorial board, died on Saturday, August 10. Here she is remembered by her friends, colleagues, and comrades: Katha Pollitt, Ricky Price, Vivian Gornick, Judith Levine, Irena Grudzińska-Gross, Susie Linfield, Judith B. Walzer, Leonore Tiefer, Sarah Leonard, Katie Detwiler, and Meredith Tax.

Katha Pollitt
I used to call Ann my guide to life. She was so many things I wish I were more of—an optimist, a utopian, an enthusiastic welcomer of new people and ideas and even countries. She was a great energizer of others, a great encourager. She read the manuscript of Pro, my book on abortion, and made it better. ("Too much time on the zygote," she commented briskly on my lengthy wrestling with theological anti-choice arguments.) She told me the man I was seeing "had a good face," and reader, I married him.
We were co-founders of the Network of East-West Women, but while I drifted away after a few years, Ann turned it into a bustling NGO that played a significant role in building a feminist movement in Eastern Europe. That it might not be our kind of feminism didn't discourage her ("They want self-help books," she told me a bit bemusedly sometime back in the nineties. Talk about the feminism of uncertainty!). Ann saw as clearly as anyone what terrible perils we face in the twenty-first century, but she lived in the light of Grace Paley's wonderful phrase "enormous changes at the last minute." It probably helped that for many years she didn't have a TV.
When it came to feminism, Ann was more on the pleasure side and I was more on the danger side. We had this conversation many times over the years. Perhaps our differences were as much an expression of our personalities—she so warm and outgoing, I more cautious and skeptical—as anything else. In practice we would usually come down in the same place—both opposing, for example, censorship of pornography—but the feeling behind it was different. I opposed it because although porn is mostly repulsive and not a good thing, the people in charge of censoring it would inevitably be insane fundamentalists and assistant DAs looking for headlines who would seize on feminist and gay literature and books like Heather Has Two Mommies. (Besides, I thought, porn is way too popular to get rid of, can't we just concentrate on things that can actually happen, like child care and equal pay?) Ann was on the "pro-sex" side (a term I found propagandistic) because, even if lots of porn was sexist and disturbing, sexual liberation, which was an indelible feminist goal, could have no truck with shame and punishment and bannings.
Ann's love of fun and playfulness deeply informed her organizing. Somewhere I have a photo of her wearing an enormous pillowy hat shaped like a pair of puffy red lips for a No More Nice Girls demonstration in Washington. (I was at that demo too, holding a sign, but not, definitely not, wearing a costume.) She was surely the premier left-wing party-giver, using her huge comfy apartment for all kinds of meetings and events. We organized some together—two rug sales for the Afghan Women's Fund, a rummage sale for the New York Abortion Access Fund, with food and wine and music and friends staying late before going home with something from her very large collection of textiles, which she was always decluttering—and then buying more of, because after all they were so beautiful.
At my wedding to the man with the good face, Ann leaped forward while we were saying our vows and threw around my shoulders a large white silk scarf, "It's an Albanian wedding shawl," she confided delightedly later. To tell you the truth it was a bit alarming to have this piece of cloth suddenly slung around me at such an already intense moment, but it was also kind of great. Ann was the only person I've ever known who would make such a big free generous happy gesture and have it contain no aggression, no ego, but only love.
There was no one like Ann, and I suspect there never will be. She was formed by the late 1960s and early 1970s, an exceptionally open and hopeful time for feminism and the left, and somehow she eluded the rigidities and infighting and disillusion that followed and kept the joy. What was her secret? I wish I knew.
Goodbye, dear friend. Goodbye, dear guide to life.

Ricky Price
Ann trusted young people. That's the difference that makes the difference. There are many types of generational gatekeepers—Ann was one who presented the past as a baton rather than a lecture. At my dissertation defense she challenged me to focus on the question of "why" my research mattered. Which is no small thing to ask. But, also, she really wanted to know. Her question wasn't "how," but "why." She led you towards self-reflection and she wanted to know what you discovered when you went there.
I have a picture from sometime in 2012 of Ann beating a drum in Washington Square Park. At that meeting of Women Occupying Wall Street she spoke about how austerity across the globe threatened our wellbeing everywhere. She warned us about the illusion of false choices, false equivalencies, and pushed the conversation towards something more liberating. And then she listened, reflected, and folded everyone's ideas and thoughts together in ways that made you see connections you wouldn't have found on your own. I saw her do this countless times in her classes at the New School as her teaching assistant. She didn't shy away from conflict or controversy but dove in at each lecture and discussion. Class was an opportunity to go into the deep end of the pool, it was practice before you got out into the ocean. She was someone to anchor yourself to. Looking back what sticks with me is not simply how often she was right, but, rather, that she taught you how to get right. That the learning happens in the messiness. She anchored you to uncertainty.
Uncertainty comes from being pulled in multiple directions at once. It allows you to move both forward and backwards. It necessitates interdisciplinarity and openness and precludes rigidity and self-righteousness. It's not just a way of thinking, but is a feminist praxis. One that Ann lived, taught, and shared with so many of us. At my dissertation defense last October, Ann was pushing my little boat further out to sea, confident that the ideas I had developed with her over so many hours of conversations could go further. Her generosity and selflessness were her hallmarks as a mentor and to make Ann laugh was a gift.
I will remember the look she would get on her face when explaining the absurdity of our everyday politics, hinting that something more radical was just around the corner if you dared to look. But she would also note that you can't get there alone. There's the rub—that getting people to look around that corner across generations, across differences, and across oceans is never certain, but it is possible.

Vivian Gornick
She had the great gift of making everyone she encountered—from the closest friend to the merest acquaintance—feel themselves not only a person of worth but of delight. While you occupied her field of vision she seemed to be thinking, "This is an enchanting creature, I could happily go on talking to her alone for a year or two." This gift was intimately related to the pleasure she took in being alive, and in a world whose every aspect she found attractive, deeply attractive. She was the only political person I've ever known whose organizing powers stemmed from the fact that she found everything in the world endearing—and I mean everything: people, politics, literature, food, gardens, movies, Polish dolls and Moroccan rugs, Doris Lessing and Buffy the Vampire Slayer. And then of course there was her abiding love of the feminist movement, evoking for more than fifty years joy and amusement, anger and outrage, hope and anxiety. But not despair, never despair. Because hers was a great soul, and great souls hold it all together for the sake of that beloved world, the thought of whose salvation they never abandon. We shall not soon see her like again.

Judith Levine
"Judy-ums! Darling!" That exclamation greeted me whenever I called Ann on the phone or walked through her door.
This was Ann's gift. No matter how many admirers surrounded her—and they are legion—she unfailingly communicated that of all the people in the world, you were the one she most hoped would show up at that moment.
It was also her gift as a teacher and as an organizer. Not that she failed to notice a person's weaknesses—there wasn't much Ann didn't notice. Rather, she focused on each person's assets, on what they could do to move things forward. She had a way of delivering criticism that felt like praise. Aside from her sui generis intellect and strategic acuity, it may have been this ability to value people that made Ann's classes at the New School and in Cracow virtual mints of confident feminists.
Yet precisely because she made people feel so wanted (I recall the first time I heard her exclaim to some other friend, "So-and-so-ums! Darling!) everyone wanted Ann. It could be overwhelming. So once, for about a year, I felt I could be a better friend by leaving her alone, not demanding anything. That year both her parents died and I didn't find out until later. I wrote her a letter of apology. And I got a quintessentially Ann-like reply. This was the best letter anyone had ever written her, she said. It was as if this was the letter she had always hoped to receive.
Some time after that, a close friend "broke up" with me; I had done something that made me a "bad friend." I wept to Ann. Ann said, "Judy-ums, you have your flaws—I can't think of any right now—but being a bad friend is not one of them."
Feminism, a leaderless movement, is at heart a network of friendships. In fact, all organizing is relationship. Progress depends on people making promises to other people, and keeping those promises. And accountability depends also on communicating that the other person is valued, respected, and loved.
Ann had her flaws—I can't think of any right now—but she was the best of friends.

Irena Grudzińska-Gross
I met Ann Snitow—friend, comrade, inspiration for many Polish and East European feminists—in the late seventies. She introduced me to feminism by her very own combination of enthusiasm and intellectual curiosity about everything that pertained to the social situation of women. Then, she fought against the puritanism of the antipornographic feminist fraction; she published beautiful texts and brochures about sex, many with "outrée" illustrations. There was a playfulness and lightness, which, for me, a person approaching politics with sad seriousness, was extremely attractive. At that time, I met Ann's husband, Daniel Goode, an avant-garde musician, a person full of charm and gentleness. Similarly to the eclectic interests of Ann, Daniel was and is interested in many kinds of music. He is a composer, performer, experimenter, organizer of music life. Two years ago, Ann already sick, he composed a musical suite to accompany her lecture presented in the Ukrainian House in Lower Manhattan. Her illness was aggravated by a fire that devastated their beautiful and hospitable home. The last year of her life was spent in a rented apartment, with her talking, when she was able to, with her friends. Daniel, with headphones, composing his new piece.
Just before her death, Ann completed her last book entitled Visitors. It is as yet not published, but she spent time checking with me and many friends our memories of common projects, which constitute the topic of the book. We became friends and collaborators because of Ann's interest in communist states, especially in the issue of equality between men and women. She was the founder of the Network of East-West Women, the very name of which underlined equal relations between the two network partners. Ann was sharing her knowledge and experience in the American feminist movement, and was equally inspired by the story of European feminism. Besides teaching at the New School for Social Research in New York, almost every summer she came to Poland to lead, in a program organized by Elżbieta Matynia, a seminar on the problems of feminism. Her feminism was open, searching, full of questions. The influence her teaching had on the development of equality in Poland and other post-communist states is difficult to overestimate. Ann's intelligence, knowledge, warmth, sensitive interest in our life and fate disarmed the typical East European dislike for questioning of the privileged position of men. Of course, I am conscious of how few were the groups that met with Ann's work. But, again, it is hard to overestimate the number of students for whom that encounter meant a radical change in their idea of how a life of dignity should be lived. I too owe her a lot.
Ann's illness and death shocked me and her many friends. How can one accept the cutting short of such vitality and strength, the sudden interruption of searching and plans. I bitterly regret that we will not be able to talk—conversation was Ann's real element. I should have asked her—I don't know why I didn't—what her idea of an accomplished life was. What criteria are basic to describe such a life? Is it a life without deeds one is ashamed of? A life in which one was useful to other people? In which one produced work others will return to? Ann's life fulfilled all of these conditions. And had in it plenty of love and compassion. Till the very end she was surrounded by gratitude and admiration. Yes, hers was an accomplished life.

Susie Linfield
Ann Snitow was a gem—in two distinct ways. First, her unflagging contributions to feminism, both here and, especially, abroad. For many years, Ann worked in difficult places like Poland to establish gender studies and a culture of feminist ideas. Her feminism was truly international, not just in words but in actions. This commitment to feminism was the spine of her worldview: yet never dogmatically so. Ann showed that political principles can be living, breathing things.
And Ann was one of the most spontaneously generous, giving people I have ever met. This wasn't a function of superficial niceness, but of a genuine warmth that seemed to emanate from the very heart of her being. (Her internationalist feminism was not unconnected to this, of course!) I remember once, years ago, I was intensely distraught over a terrible decision I had made. Speaking to Ann about it was like receiving a balm on my soul. How I—and, I expect, women worldwide—will miss her.

Judith B. Walzer
Some of us make lists, even in the midst of grief.
Here is a partial list of what Ann gave us:
Devotion to radical feminism: unswerving, organic, never uncritical
Enthusiastic vitality for action in the world: initiating new ventures and never giving up the fight for them:
       the Network of East-West Women
       Gender Studies at the New School
Thinking: always deep, challenging, original; an approach to writing that embraced the personal and accepted uncertainty
Encouragement for your thoughts, however small, partial, not yet fully-formed: an ideal teacher
Enthusiasm for intellectual newness, even when flawed, raw, dubious
Generosity to a fault: with concern, interest, resources
Humor: a keen sense of the ridiculous, searching for and penetrating all pretensions
Irrepressible laughter, joy in life and in friendship.

Leonore Tiefer
Ann Snitow changed my life. At the shiva held after her death, I spoke with person after person who said, "Ann changed my life." And the stories were similar—help when needed, doors of opportunity opened, kind-hearted appreciation of work when that was lacking, an attentive listener, a genuine and loving presence.
I felt like one of the many ducklings following Ann around during the past three decades. I'm not exactly invisible myself and have had some of my own ducklings, but being one of Ann's was especially exciting and made my life more engaged. From the New York Institute for the Humanities to No More Nice Girls to the Feminist Anti-Censorship Task Force to Feminist Futures—being one of Ann's ducklings allowed me to be part of decades of feminist action and discussion groups in New York. We took to the streets and we sat and analyzed. We participated in interesting times.
Ann founded and led with a strength and spirit that to me represent the best of feminism. It's personally devastating that she is gone, but several other ducklings and I have spent the last few months creating the Ann Snitow Prize to honor her special model of feminist-intellectual-activism. I know there are other special innovative feminist leaders out there, and we want to recognize and encourage the best of them, one each year, over the next decade. Please learn about and donate to the prize through the website and help celebrate Ann's legacy in this way.

Sarah Leonard
Ann was the most generous friend, mentor, and comrade, the constant host in her SoHo loft of visiting feminists and their conferences (and Dissent holiday parties), the warmest presence in any room—"my dear, tell me"—but I don't want to talk about that here. Ann was forward looking. At her New School retirement celebration in April, all assembled testified to her brilliance and spoke about her founding of the New School gender studies program. When it was Ann's turn to talk, she spoke to us about what was happening in Eastern Europe, new developments in right-wing power and abortion politics.
Our current political moment is not only dire, but incoherent. It's not clear how to organize successfully against the forces that we face, as Ann well knew. We occupy a time of uncertainty. At the same time, our modern media economy pushes those who write or speak about politics to take quick and hard positions. In this sense, we are in a time of coerced certainty.
Uncertainty was Ann Snitow's specialty. She was skeptical of hard categories like, for example, "woman." For some, reflexive skepticism might lead to a sort of academic cul-de-sac. But Ann's questioning led her not to hopelessness or inaction but to expansiveness. When queer politics was becoming a bigger force at the New School, Ann was thrilled: "The idea that gender is a construct, a performance, moved to the center of feminism . . . It was opening up the whole question of why we have organized the world in this rigid way. And, you know, I love that," she told me. This attitude pervaded her relationship with younger feminists, to whom she provided invaluable guidance, but also listened. She is the only person I've ever met who seemed unthreatened by the dissolution of the categories that were fundamental to her field and by that field's reshaping by successive generations. She delighted in change.
As everyone who knew Ann knows, her teaching and academic work emerged from her life as an activist, and the two fed each other. She was not just expansive in her thought but in her activities, many detailed here and in this interview, which included consciousness raising, early feminist organizing, anti-nuclear occupations, the founding of an NGO, the Network of East-West Women, teaching film in prison, fighting the sex wars, organizing for reproductive rights, and she once made reference to helping write the Sandinista constitution, something I had rather meant to follow up on. Lest this sound haphazard, the tight relationship between her activism and intellectual work meant that she was rigorous in her experimentalism. She was flexible in pursuit of the inflexible goal of equity, and she was not afraid to evolve. She wrote in The Feminism of Uncertainty, "Don't swamp with paralyzing doubt what might be your small piece of the larger, evolving project."
I took a great lesson from this. Ann would often declare herself tired, but she never seemed burned out. I think this was because her diversity of interests sparked new and creative thought all the time. "I don't romanticize this trait in myself," she once said. "I admire consistency, actually, but it's not something that I'm capable of." I romanticize it, maybe, and I once wrote Ann a never-sent letter after visiting Eastern Europe for a feminist conference myself. Looking out over the place where the Danube and the Sava meet below Belgrade Fortress, having some existential crisis born of witnessing the scale of European history blended with the immediate struggles of regional feminists, I realized that Ann had shown me a way to live a better life, too. The sheer dread I felt every day at the scale of the wrongness in our world was lifted a little by the idea of attacking it like she did, nimbly, instead of banging my head against one wall.
There were certain underlying themes to her political engagement that I try to hold in mind. During our interview, she looked at me and said point blank, "I'm not interested in asking for respect . . . Only the weak ask for respect." From the beginning, she rejected the notion that women were weak and vulnerable, that an inanimate object like pornography could "degrade" women as a whole, that we should avoid public places instead of taking them over, that we should use the law to drive sex underground instead of making sex our own. From Ann I took a complete rejection of anything that looks like asking for protection instead of seeking power.
Second, the idea of buried foundations. Ann freely acknowledged that many of the challenges of organizing ourselves and others were basically Freudian. She loved Dorothy Dinnerstein who wrote psychoanalytically about gender conflict, and in her book, Ann cited the great novelist Angela Carter, who says, "I'm from that generation that believed if you could actually find some way of making a synthesis of Marx and Freud you'd be getting towards a sort of universal explanation." Asked to expand on it, Ann said,
Marx described the way in which capitalism shapes us and our beliefs. Understanding that social construction is the beginning of being able to be critical, to pull back from one's own belief system. And then, on the other hand, there are all these psychological motifs—ways in which we don't want to pull back from our belief, that we want to be at one with it, that we want wholeness of a kind that can never be had. We are divided creatures, and we suffer for it.
We are divided creatures and we suffer for it. I think of this idea often when I want to strangle a comrade. It's useful to remember that each of us who is running toward something is also running away from something, that the self is forever trying to heal through actions that we pretend are wholly logical. As is typical of Ann, she didn't see this idea as stifling, but as freeing. She felt that it acknowledged the inevitable complexity of politics instead of papering it over, and built it into her work.
Finally, community. Ann's view of the world and the ways she could change it were large, and her work global. But a commitment to humanity does not a community make, and Ann kept her friends close and gave them her time and attention. She spoke of "interlocutors from heaven," the people she liked to talk to not just about political work, but what she called "experience." This was her personality, but it was also her politics. She demanded of us, and demands of us still, that we be as creative, relentless, and serious as she was in the pursuit of collective, not individual, liberation:
It's hard to explain now that feminism wasn't individualized in the way it is now. It was a group experience—and that is hard to get back. My dear students say, "Thank you for what you did for us." And I say, "What did I do for you?" And they say, "Now we're free to have a life on our own terms and do whatever we want to do." And I say, "No, you're not free to have a life on your own terms at all. So sorry!"
Katie Detwiler
I have been exceptionally lucky to spend much time over the past ten years with Ann and her partner Daniel Goode in their loft on Spring Street, first as Ann's assistant, later as her editor and collaborator. Ann called it "a boarding house for itinerant feminist organizers and experimental musicians, which could lead to some odd combinations at the breakfast table." She recently told me that her mentor, the feminist psychologist Dorothy Dinnerstein, once described it as "like being inside of a beautiful woman." Indeed, aspects of Ann's beautiful mind are represented in the apartment in the very arrangement of things, generating in one spacious expanse many surprising combinations.
A long wall of floor-to-ceiling bookshelves bearing what must be one of the largest collections of feminist books in New York or, indeed, the world. Much admired by visitors, the towering height of the marvelous collection is a sign of her discipline, political commitments, and passion for understanding and following feminism in all its wild proliferation and historical permutations.
Opposite the shelves is Ann's office, where she and I worked together from 2009 onward. The small room is often bathed in a warm, pinkish-orange glow; SoHo light refracted through saris hung in the office window. On the windowsill stands Croatian folk art in gold and silver painted tin, with pieces of bright glass and tiny mirrors.
The office bookshelves are smallish, but, like the feminist shelves in the wide, open loft, they are laden, these with folk and fairy tales from all over the world, stories of fear, desire, and transformation. Aesop's and Grimm's, of course, alongside rare collections like Russian Wonder Tales from 1912 and many more from Eastern Europe, South America, the Caribbean, India, and the American South. There is Kalila and Dimna: Selected Fables of Bidpai, with an introduction by Doris Lessing, who Ann called "doubt's visionary" and a "master builder" of worlds. And The Virago Book of Fairy Tales, edited by Angela Carter, a feminist rewriter of the old stories, who Ann dubbed "the poet of bad girls." (Carter is among the many "absent friends" about whom Ann wrote in memoriam, often right after their deaths.)
Sitting with Ann in this calm, private workspace right up until the week she died, I grew to see Ann's fascination with these stories as part of a depth structure, a deep reserve feeding her belief in feminism's power to produce new and profoundly altered worlds—disturbing, fearsome, metamorphic, and strange.
She valued these folk and fairy tales for how they explore the "brutal economy of roles" that human beings negotiate but also reject, and for how they show that this rejection can both disturb and enchant—and produce radical transformation. Ann saw the old material of fairy tales as she saw human arrangements generally—evocative and permanently open, available for rearrangement. The stories on these shelves represent an integral aspect of Ann's extraordinary sensibility: her pleasure principle, the deeply subversive quality of her thinking, writing, and being.
I love an essay Ann wrote in 1986 for the Village Voice, "The Beast Within," republished in The Feminism of Uncertainty, in which she reviewed two novellas written in the 1920s by British author David Garnett. These two "deceptively simple fables," she wrote, reveal Garnett's "secret love of disturbing wildness." The first, "Lady into Fox," tells the tale of a man and wife who struggle to continue to love each other after the wife is turned into a small fox, a rebellious vixen drawn to the wild of the forest. The husband seeks to confine and "protect" his wife, the fox, until he discovers her litter of pups in the woods. The second, "A Man in the Zoo," describes two lovers quarreling as they walk through the zoo at Regent's Park. One lover tells the other that he belongs in the zoo, calling him a "wild beast." He takes her at her word and submits himself to become part of the Royal Zoological Society's collection. Josephine "cannot rid herself of love for that beast, John," but eventually, he leaves her, developing a relationship with a "small, tessellated cat called a caracal." Ann clearly loved these two witty satires of gendered dysfunction, moving as they do outward into transformation. "Both stories," she wrote, "belong forever on the smallish shelf with the other great accounts of metamorphoses."
Ann's feeling for the necessity of shapeshifting and change, her compassion for the difficulty of it, her appreciation for the persistent "mixture of absurdity and love," are among the gifts she offered. Ann has written that Dorothy Dinnerstein taught her to embrace, rather than fear, such mixtures, to see such variable motives as simply "Our Situation," stretched as we are between desire and fear, navigating in the same instant our feelings of pleasure and anger, hope and despair, impotence and agency. Ann taught me, along with many hundreds of others, this, too. "How difficult is the path to delight," she wrote of her comrade Ellen Willis's ecstatic yearning, and how necessary. "Sex, yes; beauty, yes; freedom, yes" she wrote in reflecting on the utopian genius of her comrade Shulamith Firestone.
I am freer and more enchanted for having known and loved Ann. For having had an expansive exchange of heart and mind with this boldly traversing spirit. My gratitude reaches in every direction. As painful as it is, as immense is our loss, Ann was a person very capable of setting herself adrift, who wanted—always—to travel, transform, and find herself in recombination.
Her words, her writings, her journals, her collections, her wickedly humorous and darkly subversive thoughts, have traveled out far beyond the storied loft, among other places to her archive, housed at the Sallie Bingham Center for Women's History and Culture at Duke University, where, she wrote, she feels "both dismembered and connected to an unreadable future . . . a state of fluidity in time that I never dreamed of . . . with all the anxieties and hopes that accompany stories without endings."

I met Ann Snitow in 1965, when we were both graduate students at the University of London, and we were immediately close friends. We were introduced by my roommate Myra, and the three of us became a triumvirate, gulping down the feast of extraordinary theatre, film, art, and history that London afforded in the late sixties; scoring bakelite hand mirrors and silver button hooks on Portobello Road and bright-colored dresses at Biba; conducting protracted street corner negotiations about where to have dinner, punctuated by someone losing a contact lens and the rest of us getting down on our hands and knees to pat the pavement for it. When Myra left London the next year, Ann moved into her room in our flat on Phillimore Gardens and we lived together until we both returned to the States in 1968.
We arrived just in time for the birth of the U.S. women's liberation movement; Ann joined New York Radical Feminists and I joined Bread and Roses in Boston. I thought the New York feminist movement rather sectarian and was proud that, in Boston, we managed to keep together the radical feminist and socialist feminist tendencies that kept splitting into different organizations in New York. Unlike many New Yorkers, Ann was anti-sectarian in both temperament and policy, frequently quoting Freud on "the narcissism of small differences." When I moved to New York in 1976, we resumed a conversation about feminism that went on for the next forty-three years.
In recent years many of these talks were about the rebirth of the left and generational changes within the women's movement. Ann was particularly tuned into attacks on feminism by men of our own cohort, who wrote bitter screeds denouncing identity politics and blamed their own failures of leadership on women who resisted their dogmatism. We agreed on the dangers of feminist sectarianism; in a period when the 2016 Women's March signaled growth beyond our wildest dreams, instead of plunging into this vast, messy, inchoate social movement and finding ways to help it develop a strategy, some women on the left thought the main task was to attack it as capitalist and try to build something more pure. This was not Ann's style; she fought when she had to, as when she battled Women Against Pornography, but denunciation was not her thing; she preferred to tease out the contradictions in a person or position, expose them to the light, and try to find a way through the confusion to get to someplace new. She loved doing that.
Ann was perhaps the most gregarious person I have ever known, constantly adding friends to an already immense circle, opening her house to every cause, running what amounted to a free hotel for Eastern Europeans and avant-garde musicians. Her enthusiasms were contagious, her generosity proverbial, her interests expansive, and her fascination with human vagaries never-ending. The bright play of her intelligence and the quality of her thought made it a pleasure to discuss almost anything with her, and our talks were important to my own sense of balance for, though we were similarly preoccupied with politics and the future of the feminist movement, she was less obsessional than I, more able to integrate left-wing commitments with taking pleasure in all life had to offer.
The love of life that drew so many people to her persisted through her final years, in which she met terrible suffering with astonishing courage. The last few years were like the sufferings of Job for Ann and her partner Daniel; while she battled cancer, he was stricken by a terrible autoimmune disease, and, as if that weren't enough, the two of them were exiled from their beloved loft by a fire, able to return only a couple of months before her death.
Their trials occurred at a time when a fog of political distress has made it difficult for many of us to see two paces ahead, as through the miasma we hear marching feet and the creak of melting glaciers. On one occasion, as Ann and I discussed the clinical trial that prolonged her life, the phone rang—the phone always rang when I visited Ann—and it was her brother Alan in California, wanting to make contact as a colossal fire neared his home and acrid smoke made it difficult for him to breathe. In this terrible period of dislocation, uncertainty, and fear, despite unremitting pain, Ann soldiered on and triumphantly finished her book about Eastern Europe. Then, at last, she gave herself permission to rest. While losing her is devastating, she has left so much life behind her, embodied in so many ideas and memories and friendships. I know I will still see her everywhere.