In L.A., thousands of garment workers manufacture clothes for dismal pay in unsanitary factories. Now these workers are catching COVID-19.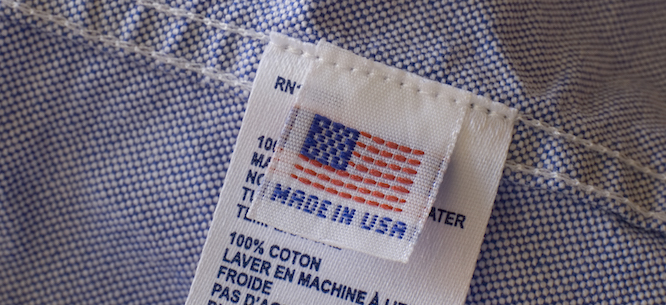 The pandemic has shuttered Los Angeles's fashion boutiques, but the city's garment factories are still buzzing. L.A.'s roughly 43,000 garment workers make up one of the last bastions of clothing manufacturing left in the country, as garment production has been mostly outsourced to low-income countries like Bangladesh and Honduras. Yet labor advocates say that their working conditions have much in common with their counterparts in the Global South: dismal wages, grueling schedules, and unsafe workplaces.
But L.A. garment workers face a particular disadvantage: they are working in the country with the largest COVID-19 outbreak in the world. And the virus is circulating among workers at an alarming rate, according to the Garment Worker Center (GWC), a local grassroots labor group. Several workers at one chain of factories, Los Angeles Apparel, have fallen ill since late May, and in the case of two workers who tested positive within days of each other, the group reports that "Management has not reached out to either employee, and they are unclear whether paid leave will be offered to them." Los Angeles Apparel insists that it is following safety guidelines and offering testing to workers.
A bigger concern for many workers might be losing their jobs. Laura (whose name has been changed for this article), a worker at another factory in L.A., said that she had to take several weeks off of work when she was hit with coronavirus-like symptoms—a fever, respiratory problems and body aches (she later tested negative for COVID-19 but stayed home anyway). During that time, she said, "we didn't have money for rent and for food. I also have family in Guatemala, too, and so I couldn't send them any money so that they could have some food. So [the pandemic] has affected me a lot."
Though Laura has recovered, she said her factory remains unsanitary, rat-infested and cramped, with workers stationed dangerously close together. The facility, which has about thirty-five workers, shifted its production in response to the pandemic and is now making face masks and hospital robes. Yet she and other workers have to bring their own masks to work.
On top of the health threats, Laura is struggling to scrape by on her pay rate: just five cents for every piece she makes: "I have to make, like, 2,000 pieces to make $200. They shouldn't be paying us so little money. . . . Americans may think that our employers are paying us per hour, but really, they're paying us per piece."
Though she works about fifty-five hours a week, she said, under the piece rate, her take-home pay amounts to about $300 to $350 per week—far less than the local minimum wage.
A 2015 survey of workers by the GWC revealed that about two thirds of workers said they were never paid for their overtime hours. Workers have also reported dangerous working conditions even before the pandemic, including extreme heat, dust-laden air, soiled bathrooms and blocked exits. The group is currently pushing a state bill, SB 1399, that would aim to combat wage theft by eliminating the piece-rate system, and strengthen corporate accountability by holding retailers and brands responsible for wage violations that occur in subcontracted factories.
But the day to day hardships that garment workers face are now overlaid with the threat of COVID-19.
Laura said that in late May, the manager explained to the workers how the pandemic had affected the workplace. He said there had been one death so far, so "we need to protect ourselves. . . . He said, there are many workers that aren't working right now because they are sick."
The manager's advice prompted Laura to speak out about the squalid working conditions. "You know, if you want us to be safe here," she told him, "then what we need is to make sure that the bathrooms are cleaned up, that there's hand soap. The bathrooms are just filthy, and so is the factory. We need the factory to get cleaned up, and to be disinfected."
The GWC has filed formal complaints about local factories with the state's occupational safety authorities, and has also urged officials to provide "mandatory prevention requirements and guidelines for employers with respect to social distancing, sanitizing work stations, and hand washing stations for employees." The GWC is also demanding direct economic relief for workers who have lost income due to factory closures and reduced hours, unemployment benefits regardless of immigration status, and a halt to immigration-enforcement activities so that workers will feel safe when they seek public assistance or try to get tested for COVID-19.
While the pandemic has brought many hardships, Laura hopes the fight they are waging in L.A.'s factories can resonate with garment workers' struggles around the world:
I would like for other garment workers to organize . . . so that they don't allow themselves to be humiliated at work, or to be screamed at by bosses. We support many people who may not have knowledge of their rights, and at GWC we support them in standing up for themselves. We all need to organize so that we're not always humiliated by the bosses.
---
Michelle Chen is a member of Dissent's editorial board and co-host of its Belabored podcast.