Unemployment "reforms" in Iowa and other states controlled by the GOP fit neatly with a larger agenda: not to protect workers from low wages, unsafe working conditions, and unbridled employer power, but to compel them to accept whatever they can get.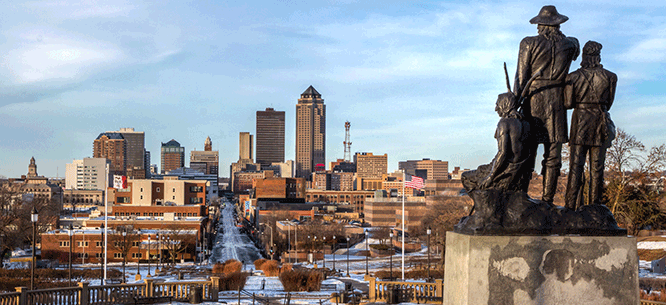 Around this time last year, I sketched the Iowa state legislature's unprecedented and brazen assault on labor standards and workers' rights—including an evisceration of public-sector collective bargaining, preemption of local minimum-wage laws, and an overhaul of the workers' compensation system that effectively slashed benefits and pressed injured workers back to work. Now, they are at it again. This time around, their target is the state's unemployment insurance program.
In a flurry of bills introduced in February, the GOP-controlled legislature has proposed reducing benefits, making it harder to qualify for benefits at all, and penalizing unemployed workers striving to maintain benefits. While not all of this nonsense will get passed this spring, the push for "reform" reveals a lot about both the goals and motives of Republican legislators—and about the fog of willful disinformation in which they make decisions.
First and foremost, this legislative push—like so much of the anti-worker agenda in state legislatures around the country—is a solution in search of a problem. Iowa's unemployment trust fund is fiscally sound. Iowa's 76.8 percent re-employment rate (the share of the unemployed who received an initial UI payment in one quarter and are employed again in the next) is second best in the nation. The average duration of unemployment in Iowa's tight labor market is almost half that of the nation's. The average weekly benefit falls near the national average.
So where's the fire? In many respects, the legislature is following the lead of the Iowa Association of Business and Industry, which claims—without a wisp of evidence—that "challenges with Iowa's unemployment insurance benefit system discourage individuals from obtaining full-time employment."
This view rests on three shaky suppositions. The first is that the availability of unemployment benefits acts as a powerful disincentive to work or seek work. "We've got numerous jobs that are not being filled," State Senator Jake Chapman complained, attributing the worker shortage to "a lack of desire to fill those jobs." This is a peculiar take on the motives or incentives of the unemployed worker, for whom the weekly benefit replaces only about half of the worker's last paycheck. Indeed, the research on this question points unequivocally in the other direction: meager benefits encourage the unemployed to hurry back into the labor market—often at the expense of long-term earnings and job prospects.
Second, the Iowa GOP and its allies are operating on the assumption that unemployment insurance is not much more than a scam perpetrated against unsuspecting employers and taxpayers. "We also want to ensure there's a balance in the system," argued the state's leading business association, "and that it's sustainable and protected from fraud." What is the evidence for this? State Senator Jim Carlin posted a job for a paralegal on an online job site and, by his account, was deluged with unqualified applicants: "I had pizza delivery people, people with zero—absolutely zero—secretarial experience, any experience for a paralegal-type position." Carlin assumes that these applicants are not interested in a job but rather gaming the system by making a pretense of looking for work. His solution, filed in late January, is a bill that would encourage employers to report job applicants who are "manifestly unqualified." After three such reports, Iowa Workforce Development could fine the applicant and revoke their unemployment benefits.
Finally, all of this is animated by an alarmingly retrograde view of the employment relationship, in which the near-dictatorial power of employers is not just left unchecked but celebrated. Another bill filed this session would pare back receipt of unemployment benefits by dramatically expanding the definition of disqualifying "misconduct." Under current Iowa Code, misconduct is defined as "willful or wanton disregard" of workplace standards or expectations. Under the proposed bill, employers could be disqualified for refusal to obey "reasonable instructions," for "manifestation of an intent to disobey," for "lack of truthfulness or candor," for "''excessive' unexcused tardiness or absenteeism," for conduct that creates "dissension or animus" against the employer or a coworker, for conduct that is "defamatory toward the employer or an employee," or for conduct that is "not in the best interest" of the employer.
This is not just an Iowa story. Many states, notably Florida and North Carolina, have already driven down recipiency by shortening the number of weeks workers are eligible, tightening eligibility requirements, discouraging applications, and forcing the jobless to navigate online labyrinths just to apply. In the 1980s, roughly half of unemployed workers received unemployment benefits; today, that baseline is closer to 25 percent. And variation by state, as the figure below underscores, is stark.
Source: United States Department of Labor (Employment and Training Administration), Unemployment Insurance Chartbook
With these proposals, Iowa legislators are hoping to mimic Florida, North Carolina, and the other bottom-feeders, where benefits are lean and largely inaccessible to the vast majority of the unemployed. In this sense, the unemployment "reforms" fit neatly and meanly with the larger agenda, which is not to protect workers from low wages, unsafe working conditions, and unbridled employer power, but to compel them to accept whatever they can get.
This is a clear illustration of why the right loves to push its political agenda at the state level. Even without gerrymandering, the GOP has a big electoral advantage in states like Iowa or Wisconsin, where progressive Democrats are clustered—and effectively contained—in a few urban areas. Iowa's part-time GOP legislators are mostly small business owners, lawyers, and retirees. They have shown how they are predisposed to line up blindly behind the model legislation proffered by American Legislative Exchange Council"ALEC Exposed" Project, or to cobble together state policy based on petty resentments, untethered assumptions, and anecdotal evidence.
---
Colin Gordon is a professor of history at the University of Iowa. He writes widely on the history of American public policy and is the author, most recently, of Growing Apart: A Political History of American Inequality and Citizen Brown: Race, Democracy, and Inequality in the St. Louis Suburbs (forthcoming, University of Chicago Press).