A preview of our Spring 2023 issue.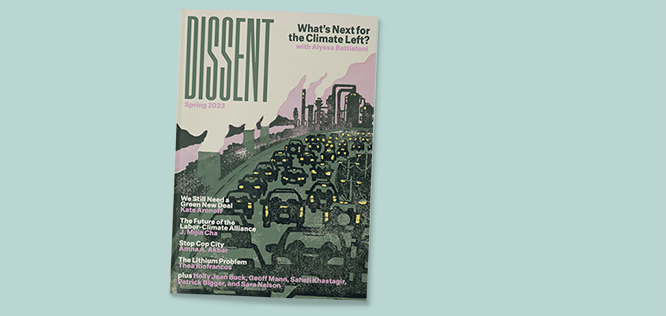 Our Spring 2023 issue, What's Next for the Climate Left?, launches May 8.
The Inflation Reduction Act included more climate funding than any other legislation in U.S. history—an amount that still falls far short of what is necessary to avert planetary crisis. As Alyssa Battistoni writes in her introduction to the section, "Like the broader U.S. left, the U.S. climate movement has largely grown in response to setbacks and defeats. What will it do in the face of an underwhelming victory?"
Subscribe now to get the issue in May.
The section includes Kate Aronoff on the future of climate organizing; Patrick Bigger and Sara Nelson on fighting fire and fascism in the American West; Holly Jean Buck on carbon capture technology; Geoff Mann on markets and fossil fuels; Saheli Khastagir on how American energy companies export privatization; J. Mijin Cha on the labor-climate alliance; Amna A. Akbar on the fight against Cop City; and Thea Riofrancos on lithium mining and electric vehicles. 
Also in the issue: Sam Russek on The Discreet Charm of the Bourgeoisie at fifty; Ewan Gibbs on oil workers; Brianna Di Monda on Women Talking; Justin H. Vassallo on the coming public education crisis; Sara Herschander on child care at worker centers; William Kornblum on homelessness in New York City; Arvin Alaigh on Eqbal Ahmad's internationalism; and nia t. evans on the photography of Ming Smith.
And in the book review section: Matthew Sitman on the January 6 Report; Leo Casey on Labor Power and Strategy; and Ruqaiyah Zarook on webs of global wealth. 
Click here to subscribe right now, and we'll send you a copy of Dissent editorial board member Siddhartha Deb's new novel The Light at the End of the World. If you already subscribe, please consider donating, purchasing a gift subscription, or becoming a solidarity subscriber to help sustain Dissent.