The Supreme Court's ruling on DACA grants union workers like Nelson Iraheta some peace of mind. But his future hangs on the results of November's election.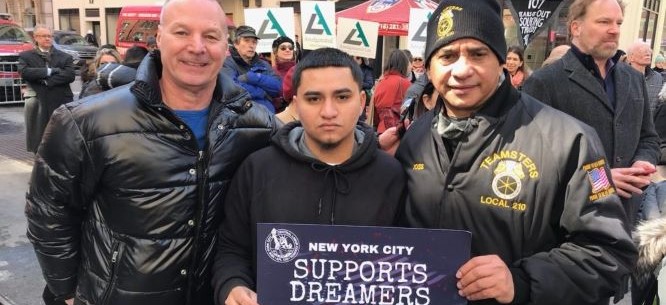 Nelson Iraheta is in a pretty good place, all things considered. He works a union job as a truck driver for a liquor distributor in Long Island—one of the few industries that is doing brisk business during the coronavirus lockdown. At twenty-five, he earns enough to support his mother and siblings. And the Supreme Court just kept the president from destroying his life.
As one of roughly 800,000 individuals who have benefited from the Deferred Action for Childhood Arrivals (DACA) program, Iraheta's life has been hovering in a legal gray zone for years. The Obama-era scheme allowed undocumented young people who had come to the country as children to gain temporary legal status, so they could work and attend school without fear of deportation. But DACA has been bombarded with lawsuits and right-wing attacks. The court's 5-4 majority held that the White House had failed to provide an adequate reason for ending the program, which would have exposed hundreds of thousands of young people and their families to deportation.
"To be honest, this has been scary—to live in fear that they're going to cancel it," Iraheta said, adding that, having worked since he was eighteen, "I've been paying my taxes ever since I got it, and been able to provide for my family."
Iraheta, who came to the United States at age ten from El Salvador, is the primary breadwinner for his family. In 2007, his father was arrested (Iraheta believes he might have been mistaken for someone else). He had a previous order of deportation, Iraheta said, so the police turned him over to Immigration and Customs Enforcement (ICE).
Iraheta's father remained locked up for another six months before finally giving up. "He wanted to fight the case, but he didn't have money to afford a lawyer," Iraheta continued, "so he signed the deportation [order] himself, and then they sent him back to El Salvador." In 2016, his father was murdered in a robbery. The violence that ultimately took his father's life was exactly what the family had come to the United States to escape.
His family migrated for safety, he said: "It's a third-world country, and the gangs were always a problem, killing innocent people . . . they were constantly robbing your business, so you couldn't even go to sleep at night. because you don't know if you were going to get robbed or killed."
Iraheta's mother has been out of work since suffering bad burns from an accident on the job. While he feels fortunate to have a steady income, he is wary that his job comes with health risks. Several members of his union, Teamsters Local 917, have died of COVID-19.
"A lot of us have been showing up to work every day," he said, "and it's not even about the money, it's about necessity. . . . it's been scary, but you've got to do what you have to do, to be able to survive."
DACA has helped many young people like Iraheta survive—but it's always been a precarious shield from deportation. When Iraheta first obtained DACA, toward the end of the Obama administration, there was discussion in Congress on expanding the program to include the parents of DACA youth. Those hopes were dashed when the Trump administration entered office on a virulently anti-immigrant platform. Though Trump initially signaled he was open to negotiating a permanent legislative solution to allow DACA recipients to gain permanent legal status, the Department of Justice quickly moved to terminate the program. Last week's favorable ruling from a right-leaning Supreme Court came as an unexpected relief to immigrant communities, but that too is a temporary fix; Trump, or a future president, could simply redo the order to rescind DACA with a more extensive legal rationale. Or a future Congress could legislate a pathway to citizenship for DACA recipients and others who are undocumented.
Much of Iraheta's legal fate is riding on the November elections. The Teamsters have campaigned to defend DACA workers, many of whom are union members, but they cannot make his temporary work authorization permanent. Previously, Iraheta said, the vice president of his local consulted attorneys "to see if there was a way that the union could sponsor me. And unfortunately, there's no way. The only way is if Congress approves a way for us to get a green card eventually. And I'm glad that the Supreme Court was able to block it for the moment, but . . . we don't know what's going to happen within two years, whether they're eventually going to cancel it."
One thing a union job does provide is a sense of certainty about the future. "If God allows me to stay here . . . hopefully I could get to retire with a good pension," he said. "And my dream is not to get rich, my dream is to live a comfortable life, and provide for my family, help my sisters have a better future, go to college. And actually live the American dream."
---
Michelle Chen is a member of Dissent's editorial board and co-host of its Belabored podcast.