A stunningly original and timely collection that makes the case for democratic socialism—American style.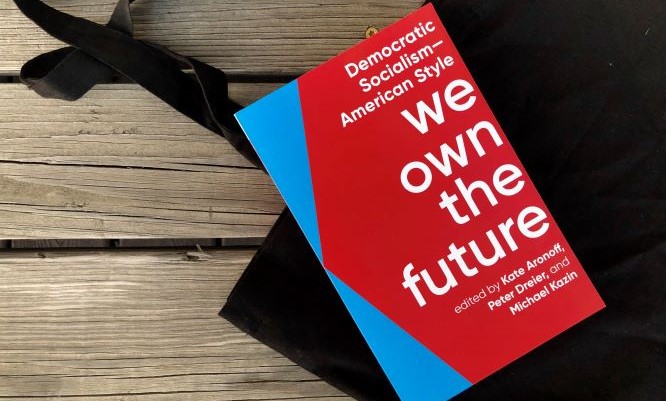 "Bummed by the news? Beginning to think that even 'the future' is a foolishly utopian concept? This resoundingly hopeful book will hit you like a shot of espresso. Read it now!"—Barbara Ehrenreich, bestselling author of Nickel and Dimed, Bait and Switch, and This Land Is Their Land
According to a 2019 Gallup poll, 43 percent of all Americans, and 58 percent of Americans between 18 and 34 years old, believe that socialism would be a good thing for the country. In the words of Congresswoman Alexandria Ocasio-Cortez, "what socialism means is to guarantee a basic level of dignity. There is no other force, there is no other party, there is no other real ideology . . . that is asserting the minimum elements necessary to lead a dignified American life." Not since the Great Depression have so many Americans questioned the fundamental tenets of capitalism and expressed openness to a socialist alternative.
We Own the Future: Democratic Socialism—American Style, a new essay collection edited by Michael Kazin, Kate Aronoff, and Peter Dreier, offers a road map to making this alternative a reality, giving readers a practical vision of a future that is more democratic, egalitarian, inclusive, and environmentally sustainable. The book includes a crash course in the history and practice of democratic socialism, a vivid picture of what democratic socialism in America might look like in practice, and compelling proposals for how to get there from the age of Trump and beyond.
With contributions from some of the nation's leading political activists and analysts, We Own the Future articulates a clear and uncompromising view from the left.
The book can be purchased for $17.99 (plus shipping) directly from Dissent here.
You can access a free study guide companion to We Own the Future here.
"A vital collection of ideas for building a more humane society. If an American socialism is on the horizon, it will take coalitions of socialists and liberals to bring into view. Hopefully this book, and its insights, will shape the course they take."—Jamelle Bouie, The New York Times
"We Own the Future makes clear that democratic socialism brings essential contributions to the pursuit of a more perfect union in America today."—Rev. William J. Barber, president of Repairers of the Breach and co-chair of the Poor People's Campaign: A National Call for Moral Revival
"Aronoff, Dreier, and Kazin have brought together an exemplary set of essays that sparkle with insight and optimism. The news may be dark, but reading this book will lift your spirits."—Frances Fox Piven, distinguished professor of political science emerita, The Graduate Center, CUNY
This vital collection, available now for just $17.99, includes chapters by:
J. Mijin Cha
Michelle Chen
David Dayen
Francesca Fiorentini
Bill Fletcher Jr.
Andrea Flynn
Sarita Gupta
Darrick Hamilton
Susan Holmberg
Naomi Klein
Robert Kuttner
Sarah Leonard
Stephen Lerner
Joseph A. McCartin
Harold Meyerson
Tejasvi Nagaraja
Pedro Noguera
Dorothy Roberts
Aviva Stahl
Thomas J. Sugrue
Michael Walzer
Dorian Warren
Felicia Wong
David Zirin
Recorded past events: 
We Own the Future: Kate Aronoff, Aviva Stahl, Tejasvi Nagaraja, and Sarah Leonard [VIDEO]
Thursday, January 23
We Own the Future with Kate Aronoff and Mychal Denzel Smith [C-SPAN2 VIDEO]
Wednesday, January 29

We Own the Future: A Virtual Discussion with Kate Aronoff, Sarah Leonard, and Bill Fletcher Jr. [VIDEO]
Thursday, May 7
The Fight for Public Education: A Virtual Discussion with Pedro Noguera, Nicole McCormick, and Michael Bennett [VIDEO]
Wednesday, June 17
Upcoming events:
The Future of Workers: A Virtual Discussion with Sarita Gupta, Stephen Lerner, Joseph A. McCartin, and Bianca Cunningham
Wednesday, July 22 at 8pm ET/7pm CT/6pm MT/5pm PT
RSVP here.