The Trump camp's response to Friday's statement from the Hamilton cast reveals a dangerous double standard on civility.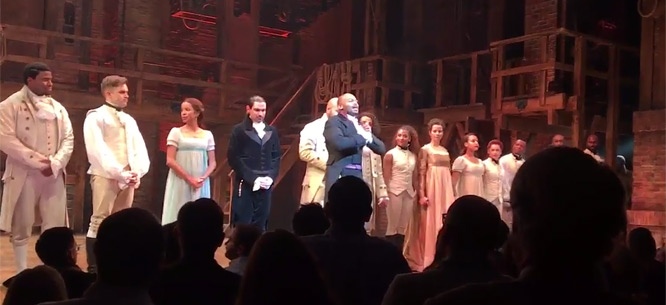 "Apologize!" That's what Donald Trump asked the cast of the hit Broadway hip-hop musical, Hamilton, to do after actor Brandon Victor Dixon (Vice President Aaron Burr in the play) addressed a series of remarks to Vice President-elect Mike Pence, who was in the audience at the Richard Rodgers Theater on Friday night.
"The Theater must always be a safe and special place. The cast of Hamilton was very rude last night to a very good man," Trump tweeted. The disjunct between the courteous tone of Dixon's statement and Trump's charge of "harassment" was striking. While Dixon voiced his and the Hamilton cast's fears about a future Trump administration, nothing he said approached rudeness or turned into a personal attack.
"We, sir, are the diverse America who are alarmed and anxious that your new administration will not protect us—our planet, our children, and our parents—or defend us and uphold our inalienable rights, sir," Dixon declared in a statement written in consultation with Hamilton creator Lin-Manuel Miranda and the Hamilton cast.
Trump and the Republicans who have joined with him in attacking the Hamilton cast seem to have forgotten their party's willingness to tolerate the genuine rudeness that President Obama has endured at their hands. Trump's fueling of "birther" rumors was one example. Another came in September 2009, when Obama addressed a joint session of Congress on the pending Affordable Care Act. In response to President's Obama's assurance that undocumented immigrants would not receive health-insurance coverage under the Affordable Care Act, South Carolina Republican Congressman Joe Wilson shouted, "You lie!"
The difference between the conduct of Wilson, who in this year's election won his ninth term in Congress, and the remarks of Brandon Victor Dixon could not be starker. Wilson interrupted the president's speech to attack his integrity and without any evidence for his claims. The one lying about the ACA's restrictions was not Obama, but him.
Nevertheless, most House Republicans refused to admonish Joe Wilson for his interruption of the president's speech. When, by a margin of 240 to 179, the House voted to rebuke Wilson, the vote was largely along party lines with Republican conservatives—among them Mike Pence—going out of their way to criticize the disapproval measure. Only seven Republicans joined Democrats in admonishing Wilson for his remarks.
Dixon, for his part, waited until the end of the play and the curtain call to address Pence. When he spoke, he repeatedly called Pence "sir," and expressed his hope that watching Hamilton would inspire Pence "to work on behalf of all of us."
Trump's attack on the cast of Hamilton—a "highly overrated" show, he added—serves multiple functions. At its most basic, it shifts attention away from his own problems at a time when Trump has just agreed to a $25 million payout to those who claim Trump University cheated them. But it plays a more alarming role as well. Hamilton—a celebration of multicultural America that even made a cameo in the Clinton campaign—represents everything Trump's base hates. In targeting the play's cast with an impetuous demand to apologize, Trump has been uncannily effective in stirring up his supporters' resentment against perceived coastal elites. A #BoycottHamilton hashtag trended on Twitter over the weekend.
In New York, the Daily News ran the Trump-Hamilton story under the headline, "Burr in His Saddle." The pun is funny. The Republicans' double standard on civility is, by contrast, no laughing matter.
---
Nicolaus Mills chairs the literature department at Sarah Lawrence College. He is author of Every Army Man Is with You: The Cadets Who Won the 1964 Army-Navy Game, Fought in Vietnam, and Came Home Forever Changed.