"Amplifying our concerns about going back to work," says museum educator Sarah Shaw, "is also a way of amplifying the concerns of other frontline workers."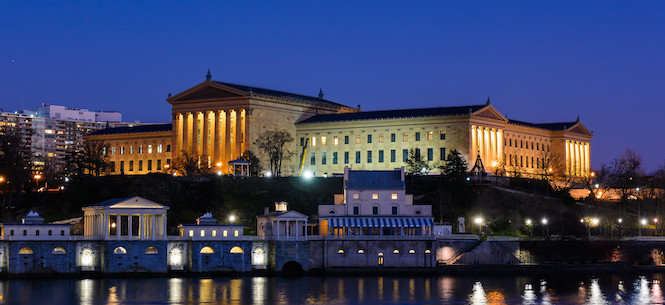 Read more of our coverage of the coronavirus crisis
here
.
Full disclosure: my brother-in-law works at the Philadelphia Museum of Art.
The Philadelphia Museum of Art's iconic steps have recently been the site of protests against police violence and white supremacy, as activists chose to gather at the staircase made famous in Rocky to launch marches and rallies.
Inside, the museum has been quiet since the pandemic forced it to close its doors, but that hasn't stopped the workers there from organizing for change themselves. In May, they became the latest workers at an art institution to go public with their demand to unionize.
Sarah Shaw is a museum educator, working with K–12 students, teachers, and college and graduate students, and has been part of that campaign for most of the last year. "The conversations started really organically at the museum, around the time that the Art/Museum Salary Transparency spreadsheed was published last year." The spreadsheet, in which museum employees shared their pay rates, went viral. Shaw said it catalyzed a discussion across departments in the museum "about all of the hidden factors in our jobs, in our positions, in our work lives, that were actually common concerns that we had, that nobody was really talking about, because we don't have transparency in our workplace." 
They talked about parental leave, benefits offered to part-time and full-time workers, starting salaries, sexism, and racism. Workers had begun organizing, too, around the issue of sexual harassment; one manager, who left in 2018, had been accused of harassing female employees, and workers remained frustrated with management's response. "It just brought all of those things to the surface," Shaw said, "And once folks started talking to each other, the idea of organizing came up pretty naturally. We were aware of union campaigns at other museums, mostly in New York." 
Support from the workers who had organized at the Tenement Museum and the New Museum helped them build, and they began to research unions that they might want to join. That led them to AFSCME District Council 47, or DC 47. "We decided on DC 47 because, although they don't represent any other museums in Philadelphia, they've worked with other cultural institutions like the zoo and the free library, they've worked with university employees and city employees, they've worked with private sector unions and public sector employees, and they have a vast range of experience with negotiating contracts for all of these different kinds of workers," Shaw explained. 
"The goal from the beginning was to be as inclusive as possible," Shaw continued. "And ideally, to have a wall-to-wall union that would represent employees across more than twenty departments in the museum." The union would represent and advocate for employees who are working in offices, who are working with artwork, who are scientists, who are frontline staff greeting visitors and working in retail, and who are educators or gallery technicians, so a union with broad experience seemed the best for their particular needs, Shaw explained. Even though the museum is technically, she noted, a private nonprofit, it receives city funding and functions very much as a public institution in the city—as well as a gathering space for the public. That means it makes sense for the workers to be part of a union with public employees. 
At the time the museum closed, the workers had already collected enough union cards that they were close to filing for a National Labor Relations Board election, but the shutdown put things on hold as they adjusted to what that meant for them. "When we realized that we would be able to announce and to hold an election if need be, before the end of June, hopefully," Shaw said, "we decided that it was important to kick the campaign back into high gear and organize as much as we could while being distant from each other."
When the workers were sent home, there was little in the way of plans for each department. Some of that was inevitable—it was hard to plan ahead for a sudden global pandemic. But that left the workers to cobble together their own plans, department by department. Much of Shaw's work is not happening currently, but she has been doing the research and writing part of her job from home. She explained: 
We reached out to our network of educators and said, "What do you need? What can we do for you? While you're trying to teach second graders through a computer screen, we're still here to provide you with support." We've been able to keep working one-on-one with teachers and do some virtual lessons and provide them with some teaching resources. Because we have such a close relationship with our audience, we've been able to maintain some of that work.
To be able to do the work that she loves in some fashion during a pandemic was meaningful for Shaw, a former public school teacher. But some of her colleagues, she noted, have not been able to do the same. "Because they are conservators—they work with objects—they don't have objects to work with at home. Or they work in visitor services, or they work in retail. There are quite a few of us who have not been able to continue working from home, and I think there's this sense of existential dread that comes from that, because there is so much uncertainty about the future of our work."
Many museum visitors, Shaw added, would be surprised to know how many different kinds of workers the union would represent. "The general public doesn't know how many different kinds of work go on in an art museum," she said. "This feels like an expression of solidarity, not just with each other, but with those public-facing frontline workers in every other industry across the city. Amplifying our concerns about going back to work, I have to hope, is also a way of amplifying the concerns of other frontline workers."
The museum has, Shaw said, a reopening committee, but most of the workers don't get much beyond a weekly report. "We know really basic things, like plans to provide masks and hand sanitizer. But not a whole lot beyond that." The museum has to be temperature-controlled to protect the art, Shaw noted, so it cannot just open windows and ventilate. For many of the workers, like her, whose jobs revolve around programming, there are questions about group size and tools that students might handle. For the workers, she said, the union has been "the one and only really hopeful thing." 
When they decided to go public with the union drive, Shaw said, they made phone calls to everyone who had signed an authorization card, trying to gauge how much motivation people still felt to unionize. "Almost every single person we talked to had the same feeling that now, more than ever, when things are so uncertain—and when we are not included in the conversations about reopening that will impact our health and our safety, our working conditions, the health and safety of visitors to the museum—this is the time when we need the power of collective bargaining, and to have a voice in these incredibly important decisions that are being made." 
It feels essential, she said, that the workers be involved in shaping the reopening. "The impact really falls disproportionately on those of us who work on the front lines, who work with visitors, and we feel the inequity more right now than ever before of not having a seat at the table." That's why the workers are frustrated that the museum's management has hired the law firm Morgan, Lewis & Bockius—better known as simply Morgan Lewis—to "help guide us through the unionization process." Morgan Lewis, as Ben Davis at Artnet noted, is the firm that advised Ronald Reagan on breaking the air traffic controllers' union, and McDonald's on dealing with the Fight for $15. Working with Morgan Lewis, Shaw said, "tells us everything we need to know about where [the Philadelphia Museum of Art] leadership stands. It's clear they see the possibility of changing the status quo not as an opportunity, but as a threat, and are doing everything they can to prevent that from happening. We're still confident we'll win." 
Their organizing, she said, has come from "a place of love for the museum, love for our institutions, love for the jobs that we do, and appreciation of our colleagues. And a real profound desire to see the art museum live up to its mission, and become a more transparent and inclusive and equitable place."
---
Sarah Jaffe is a reporting fellow at the Type Media Center, the author of Necessary Trouble: American in Revolt, and the co-host of Dissent's Belabored podcast.