A preview of our Fall 2020 issue, Technology and the Crisis of Work, guest-edited by Katrina Forrester and Moira Weigel.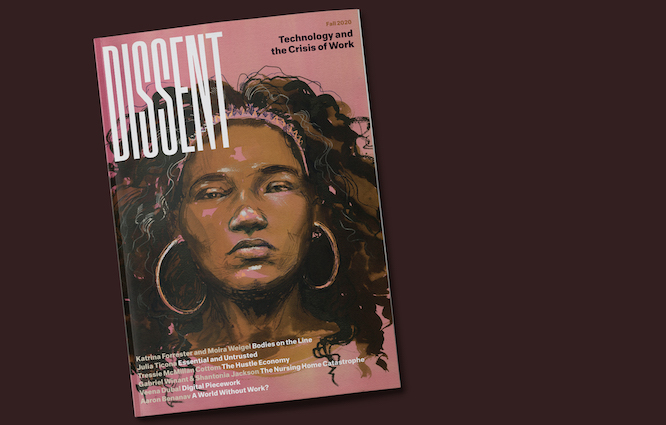 In our Fall 2020 issue, out October 5, Katrina Forrester and Moira Weigel have guest-edited a special section on Technology and the Crisis of Work. Drawing on the work of socialist feminists, the essays in this section examine labor—digital and in-person, paid and unpaid—in the era of COVID-19 and beyond.
"The spread of risk and death across the terrain of life-making has led to its politicization in new, uneven ways, whether it is in homeworking, for-profit healthcare, or community maintenance," they write in their introduction. "It's still unclear whether the chaos of spring and summer of 2020 will give way to a more manageable public health and jobs crisis, a period of major depression and long-term unemployment, or something unprecedented. One thing we do know is that, for now, old frameworks are straining under new pressures."
Subscribe now to get your copy at a 25 percent discount.
In the section (illustrated by John Michael Snowden, with cover art by Molly Crabapple): Julia Ticona on Care.com; Tressie McMillan Cottom on the hustle economy; Gabriel Winant interviews certified nursing assistant Shantonia Jackson about work in a long-term care facility during the pandemic; Veena Dubal on the new digital piecework; and Aaron Benanav on the deepening underemployment crisis.
Also in the issue: Adam Rothman and Barbara J. Fields on building solidarity against the backdrop of police murder; Kevin and Jay Mattson have a father-son conversation about Black Lives Matter; Justine van der Leun on Kwaneta Yatrice Harris, a woman incarcerated in Texas; Brian Morton on cultural appropriation and writing; Carlos Dada on democracy in Central America; Zachariah Mampilly and Jason Stearns on U.S. foreign policy in Africa; Hannah Black on tenant organizing; Mitchell Cohen on Irving Howe's socialism; Cyryl Ryzak on Poland's Law and Justice Party; and a selection of Sarah Jaffe and Michelle Chen's stories of work in the coronavirus era.
And in the book review section: Adom Getachew on the Indian constitution; Jefferson Cowie on the new debate about the founding of the United States; Victoria Baena on Fernanda Melchor's novel Hurricane Season; Samuel Bagenstos on anti-discrimination legal radicalism; Joe William Trotter Jr. on labor organizing in the South; and Ariel Ron on a democratic vision for banking.
Click here to subscribe at a 25 percent discount. Please consider donating, purchasing a gift subscription, or becoming a solidarity subscriber to help sustain Dissent.