Recent policy changes in New York City promise to reduce police harassment of vendors, but they are struggling months into the pandemic.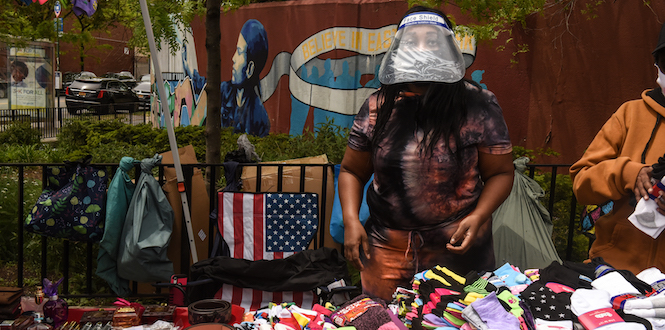 When New York City businesses closed down during the first onslaught of the pandemic, an eerie pall fell over the streets. It wasn't just due to the lack of foot traffic for retail shops and restaurants; it was also due to the disappearance of street vendors, scrappy fixtures of the city's commercial landscape who encapsulate its cultural eclecticism. The mostly unlicensed peddlers must often contend with aggressive police, hostile brick-and-mortar retailers, and concerned residents who claim they want the rabble off their doorstep. And now many have been grounded by the pandemic, struggling to ply their trade on barren sidewalks that are devoid of the usual tourists, students, and workers who would buy their T-shirts, tchotchkes, gyros, and churros.
Nogaye Lo, a vendor of African clothing, scarves, and jewelry, has been getting by with her pandemic unemployment payment, but has been frustrated by the shutdown of the city. 
"There was no business at all," she said by phone. "You cannot find anybody to sell a scarf to or anything. It was so ridiculous to put merchandise in the street and try to sell it to people." 
Aside from the health risks of working during the pandemic, street vendors face the risk of police harassment. The vast majority of the city's roughly 10,000 to 20,000 street vendors are unlicensed, and cops are notorious for their selective enforcement of arbitrary rules, such as ticketing people for putting their carts too close to the curb, making too much noise, or—in one particularly infamous incident—handcuffing a woman hawking churros in a subway station. 
But the wave of protests against police brutality yielded an unexpected opportunity. Lo now sells Black Lives Matter–themed T-shirts, along with black face masks displaying the words "I Can't Breathe."
Though the surge in demonstrations has brought just a temporary boost to her otherwise flagging business, the spirit of the moment resonates with Lo's livelihood. In over two decades of street vending—selling mostly in Union Square, or sometimes in Harlem or the Bronx—she said she has had more run-ins with the police than she can count, and has been shoved and jailed by the cops just for selling in the "wrong" place. And as an immigrant from Senegal, she has also raised four Black sons in a city that feels increasingly hostile. 
The Black Lives Matter protests may also have precipitated an indirect breakthrough for street vendors like Lo. Mayor Bill de Blasio announced in early June that the police would no longer have jurisdiction over street vendors—part of a package of incremental reforms he offered to activists. It is unclear whether a new agency will handle enforcement related to street vending, but at least peddlers could soon return to the sidewalks without fearing they will end up in handcuffs. The Street Vendor Project, which represents Lo and about 2,000 other vendors, is campaigning for a complete abolition of the city's draconian caps on licenses, which limits the number of vending permits to just a few thousand. 
Even if the cops are off their back, street vendors still face a long road to recovery. 
Though Lo's business has been devastated by the lockdown, she fears the city may be reopening too soon: "When we're opening, it's going to be a mess," she said. "The country's not going to be safe for maybe two years. . . . And I'm very sad. I'm very scared. We don't have plans to go somewhere [else]. And anywhere you go, actually, it's the same thing with New York. So, we've just been standing over here, we don't know what's going to happen tomorrow. . . . All I can tell people [is] pray, pray, pray to God."
Juan Carlos Landa, who sells Italian ices with his father near Grand Concourse in the Bronx, is still selling, but there is little business now that the nearby school has closed and children no longer line up to purchase the classic New York summer delicacy. He had a good set up, with fancy colored spoons and flavors like passion fruit and guava; he recently added a cashless option so people can Venmo him the $1.50 fee. Yet he suspects many of his usual customers cannot even spare the money for an Italian ice.
"They just say hello," he said, "but they don't stop to buy something. . . . So I know, then, they don't have jobs."
Landa himself was idle for two months when the pandemic first hit the city, staying indoors with his seventy-one-year-old father. But the apartment got too stifling, so he had to get outside, even if he was only bringing in $40 or $50 a day. 
"I understand the situation of my customers when they don't have jobs, and they have to sit at home, and they don't have money, food, and they have the kids at home, [who] want to do more things, they want to eat more things, chocolate, candy, especially ice cream, and now they don't have the money." 
But even with all the chaos engulfing the city, he added, occasionally, people indulge themselves.
They will turn up at his cart, saying "I was [going] crazy to have one of these. . . . Kids and young adults, they were saying the same thing: 'I missed this.'"
---
Michelle Chen is a member of Dissent's editorial board and co-host of its Belabored podcast.