Journalist and organizer Desiree Kane brings us an update from Standing Rock, where Native American activists and their allies are gearing up for the winter as pipeline construction resumes.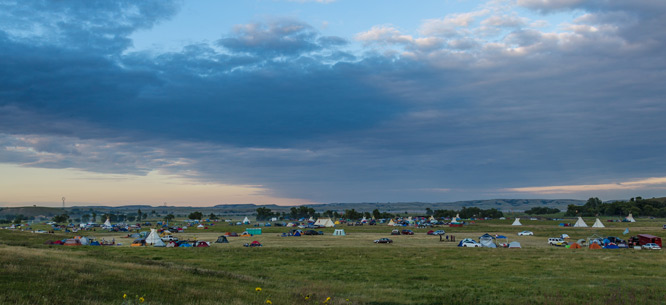 For the past several months, the Dakota Access Pipeline has been at the center of the biggest fossil fuel infrastructure fight since the defeat of Keystone XL. It's also prompted the largest single gathering of Native American tribes in at least a century. Initially planned to pass just outside of North Dakota's capital city of Bismarck, which is nearly 95 percent white, a section of the 1,172-mile-long pipeline is now slated to cut across the land of the Standing Rock Sioux, disrupting several sacred sites and key water sources.
Under pressure last month, the Obama administration requested that Energy Transfer Partners stop construction in a twenty-mile radius around Lake Oahe—the eastern border of Standing Rock—and affirmed that building is still banned on federal land pending a more thorough environmental review of the project. Still, construction on the rest of the pipeline's path has continued, as Native activists and their allies—under the banner of "water protectors"—move ahead with both a legal challenge to the pipeline and direct action on site. As increasingly dire climate studies make the case to keep the bulk of fossil fuels reserves buried, the fate of the Dakota Access pipeline could set a precedent for how to defuse countless "carbon bombs" on the horizon.
To learn more, I spoke with Desiree Kane, a Miwok journalist and organizer who's spent the last three months at the Oceti Sakowin camp, the largest of a network of encampments at Standing Rock, housing an estimated 3,000 people. We spoke on Indigenous People's Day, October 10—also the day after a major court ruling on the pipeline's future.
This interview has been lightly edited for clarity and length. Listen to the full version on Episode 5 of Hot & Bothered, Dissent's monthly podcast on the politics of climate change.
Kate Aronoff: What's happening at the encampment right now? What happened in the courts on October 9, and what has happened since then?
Desiree Kane: On Sunday (October 9), the injunction that was halting construction on the Dakota Access pipeline was declined, so construction has been allowed to resume. The pipeline is 86 percent complete in North Dakota, and the rest of it is centered right where we are, within the camp. The water protectors have been able to stop that so far, but on October 11, we had twenty-eight arrests. We have been facing a lot of police and state repression of our right to assemble and to speak, and we've been seeing more law enforcement officers surveilling, driving back and forth past camp. We've got a private security helicopter that circles for four hours a day, every day, taking pictures. We've got private investigators and other hired folks out here doing intelligence gathering. We're spending a lot of time in prayer and in dance, making sure that our minds, bodies, and spirits are solid as we move forward into what are hopefully not very intense days. But it is a multi-billion dollar, multi-national company that we are fighting against, and it is armed with the U.S. military, the state police, the National Guard, and county sheriffs. It is getting intense, and they're trying to intimidate us even more than before. What's been going on these last couple of days is a ramping up of intimidation and surveillance, but all that does is make our spirits stronger. It makes our community draw in closer to one another as we continue to fight together.
Aronoff: Could you talk about the significance of this ruling, and this increased repression, coming in the hours before and on Indigenous People's Day, a federal holiday in the U.S. that is known to many as Columbus Day? How does the Dakota Access Pipeline connect to this history of the government's relationship to indigenous people, land, and water?
Kane: There is a strong historical significance to what's going on out here. The seven council fires of the Lakota, Dakota, and Nakota people have not come together like this since the Battle of Greasy Grass, which was over 140 years ago. We're armed with the knowledge of over 300 nations that are present here supporting us. We're looking to have the Dakota Access Pipeline stopped by executive order, by President Obama, because he does have it within his power to stop this pipeline. And there's no doubt that there will be historical markers that pop up here once we stop it. People will look back and say, "I was part of something that has never happened in history." It's not about being anti-energy independence. It's about the fact that there was no meaningful consultation with the Standing Rock Sioux tribe. The permits to get this pipeline laid and cross the river, they were really just pushed through. There was never an option to say "No."
People are gathering here because these are treaty lands. We have the support of the treaties, and they need to be honored. The final resting places of some of the signers of the 1868 Fort Laramie treaty are on land that DAPL now owns. We have ancestors whose gravesites have been desecrated, places of historical significance that have been desecrated. This is colonialism all over again: resources are extracted and shipped off for the benefit of another nation, regardless of those who have to live with poisoned water and air. Colonialism is still terrorizing indigenous communities to this day, but this time we're saying "No." There are many people out here, myself included, who are occupying federal lands, and a lot of them are willing to put their bodies on the line and not let that pipeline pass. We're paving the way to make sure that this won't happen to other Native nations that find themselves in the same position, because if this happens in the future, there will be thousands of Native people putting themselves in the way, yet again, to say "No more."
Aronoff: What happens to the encampment as winter moves in? How do folks plan to keep protecting the land and water in Standing Rock, and to keep saying "No"?
Kane: We here at camp are well loved and well supported. When I put on my Facebook page, for example, that we need AAA batteries for the walkie-talkies that we use, we get a whole case of supplies. When talking about how we're going to sustain ourselves over the winter, all we have to do is let people know what we need, and we will be provided for. It's a little bit cliché, but the whole world is watching, and we're able to accomplish a lot more with all of that support.
Aronoff: For those who are looking for some way to support people on the ground, what are some ways they can contribute?
Kane: We have an immediate need—and it will be continually ongoing—for firewood, meat, and things like extreme cold weather sleeping bags that can go below negative 40℉. When it's negative 40℉ out here, you can only put so many sleeping bags inside of sleeping to stay warm, so we need things that are explicitly focused around extreme cold weather. Things like boots, gloves, hats, scarves, and coveralls are all really welcome. We also need materials for building things like windbreakers, because the wind out here is incredibly intense. We need those things, but also just supporting indigenous people that want to come out to this space is incredibly important, because this is our space, and this is our time to do a lot of healing. Our communities have been put through a lot of historical trauma, and to come into a place like this, there's a lot of forgiveness and a lot of healing happening. So focus on supporting indigenous people who want to come out here, who want to pray, and who want to be intrinsically understood about what that historical trauma feels like. It provides a type of community care that is almost never afforded to indigenous people.
Aronoff: Thank you so much. Is there anything else you want to add?
Kane: Please just keep the tweets and Facebook posts coming. Use #NoDAPL, because we really need to keep that momentum going. We all see it when we're able to, and there's a certain type of warmth in that support that we are going to continue to need. So keep us in your thoughts, and keep us in your tweets.