At its best moments, Roseanne offered something Roseanne Barr's tweets did not: empathy, nuance, and a portrait of white working-class life rarely seen on television.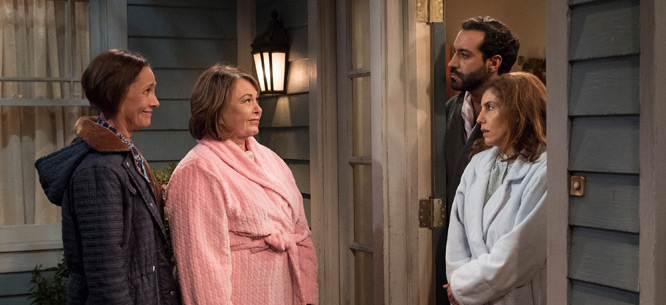 There will be no Roseanne next fall. Despite its highly successful reboot this spring, ABC cancelled Roseanne just hours after the show's star, Roseanne Barr, who played the fictional Roseanne Conner on the sitcom, set off a media firestorm with a tweet that said of Valerie Jarrett, former Barack Obama presidential adviser and currently a senior fellow at the University of Chicago Law School: "muslim brotherhood & planet of the apes had a baby=vj."
"I apologize to Valerie Jarrett and to all Americans," Barr wrote after criticism of her began pouring in. "I should have known better. Forgive me—my joke was in bad taste."
Roseanne's apology was too little, too late. Her racist tweet made the success of Roseanne commercially irrelevant and drew attention to Barr's longer history of appalling tweets, including one in which she accused the Hungarian-born philanthropist George Soros of being "a nazi who turned in his fellow Jews 2 be murdered in German concentration camps." Roseanne simply could not survive being so closely intertwined with Roseanne Barr. It did not matter that at its best moments Roseanne offered something Roseanne's tweets did not: empathy, nuance, and a portrait of white working-class life rarely seen on television.
When, after being off television since 1997, Roseanne, the sitcom about the working-class Conner family of fictional Lanford, Illinois, was revived this March, the program made an explicit appeal to win over Donald Trump supporters. "It was about us," the president happily proclaimed after Roseanne debuted. The pitch worked: the show began by drawing over 18 million viewers to its double-episode opening, and it was quickly renewed.
Roseanne's intention to appeal to Trump voters was never in doubt. Barr had been an outspoken Trump supporter in her real-life tweets, and her television character made that same point on the first show, stressing that she supported Trump because he talked about jobs.
Later, Roseanne made clear that her support of Trump was not just about jobs. In a thinly veiled reference to the National Football League players who have kneeled during the playing of the national anthem to protest racial injustice and police brutality, Roseanne sarcastically asked her sister, Jackie (Laurie Metcalf), if she wanted to take a knee rather than say grace. On the show's third episode, Roseanne gave her support of Trump a further racial twist that seemed like an explicit bid to improve ratings. She and her husband, Dan (John Goodman), had fallen asleep on their couch. When they awoke, Dan complained, "We slept from Wheel to Kimmel. We missed all the shows about black and Asian families." Dan's reference was to ABC's black-ish and Fresh Off the Boat, but his complaint was quickly dismissed by Roseanne. "They're just like us. There, now you're all caught up," she quipped.
Scoffing at "politically correct" ideas—in this case, that the problems of people of color aren't so different from those of white Americans—would be nothing new for Roseanne (Conner or Barr). What was more surprising was the apparent about-face the show offered just a few episodes later. The episode, which aired May 8, began on a characteristically inflammatory note: Roseanne was sure her new Muslim neighbors were up to no good because of the quantity of fertilizer they had bought. But when Roseanne needed to borrow their WiFi, the neighbors, a husband and wife from Yemen, willingly gave her the code—"Go Cubs"—enabling Roseanne's granddaughter (Jayden Rey) to Skype with her mother (Xosha Roquemore), who is stationed with the American military in Syria and is the African-American wife of Roseanne's son D.J. (Michael Fishman).
Later in the same show, Roseanne defended her neighbors from a bigoted clerk at their supermarket who had the same Muslim fears Roseanne voiced at the start of the episode. The show never dealt with how Roseanne would respond to other immigrant neighbors (especially ones who were not baseball fans, or so obliging with their WiFi at 2 a.m.), but that kind of in-depth analysis was not part of the show's DNA. What the immigrant encounter did reveal was that, when Roseanne met up with facts that contradicted her prejudices, she was capable, at least for the moment, of altering her behavior. The optimistic viewer could only hope that Roseanne had learned enough from this particular incident to see other immigrants and Muslims without her original biases, too.
The "Go Cubs" episode offered just one example of the ways Roseanne quietly departed from the values of Trump diehards. On matters of the heart, Roseanne and Dan frequently acted in ways that would make any liberal proud. They were devoted to their nine-year-old grandson (Ames McNamara), who enjoyed dressing in skirts, and they were no less loving, as the WiFi incident also showed, of their biracial granddaughter.
Roseanne was never systematic in its politics. This made its most successful moments all the more striking. The show could be especially thoughtful when it came to portraying the indignities work frequently imposes on the vulnerable. When Darlene (Sara Gilbert), Roseanne's younger daughter, got a job serving drinks at a local casino, she found it necessary to flirt with her male customers and ignore their sexual remarks in order to get better tips. But rather than treat these exchanges as harmless, the show captured how demeaned they made Darlene feel. There was no sympathy on the program for the kind of sexist language Trump used in the Access Hollywood tape of him that that surfaced during his 2016 presidential campaign.
At the heart of Roseanne was the impact income inequality sooner or later had on all the adult Conners. Becky (Lecy Goranson), the Conners' older daughter, decided the only way she could get out of debt was to be the birth mother for a woman who could not have children, but it turned out that Becky was too old to be a successful surrogate. She lost the surrogate job after going through a deeply invasive examination. Then she had her misery compounded when the woman whose child she hoped to bear quickly dropped all contact with her and took back the Faberge-style egg she gave Becky.
Most telling of all in the new Roseanne was the inability of the Conners to get the kind of health insurance they needed. The Conners never mentioned the Affordable Care Act by name, but they suffered acutely from the damage the Trump administration did to it. In various episodes we learned that Roseanne had been hoarding pain pills to deal with her aching knee, but it was not until the concluding episode, "Knee Deep," that the Conners found a way to pay for the operation Roseanne needs.
Their basement was flooded in a storm that affected all of Lanford, but as it turned out, the Conners would not have to pay to repair their basement with their own money. The entire Lanford area was declared a disaster zone by the government, and Dan realized that he could repair his basement with the money he would get from the Federal Emergency Management Agency (FEMA) and still have enough left over to pay for Roseanne's surgery.
It was a great day for the Conners, and, as Roseanne explained, thanks to the flood, a time when there was "work for everybody, legal and illegal." A natural disaster followed by government intervention was required to bring about this turn of events. No amount of planning by the Conners, the show made clear, could have produced such a happy ending.
What are the Conners supposed to do in more ordinary times? Roseanne offered no convincing solutions. Darlene, despite her long work hours, was trying to write, but Roseanne gave no indication that Darlene was about to produce her version of Hillbilly Elegy.
When we think of the long history of working-class families on television, the resemblance of the Conners to both the Kramdens of Jackie Gleason's Honeymooners of the 1950s and the Bunkers of Norman Lear's All in the Family of the 1970s and early 1980s was clear. Famously bigoted white working-class characters like Archie Bunker were in many ways a precursor to today's Roseanne. But in 2018 there was a desperateness among the Conners that was not present in their television predecessors.
Ralph Kramden, a Brooklyn bus driver, and Archie Bunker, a Queens loading-dock worker, were in traditionally unionized industries. They didn't fear being thrown out of work or losing their health insurance. Ralph and Archie, who in 1977 quit his job to buy and run a tavern, never thought that one day they might have to say as Dan does when he is considering hiring non-union workers for a construction job he has gotten: "I spent my whole life hanging on by my fingertips, telling everybody not to worry, that I was going to make it okay, because that's my job. Well now I can't promise that anymore. . . . I'm old, I'm tired, and I'm not sure how much longer I can hold on."
It's significant that a show with such moments of brilliant writing won't be around for us to watch anymore. There will be little to miss about the real-life Roseanne. But the fictional Roseanne, with frailties and worries much like those of her husband, is a different story.
---
Nicolaus Mills chairs the literature department at Sarah Lawrence College. He is author of Winning the Peace: The Marshall Plan and America's Coming of Age as a Superpower.