Walmart and Kroger workers discuss the added stress of working during the holidays.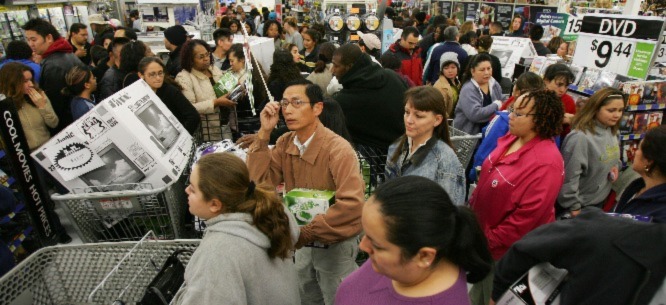 Subscribe to the Belabored RSS feed here. Support the podcast on Patreon. Subscribe and rate on iTunes, Stitcher, and Spotify. Tweet at @DissentMag with #Belabored to share your thoughts, or join the conversation on Facebook. Check out the full archive here. Belabored is produced by Colin Kinniburgh.
This podcast is coming to you the week of Thanksgiving in the United States, and while many of you might be listening after a relaxing meal and day off work, for retail and grocery store workers, the holiday just means extra stress, crowded stores, long lines, and Black Friday sales. Continuing our series on the workers who have borne the brunt of the COVID-19 pandemic, we talk to a couple of the people who make holidays go smoothly: Cynthia Murray, a longtime Walmart worker and founder of United 4 Respect, and Lisa Harris, longtime Kroger worker and member of UFCW Local 400. They talk to us about the lack of respect given to so-called "essential" workers, the added stress of the holidays, and why workers need a seat at the table in determining sick policies.
We also learn about a new union for service workers in the South and the latest on the possibility of a rail strike in the United States, the conditions of the workers who built the World Cup, and a big win for some of our recent guests, the Liverpool dockworkers.
Thank you for listening to our 260th episode! If you like the show, you can support us on Patreon with a monthly contribution, at the level that best suits you.
If you're interested in advertising on the show, please email ads@dissentmagazine.org. And as always, if you have any questions, comments, or tips, email us at belabored@dissentmagazine.org

News
Lena Geller, Service Workers in NC, Other Southern States Launch a Union, INDY Week
Union of Southern Service Workers
Hundreds of dock workers in Liverpool return to work after dispute ends following pay offer, ITV News
Liverpool dockers celebrate major victory after Unite secures pay deal worth between 14.3% and 18.5%, Unite the Union 
Astha Rajvanshi, Why U.K. Nurses Voted to Strike for the First Time Ever—and What That Means for Hospitals, TIME
Holly Turner, I've been an NHS nurse for 15 years. Here's why I'm going on strike, openDemocracy

"If we complain, we are fired": Discrimination and Exploitation of Migrant Construction Workers on FIFA World Cup Qatar 2022 Stadium Sites, Equidem
Chris Isidore and Vanessa Yurkevich, America faces a possible rail strike in two weeks after largest union rejects labor deal, CNN

Conversation
Walmart 2021 Pandemic Workforce Advisory Council Proposal, United 4 Respect
Siddharth Cavale and Richa Naidu, Walmart halves paid leave for COVID-positive workers, Reuters
Albert Samaha, They Fed America During Lockdown. Nearly Two Years Later, Many Grocery Workers Can't Make Ends Meet, BuzzFeed News 
Sarah Jaffe, What Happened to Kroger's "Hero Pay"? Dissent 

Thanks to the Ford Foundation of Social Justice for sponsoring this series.