We're partnering with our friends at Verso Books to offer you a winter reading list curated by our editors.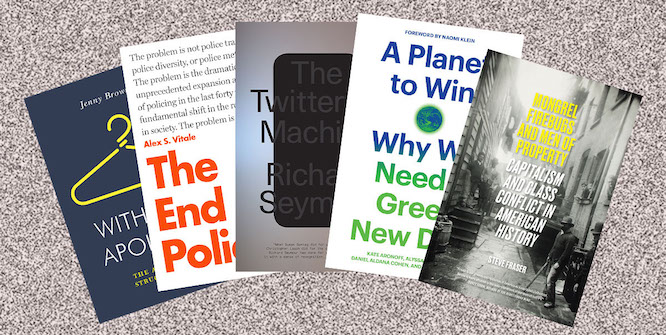 Donate to Dissent and pick a book from our reading list. 
Your financial support for Dissent keeps our magazine in print every year. To show our thanks, we're offering our readers some extra intellectual sustenance this season.
We're partnering with our friends at Verso Books to present a winter reading list, curated by our editors. Donate $75 (or more!) before the end of the year and we'll send you a book of your choosing from our selection:
Without Apology: The Abortion Struggle Now by Jenny Brown

The End of Policing by Alex S. Vitale

The Twittering Machine by Richard Seymour

Mongrel Firebugs and Men of Property: Capitalism and Class Conflict in American History by Steve Fraser

A Planet to Win: Why We Need a Green New Deal by Kate Aronoff, Alyssa Battistoni, Daniel Aldana Cohen, and Thea Riofrancos