After a three-day strike, the New York State Nurses Association announced it had reached tentative agreements with two hospitals that will strengthen safe staffing standards.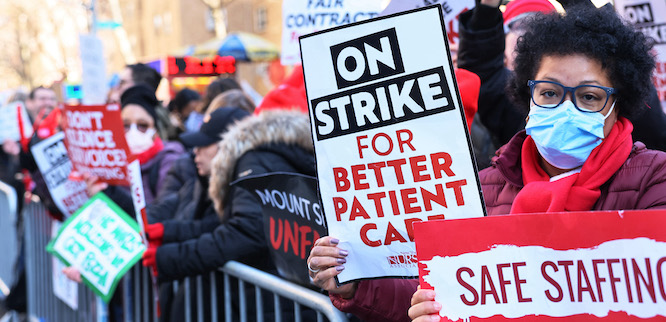 On Thursday morning, thousands of New York City nurses started what would have been an ordinary workday—except they had just been off the job for three days, standing outside in the cold outside their hospitals, waiting for their bosses to meet their final demands. It was a three-day strike led by about 7,000 union nurses at two of the city's major private hospitals: Montefiore in the Bronx and Mount Sinai on the Upper East Side. The decision to go on an indefinite strike came toward the end of a tense negotiation process, when many other local hospitals had reached tentative agreements with New York State Nurses Association (NYSNA).
The union stressed that the decision to strike was not centered around pay, but around concerns for patient safety and sustainable working conditions, and talks had stalled over the issue of safe nurse-to-patient staffing ratios. After three days of striking, the union announced it had reached tentative agreements with Montefiore and Mount Sinai that will strengthen safe staffing standards across hospital units. Despite existing rules on how many patients each nurse should care for, the union has pushed for stronger enforcement and accountability for hospitals that they say have routinely failed to ensure safe staffing levels.
Nurses have long warned that they are forced to care for far more patients than is manageable or safe, and chronic understaffing became all too apparent at the height of the pandemic, when New York City's medical infrastructure was overwhelmed by COVID-19 hospitalizations and staff shortages contributed to a horrific death toll in nursing homes. Yet despite the pandemic showing the deep need for adequate staffing, according to the union, nurses have had to organize to oppose management's efforts to lay off nurses or freeze hiring.
On Tuesday, while attending the picket line with NYC-DSA's strike support contingent, I spoke to two nurses across the street from the towering Mount Sinai building on Madison Avenue, where a few hundred nurses spent the day chanting, marching, and munching on coffee and donuts while a small brass band pepped up the crowd.
Veronica Phipps, a nurse practitioner, is a new hire, but was enthusiastic about being on her first nurses' strike. Since starting her job at the hospital late last year, she said, "it's been glaringly apparent how management has been turning the other way to the needs of the staff and they're thinking in a very shortsighted manner. It's very focused on: deal with what we're giving you, and not, how can we help make sure that everyone is resilient and able to do this long term?"
As a nurse practitioner, she has observed how many of the frontline nurses, who handle the most basic and critical tasks of patient care, become "burnt out" when they are constantly overburdened with patients, and staff turnover is a chronic issue. "We're seeing medical errors all the time," she said,
patients and families who feel that they're not able to receive the care that they deserve, nurses who feel overwhelmed, stressed, and exhausted—not being able to provide the care that they know they should be able to give [with] this sense of dread each day, knowing that no matter which way you're looking, no matter where you're on, that things aren't going how they should be.
While there are rules about safe staffing ratios, Phipps said, enforcement at her hospital is unworkable, because it relies on a cumbersome process of individual nurses protesting their assignments. For example,
if you feel that there are too many . . . high-acuity patients, you protest the assignment. That goes back to the union, through management. And it's supposed to go through a mediator. It's a very complex issue. It takes three months at best and it still never gets solved because what management has tended to do is turn a blind eye and ignore the statements. So the biggest reason that we're striking is because we want to find a different system.
The issue of safe staffing goes well beyond the two striking hospitals. National Nurses United, the organization representing nurses unions nationwide, has been advocating for safe staffing legislation for decades on the national and state level. It has often faced opposition from the hospital industry lobby, despite research showing significant reductions in medical errors and improvements in patient outcomes when safe staffing ratios are enforced.
Christina Luke, a nurse at Mount Sinai since 2019, said that ensuring adequate staffing is not just a question of how many nurses are on duty at a hospital, but how care is coordinated and targeted to meet patients' needs. "It's not something that can happen overnight," she said, "probably not even something that can fully happen in a year. But that should be the goal in every hospital, everywhere, because everybody is going to get sick at some point. . . . Everybody deserves dignity in healthcare. Every single person, regardless of who you are."
The new tentative agreement at Mount Sinai provides for "wall-to-wall safe staffing ratios for all inpatient units with firm enforcement so that there will always be enough nurses at the bedside to provide safe patient care, not just on paper," according to NYSNA. Montefiore's tentative agreement includes financial penalties for the management if patient loads exceed safe levels, along with other workforce-related measures, such as "nurse student partnerships to recruit local Bronx nurses to stay as union nurses at Montefiore for the long-run." Both agreements will go to the members for a ratification vote starting next week.
The nurses' strike in New York City echoes recent labor uprisings in the healthcare workforce in Massachusetts, California, and the United Kingdom, in which nurses and other hospital staff have gone on strike to protest structurally inadequate staffing and what they see as disinvestment and mismanagement at the expense of both patient care and workers' rights.
While COVID outbreaks may have exposed long-festering problems in the city's hospitals, Luke said that the pandemic has emboldened workers like her to resist the status quo.
I think that COVID just made everybody realize they have to stand up for themselves. And in standing up for ourselves, we stand up for our community. We stand up for our profession. And you need that because you know what? You're always going to need a freaking nurse . . . no matter who you are, no matter where you are, you're going to need one. So we're fighting for more than the money. . . . It's our profession, our patients, our community. It's an investment in all of us.
---
Michelle Chen is a member of Dissent's editorial board and co-host of the Belabored podcast.