A massive round of Disney Parks layoffs is acutely felt in Florida.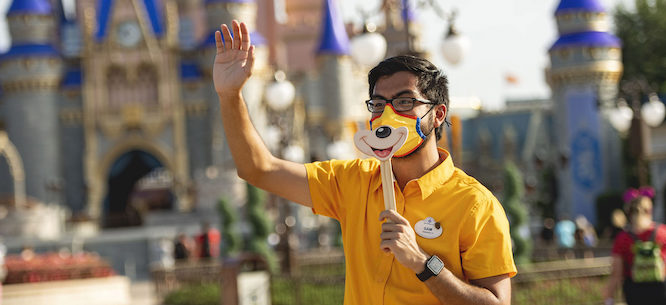 The happiest place on earth just devastated tens of thousands of its workers. After shutting down for several months after the pandemic pummeled Florida and California, Walt Disney World and Disneyland are shedding 28,000 workers, two-thirds of whom are part-time, including many who were tipped workers and struggling even before the pandemic. Now that COVID-19 has sunk the tourism industry, many of the workers are supposedly no longer needed to staff the eerily empty rides, restaurants, and hotels. 
Sonja Flowers, a server at Walt Disney World, was hopeful that things would return to normal soon when Disney shuttered its theme parks in both Orlando and Anaheim back in mid-March. "My coworkers and I walked out the door thinking, 'Okay, we're going to be out of work for a couple of weeks, maybe a month,'" she recalled:
And then the next month, April, comes and we get notice of being furloughed. And then May goes by, June, July, August, September, and then here we are in October, being told we're going to be laid off at the end of the year. It's just really frustrating, because Trump knew how deadly this virus was in February, and he did nothing. And as a result, 215,000 people are dead and thousands of people, myself included, are out of work.
Disney has justified the layoffs—nearly 16,000 of which are in Florida—as a necessary response to a steep decline in business. Disney World reopened in July, a month after Universal Orlando Resort and SeaWorld Orlando (both of which have also laid off thousands of workers), in compliance with the state's safety guidelines for personal protective equipment and social distancing at attractions. But business remains dismal, with the park's capacity capped at 25 percent, and Florida as a whole struggles to contain outbreaks. 
Josh D'Amaro, chairman of Disney Parks, said in a statement, "We've cut expenses, suspended capital projects, furloughed our cast members while still paying benefits, and modified our operations to run as efficiently as possible, however, we simply cannot responsibly stay fully staffed while operating at such limited capacity."
But Flowers believes both Disney—a multibillion-dollar entertainment empire notorious for paying its service staff poverty wages—and the state government have been flouting their responsibilities to the communities that depend on the entertainment empire for jobs. 
Even applying for unemployment has been a struggle for many. "After taxes, your payment weekly is $240," Flowers said. "No one can live on $240 a week. I know people that [waited] for months before even getting a single payment because the system was so broken. If you called to speak with someone, if you actually got someone, they weren't really trained. They were basically there to answer the call to tell you, 'I'm just here to answer the phone.'" (As with many other states, Florida's unemployment-benefits bureaucracy runs on creaky outdated software that led to huge delays and countless website crashes earlier this year.)
For the Service Trades Council Union, a coalition of six UNITE HERE locals representing more than 40,000 Disney World workers, the layoffs are a stunning blow for a workforce that has struggled to win a modicum of economic security. After months of wrangling with the unions, Disney agreed in 2018 to phase in a $15 hourly minimum wage for unionized workers, a significant boost to ride operators, hotel housekeepers, and other service staff. However, even at $15 an hour, workers struggled to cover their basic needs amid Central Florida's affordable housing crisis and high cost of living. 
Still, workers like Flowers managed to get by; on a busy day at her character-themed restaurant, she recalled, she might serve 100 tables. These days, she serves fellow union members at a food bank.
"In a pandemic, it's really hard to find a job," she said, "so I started volunteer work for our union's food bank. That started in May with feeding 200 families a week, which went up to 300, 400, and for week after week for months now, we've seen lines of 700 or more cars and families that we're giving food to. It's so sad. I mean, it's wrapping around the road for a couple of miles. People are desperate, and it's just so sad. So sad."
Under her union's agreement with Disney, Flowers will be prioritized for rehiring at her workplace over the next two years. For now, she is keeping busy with the union's get-out-the-vote drive: 
I'm working on a logistics part of it, making sure that all the canvassers out there . . . have everything they need to knock on doors or make those phone calls. So, we'll bag up snacks and [personal protective equipment] and water, masks, and pens, in case they need to help somebody fill out a ballot. They're very well stocked on what they need to get the job done.
In the ultimate swing state, Flowers believes that the prospects of Disney workers like her may hinge on Election Day. "It's very scary for us, during a pandemic, to try to find a job, and so we need to take back 2020 and get someone new into our administration on January 20, 2021, so we can get ahead of this virus and we can all go back to work."
---
Michelle Chen is a member of Dissent's editorial board and co-host of its Belabored podcast.