A Discussion on Lapsis, with Boots Riley and Noah Hutton.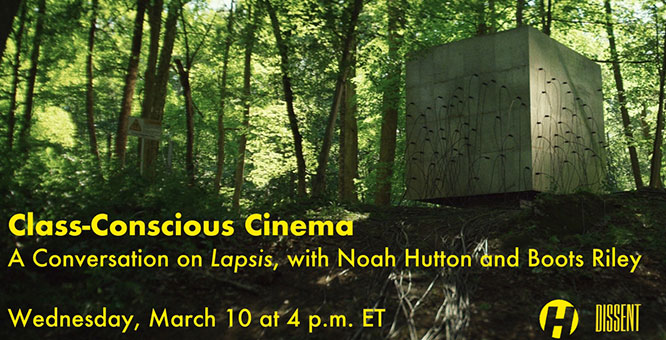 Lapsis, written and directed by Noah Hutton, takes place in a parallel present. Deliveryman Ray Tincelli is struggling to support himself and his ailing younger brother. After a series of two-bit hustles and unsuccessful swindles, Ray takes a job in a strange new realm of the gig economy: trekking deep into the forest, pulling cable over miles of terrain to connect large, metal cubes that link together the new quantum trading market. As he gets pulled deeper into the zone, he encounters growing hostility and the threat of robot cablers—and must choose to either help his fellow workers or to get rich and get out.
On Wednesday, March 10 at 4 p.m. ET, Hutton will talk with Boots Riley, writer-director of Sorry to Bother You, about class, solidarity, and the dystopia of twenty-first-century work on film. You can register for the discussion on Zoom, where audience members will be able to submit questions during the event. A recording of the event will be available after its conclusion.
Find out how to watch Lapsis here.
This event is hosted by Dissent and Haymarket Books.
Attendees will receive an exclusive subscription offer and a discount on Boots Riley's book, Tell Homeland Security-We Are the Bomb.