Salon technicians are struggling to balance safety precautions with the inherently intimate nature of their work.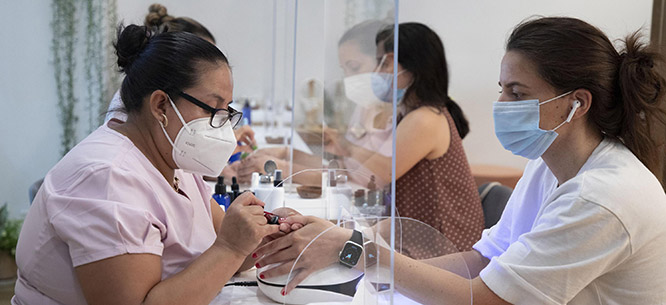 New York City's nail salons, one of the area's most ubiquitous personal care industries, are slowly reemerging as part of the "Phase Three" reopening process after a long hibernation during the city's economic shut down. But you can't do a manicure from six feet away, and nail salon technicians are struggling to balance safety precautions with the inherently intimate nature of their work.
Like many personal-care workers trying to get by in the COVID-19 era, Mariwvey, a nail salon worker in Rego Park, Queens, is glad to be working again. She was so intent to get back to her workplace, she said, that she paid $100 (about a day's wages) to have her COVID-19 and antibody test results expedited, because her boss required employees to be tested before returning.
But she often feels uneasy around the customers. "I feel good about going back to work [overall]," she said through a translator, "because I'm making an income again. . . . But I'm very worried as well, because many people aren't taking the precautions that are necessary. People may be sick, or have a cough, and get close to you, and they say they just have allergies, but they may not know what they have."
Her boss has given the staff plenty of gear—Mariwvey wears a heavy-duty KN-95 mask with a surgical mask on top, along with a face shield, and plastic barriers separate workers and clients. But even though nail salons are supposed to be operating at only 50 percent of capacity to allow for social distancing, the rules are routinely flouted, she said.
Despite the plastic barriers, "there's often not more than six feet of space between the workers on the other side of the barrier," she added. Although the salon is mainly booking appointments in advance, it is often too crowded because they take walk-ins periodically.
Customers are also supposed to be masked, but "many clients have been resistant," she said.
She recalled telling one customer that "she's not obligated, [but] I would like for her to use one, because I have a family waiting for me at home." The woman stormed off, saying she would take her business elsewhere, but then came back two hours later wearing a mask.
Others are less compliant, and in this business, the emotional labor of pampering the client requires absorbing and defusing hostile attitudes. When customers chafe at mask wearing, "we have to ask them to keep their face mask on, and every time we try to . . . tell them to use the mask, they tell us that we're being rude."
However many customers there are, giving a manicure requires physical closeness: touching, soaking, buffing, and decorating their fingertips, sometimes for as long as forty-five minutes. For as little as $10, manicures and pedicures are some of the lowest-cost beauty treatments available. But salons pay rock-bottom prices for their labor, as well.
There have been numerous studies and media reports on extreme exploitation in nail salons, as well as toxic exposures from the chemicals used in nail treatments. Efforts to regulate the industry have been only marginally successful.
Employing largely Asian and Latinx immigrant women, New York's nail salon workforce is projected to grow rapidly in the coming years. A study published in February (before the lockdown) by the New York Nail Salon Workers Association (NYNSWA), a grassroots labor group that Mariwvey helps lead, reported that more than 80 percent of workers surveyed had experienced some form of wage theft, such as being paid below the minimum wage or being shorted on overtime pay. On average, nail salon workers have been losing about $181 per week each, in large part because of a subminimum wage system—where employers pay a lower base wage and let tips make up the difference between the subminimum wage ($10 an hour in New York City) and the official minimum wage of $15 an hour. NYNSWA found that about eight in ten nail salon owners were failing to even pay the legal subminimum wage, and tips averaged out to just $3.33 per hour. Over half of respondents said they were paid a flat rate for the entire day's work.
NYNSWA, which is supported by Service Employees International Union, is pushing the Nail Salon Accountability Act, a state bill that would make business licensing for nail salons contingent on labor law compliance.
Mariwvey said she works from about 10:30 a.m. to 8 p.m., six days a week, and earns about $11 an hour. Others make even less. "A lot of salons will pay workers $80 a day for eight hours of work," she said, "and that's standard." She and her coworkers have tried to press their boss to pay the legal minimum wage, she said, unsuccessfully so far. "We know that we should be getting [at least] $15 an hour with our tips, and we have spoken with her, and she just has told us that she's going to think about it."
Nonetheless, many of her fellow workers with NYNSWA have decided the work is not worth the risk. "I have many compañeras that have not gone back to the nail salon," she said, "because they have young children, and because they're scared, so we're looking for other types of work right now. But there's really no jobs in the city."
---
Michelle Chen is a member of Dissent's editorial board and co-host of its Belabored podcast.