A discussion of Gary Wills's 1982 book on the Kennedy family.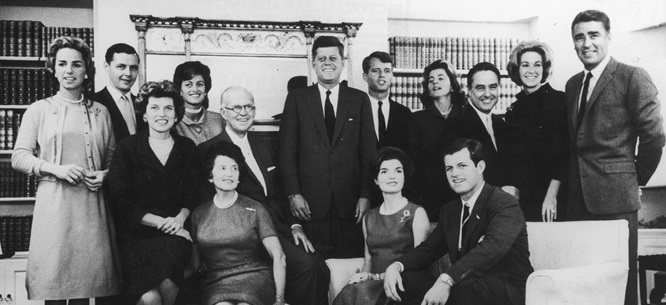 Know Your Enemy is a podcast about the American right co-hosted by Matthew Sitman and Sam Adler-Bell. Read more about it here. You can subscribe to, rate, and review the show on Apple Podcasts and Stitcher, and receive bonus content by supporting the podcast on Patreon.
In this episode, Matt and Sam welcome the Nation's Jeet Heer to the podcast to continue their journey into the work of Garry Wills—in particular, Wills's underappreciated 1982 masterpiece, The Kennedy Imprisonment: A Meditation on Power. The book might be thought of as a sequel to his earlier Nixon Agonistes (1970). As Wills puts it in his introduction to the most recent edition of The Kennedy Imprisonment, "I had written a book about Nixon, and it was not a biography, but an attempt to see what could be learned about America from the way Nixon attracted or repelled his fellow countrymen. Why not do the same thing for the Kennedys?"
The result of Wills's efforts is a devastating portrait of an Irish-Catholic family who strove to be accepted at the most rarified heights of American society—and then, when they weren't, relentlessly pursued political power. Along the way, the family patriarch, Joseph Kennedy, used his money and influence to create a series of myths surrounding his sons, most of all the son who would become president, John F. Kennedy. It is these myths at which Wills takes aim, showing how Joseph Kennedy bought his second son good press, a heroic war record, and even a Pulitzer Prize. And it was Joseph Kennedy who taught his sons what was expected of them as men: to use and dominate women (many, many women), to valorize virility and daring and risk, and to understand power as enlightened leadership by the best and brightest (most of all, the Kennedys), not as harnessing the popular energy of mass movements. What begins as a book exposing the Kennedy men as wannabe aristocrats bent on conquest, both sexual and political, ends as an indictment of the liberalism they came to represent.
Sources and further reading:
Garry Wills, The Kennedy Imprisonment: A Meditation on Power (1982)
Garry Wills, Nixon Agonistes: The Crisis of the Self-Made Man (1970)
Garry Wills, Bare Ruined Choirs: Doubt, Prophecy, and Radical Religion (1972)
Joan Didion, Wayne at the Alamo, National Review (1960)
Hugh Kenner, The Mechanic Muse (1988)
Hugh Kenner, The Pound Era (1971)
Richard E. Neustadt, Presidential Power and the Modern Presidents: The Politics of Leadership from Roosevelt to Reagan (1960)
John Leonard, Camelot's Failure, New York Times (1982)
Norman Mailer, Superman Comes to the Supermarket, Esquire (1960)