Nate Hochman was fired from Ron DeSantis's presidential campaign after producing a video containing a Nazi symbol. Matt and Sam reflect on why they invited him on the show in 2021—and on what his trajectory tells us about the young right today.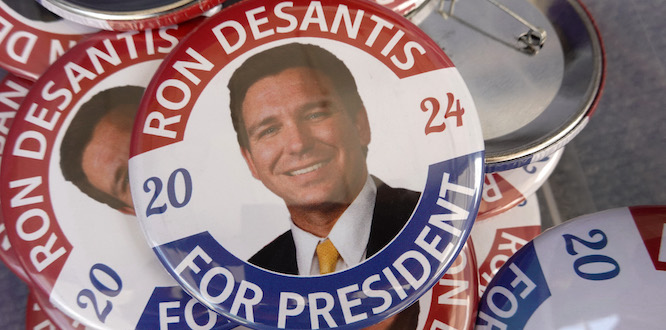 Know Your Enemy is a podcast about the American right co-hosted by Matthew Sitman and Sam Adler-Bell. Read more about it here. You can subscribe to, rate, and review the show on Apple Podcasts and Stitcher, and receive bonus content by supporting the podcast on Patreon.
Three weeks ago, one-time Know Your Enemy guest and "frenemy" of the show Nate Hochman was fired from Ron DeSantis's presidential campaign for his role in producing a campaign video featuring a Nazi "sonnenrad" symbol. Unsurprisingly, the Hochman affair inspired some soul-searching on the part of your podcast hosts. Had we inadvertently exposed our audience to a neo-Nazi? Was our original December 2021 interview insufficiently combative—or too credulous, as many of our most vigilant listeners have suggested? Were we naive about the value of welcoming young conservatives on the show? And, perhaps most illuminatingly, what can Hochman's trajectory (from Never Trump conservative and Michael Oakeshott fan to disgraced DeSantis speechwriter) tell us about the young right today?
After all, Hochman was not alone. A few weeks before the Hochman affair, DeSantis influencer and Chronicles magazine editor Pedro Gonzalez was exposed for expressing virulent anti-Semitic sentiments in private group chats in 2019. And most recently, Huffington Post reported that Richard Hanania, another young conservative—a darling of Silicon Valley reactionaries and a frequent interlocutor with centrist pundits on Twitter—had lived a previous life as an alt-right white supremacist and misogynist.
In this episode, we ask (not for the first time): what exactly is going on with young conservatives? Has the wall between mainstream conservatism and unacceptably hard-right sentiments completely broken down? Was it ever there? Or has it only become more porous in the age of Twitter, Telegram, and online anonymity? Did the alt-right of 2016, with its Pepe memes and winking fascist apologia, ever go away? Or did it merely merge, seamlessly, with today's young right, turning an entire generation of GOP operatives into half-ironic racists, neofascists, and violent homophobes?
Sources and further reading:
Michelle Goldberg, The Radicalization of the Young Right, New York Times (2023)
Young, Radical, and on the Right, with Nate Hochman, Know Your Enemy (2021)
How Euphemisms Muddy Our Political Conversations, On the Media (2022)
David Weigel and Shelby Talcott, 'This belongs in the Smithsonian': Inside the meme video operation that swallowed Ron DeSantis' campaign, Semafor (2023)
Sam Adler-Bell, The Radical Young Intellectuals Who Want to Take Over the American Right, New Republic (2021)
Michael Oakeshott, "On Being Conservative," Rationalism in Politics and Other Essays (1962)
John Ganz, They're All Like That, Unpopular Front (2023)
Jordan Nixon-Hamilton, 'F**k This President': More Messages Show Pro-DeSantis Influencer Pedro Gonzalez Turned on Trump in 2019, Breitbart (2023)
Christopher Mathias, Richard Hanania, Rising Right-Wing Star, Wrote For White Supremacist Sites Under Pseudonym, Huffington Post (2023)