David Roth, one of the best (and funniest) chroniclers of Donald Trump, takes stock of a grotesque and damaged man as he prepares to leave the White House.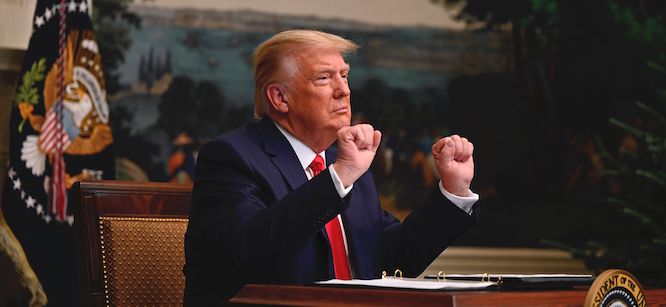 Know Your Enemy is a podcast about the American right co-hosted by Matthew Sitman and Sam Adler-Bell. Read more about it here. You can subscribe, rate, and review to the show on Apple Podcasts and Stitcher, and receive bonus content by supporting the podcast on Patreon.
Who is Donald Trump? The great David Roth, co-owner of Defector Media and a columnist at the New Republic, joins Matt and Sam to answer that harrowing question. From Trump's odd lies about his baseball talents to creepy White House Christmas decorations, this conversation was the perfect opportunity to unpack the neuroses, self-protective measures, cruelty, humor, and sheer weirdness of a terrible president on his way out of office. Also: Sam finally gets to do his Melania "impression"!
Sources Cited:
Leander Schaerlaeckens, "Was Donald Trump Good at Baseball?" Slate, May 5, 2020
David Roth, "I Made Up a Fake Donald Trump Quote, and He Retweeted It," SBNation, June 10, 2014
David Roth, "A Unified Theory of Trump's Creepy Aesthetic," New Republic, December 19, 2019
David Roth, "The Littlest Prince," New Republic, November 17, 2020
For more of David's writing on Trump, check out his author archives at the New Republic…and don't forget to support Know Your Enemy on Patreon to listen to our extensive catalogue of bonus episodes!