On Ron DeSantis's political aspirations.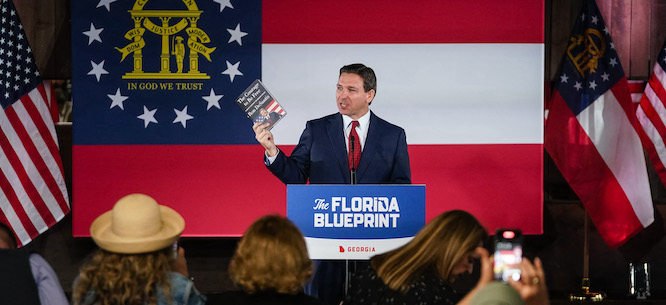 Know Your Enemy is a podcast about the American right co-hosted by Matthew Sitman and Sam Adler-Bell. Read more about it here. You can subscribe to, rate, and review the show on Apple Podcasts and Stitcher, and receive bonus content by supporting the podcast on Patreon.
Gillian Branstetter (of the ACLU's Women's Rights Project and LGBTQ & HIV Project) returns to Know Your Enemy for an episode on Ron DeSantis, his ideology and vision for America, and why his political aspirations involve inflicting wanton cruelty upon LGBTQ children and adults in his home state. We read DeSantis's new book—a campaign book, though he has not yet formally announced his presidential run—The Courage to Be Free: Florida's Blueprint for America's Revival. (You heard it here: it sucks.)
Along the way, Gillian provides an update on the conservative war on so-called "gender ideology" and "wokeness," how organizations like hers are fighting back, and why superficial expressions of sympathy for trans people by major corporations and banks—which so outrage the right—are themselves a trap and a means of evading real justice. We also discuss Sam's New York Times piece on DeSantis as an anti-woke technocrat, an embodiment of the twin cults of expertise and meritocracy even as he disavows and demonizes the "ruling class" and its cultural mores.
Finally, we identify the violent underpinnings of DeSantis's political impulses, discussing his alleged involvement in detainee abuse at Guantanamo Bay. As Branstetter summarizes DeSantis's worldview, "It's just cold efficiency and shared enemies. That's what he's selling. It's like getting a moral lecture from a gun."
Sources and further reading:
Gillian Branstetter, The Gender War Is A Forever War, The Autonomy (2023)
When Biology Needs Some Help, The Autonomy (2023)
Ron DeSantis, The Courage to Be Free: Florida's Blueprint for America's Revival, Broadside Books (2023)
Sam Adler-Bell, The One Thing Trump Has That DeSantis Never Will, New York Times (2023)
Adrian Daub, What Tech Calls Thinking: An Inquiry into the Intellectual Bedrock of Silicon Valley, FSG x Logic (2020)
Zack Beauchamp, Ron DeSantis is following a trail blazed by a Hungarian authoritarian, Vox (2022)
Angelo Codevilla, America's Ruling Class, The American Spectator (2010)
Jasper Craven, The Sunshine Imperium: The Militarism of Ron DeSantis, Baffler (2023)
Daniel Luban, The Belligerent: Angelo Codevilla and the Ideological Origins of the New Right, Baffler (2022)
Wendy Brown, In the Ruins of Neoliberalism: The Rise of Antidemocratic Politics in the West, Columbia University Press (2019)
Joseph Darda, The Strange Career of Racial Liberalism, Stanford University Press (2022)
Olúfẹ́mi O. Táíwò, Identity Politics and Elite Capture, Boston Review (2020)
Michael Kranish, DeSantis's pivotal service at Guantánamo during a violent year, Washington Post (2023)