Peter, Rhiannon, and Michael of the 5-4 podcast discuss the impending end of Roe v. Wade—and how the right used the courts to achieve its aims.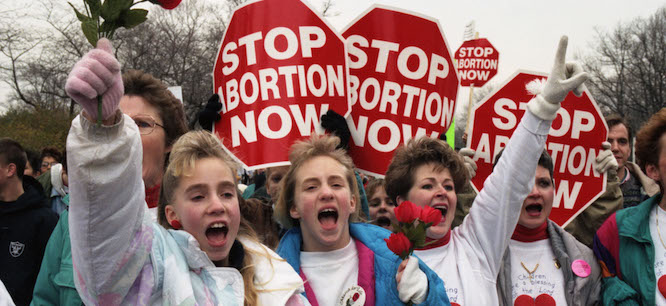 Know Your Enemy is a podcast about the American right co-hosted by Matthew Sitman and Sam Adler-Bell. Read more about it here. You can subscribe to, rate, and review the show on Apple Podcasts and Stitcher, and receive bonus content by supporting the podcast on Patreon.
On May 5, Politico published a leaked draft of the majority opinion in Dobbs v. Jackson Women's Health, written by Justice Samuel Alito, that would overturn Roe v. Wade. How did we get here? In the first of three episodes dedicated to answering that question, Matt and Sam talk to Peter, Rhiannon, and Michael of the 5-4 podcast about the conservative legal movement and how the right used the courts to achieve its aims. What were the main arguments in the leaked Dobbs decision, and where did those ideas come from? How important was the opposition to abortion rights to the development of originalism and organizations like the Federalist Society? What function has the Federalist Society served in the conservative takeover of the Supreme Court? Also discussed in this episode: the relationship between radical, violent anti-abortion groups and the broader anti-abortion legal movement, the narrower victories the right has won against abortion rights along the way, and what might come next from an emboldened conservative movement that has the Supreme Court on its side.
Sources and further reading:
Josh Gerstein and Alexander Ward, Supreme Court Has Voted to Overturn Abortion Rights, Draft Opinion Shows, Politico
5-4, Dobbs v. Jackson Women's Health: The End of Roe
The Return of the Rise and Fall of Roe v. Wade, Pt. 1
Know Your Enemy, The Texas Bounty Hunter Bill
Amanda Hollis-Brusky, Ideas with Consequences: The Federalist Society and the Conservative Counterrevolution, Oxford University Press
Ilyse Hogue and Ellie Langford, The Lie That Binds, Strong Arm Press
Joshua C. Wilson, The Street Politics of Abortion: Speech, Violence, America's Culture Wars, Stanford University Press
…and don't forget you can subscribe to Know Your Enemy on Patreon to listen to all of our bonus episodes!