Matt and Sam are joined by New York Times columnist Jamelle Bouie for a wide-ranging discussion of how conservatives (and liberals and leftists) use American history to make political claims in the present.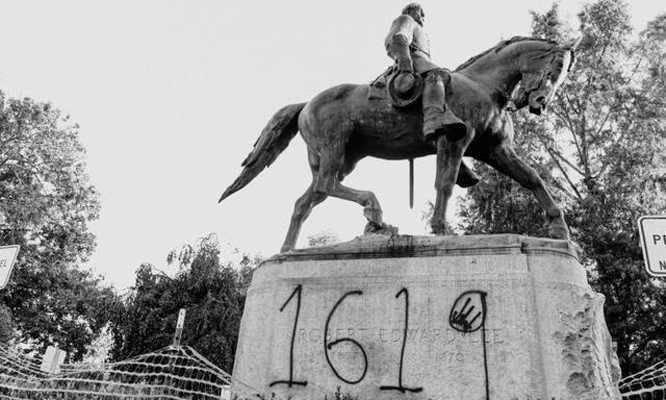 Know Your Enemy is a podcast about the American right co-hosted by Matthew Sitman and Sam Adler-Bell. Read more about it here. You can subscribe, rate, and review to the show on Apple Podcasts and Stitcher, and receive bonus content by supporting the podcast on Patreon.
From the never-ending culture war over the New York Times's 1619 Project to arguments about the Black Lives Matter protests to President Trump's promise to Make American Great Again, today's political conflicts reflect, to an extraordinary degree, disagreements over the meaning of American history. Jamelle Bouie's New York Times column is one of the places where these lively debates are most effectively narrated and clarified.
Bouie joins Matt and Sam to help make sense of how history, historiography, and politics relate to each other—or at least, how they should. Along the way, the conversation takes up slavery and capitalism, Afro-pessimism and Marxism, and (a frequent preoccupation of the podcast) what left-wing patriotism might look like.

Further Reading:
Jamelle Bouie, "Beyond White Fragility," New York Times, June 26, 2020
Jamelle Bouie, "Why Juneteenth Matters," New York Times, June 18, 2020
Sam Adler-Bell, "The Remnant and the Restless Crowd," Commonweal, Aug 1, 2018
Vinson Cunningham, "The Argument of Afropessimism," New Yorker, July 20, 2020
Nikole Hannah-Jones, "Our Democracy's Founding Ideals Were False When They Were Written. Black Americans Have Fought to Make Them True." New York Times, Aug 14, 2019
Sean Wilentz, "A Matter of Facts," the Atlantic, Jan 22, 2020
John Clegg, "How Slavery Shaped American Capitalism," Jacobin, Aug 28, 2019
Tom Mackaman, "An interview with historian James Oakes on the New York Times' 1619 Project," World Socialist Website, Nov 18, 2019
PLUS: Check out Jamelle's newsletter, which recently featured a huge list of books on the American Revolution and the early republic, and don't forget to support Know Your Enemy on Patreon for bonus episodes!