In some respects, Dylan's Philosophy of Modern Song is a quintessentially conservative book. But Dylan's America never stops moving, reinventing itself, or rebelling against its own strictures.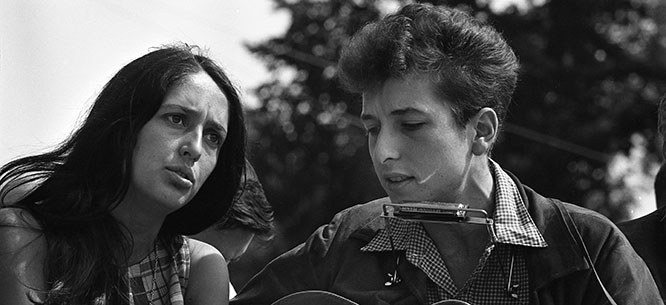 Know Your Enemy is a podcast about the American right co-hosted by Matthew Sitman and Sam Adler-Bell. Read more about it here. You can subscribe to, rate, and review the show on Apple Podcasts and Stitcher, and receive bonus content by supporting the podcast on Patreon.
"That's the problem with a lot of things these days," Bob Dylan wrote in 2022. "Everything is too full now; we are spoon-fed everything. All songs are about one thing and one thing specifically, there is no shading, no nuance, no mystery. Perhaps this is why music is not a place where people put their dreams at the moment; dreams suffocate in these airless environs."
This mournful attitude—for a lost age of artfulness, mystery, and hope—pervades Dylan's 2022 book, Philosophy of Modern Song. In this sense, it's a quintessentially conservative book. But decline and nostalgia are not its only themes. In short bursts of prose reflecting on sixty-six totemic songs (from Webb Pierce's 1953 hit "There Stands the Glass" and The Fugs' 1967 proto-punk romp "CIA Man" to Nina Simone's unimpeachable "Don't Let Me Be Misunderstood"), Dylan conjures a country—and canon—defined most of all by mutability, motion, and menace. Dylan's America never stops moving, reinventing itself, or rebelling against its own strictures. Things get better; things get worse; what they don't do is stay the same.
To help us make sense of Bob Dylan's idiosyncratic vision of America and American song, we're joined by Know Your Enemy musician-in-residence (and Bob superfan) Will Epstein. Besides providing the music for our show, Will is a songwriter, composer, and improvisor; his latest album, WENDY, is out from Fat Possum records. (Download it or buy the vinyl here.) Music may not be the place where most people put their dreams these days, but it's still where we put ours. And there is no better way to understand America's dreams than by listening—closely—to its music.
Sources and further reading:
Bob Dylan, The Philosophy of Modern Song, Simon & Schuster (2022)
Bob Dylan, Chronicles: Volume One, Simon & Schuster (2005)
Sean Wilentz, Bob Dylan in America, Anchor (2010)
Clinton Heylin, Bob Dylan: Behind the Shades Revisited, It Books (2003)
Martin Chilton, Bob Dylan and the Great American Songbook (2022)
Raymond Foye, Bob Dylan's The Philosophy of Modern Song, Brooklyn Rail (2022)
Hua Hsu, How Nam June Paik's Past Shaped His Visions of the Future, New Yorker (2023)
John Szwed, Cosmic Scholar: The Life and Times of Harry Smith (coming August 2023)