A leftist's guide to the conservative movement, one episode at a time, with co-hosts Matthew Sitman and Sam Adler-Bell.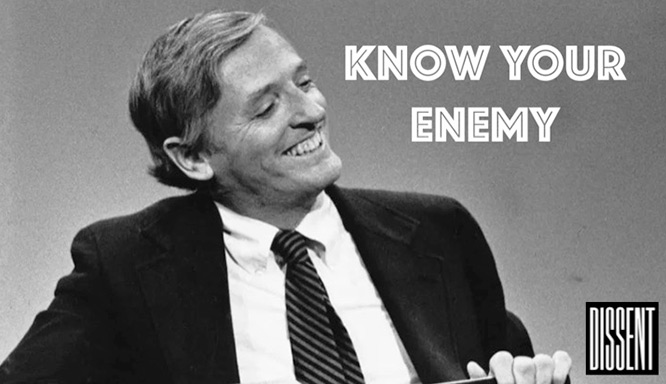 Dissent is proud to partner with Know Your Enemy, a new podcast about the American right. Know Your Enemy explores the key figures, arguments, texts, and ideas of conservatism from the left, with an eye toward learning from our opponents. Co-hosts Matthew Sitman (an editor at Commonweal and Dissent contributor) and Sam Adler-Bell (a writer for The Intercept, The Outline, Commonweal, and elsewhere) dive into the swamp of right-wing thought so you don't have to, taking conservative ideas seriously but not uncritically. Sitman, a former conservative, offers insight about how conservatives see themselves, while Adler-Bell, practically a red-diaper baby, is attuned to the left's own pathologies and hang-ups.
Some episodes are historical, looking back to William F. Buckley Jr. and the founding of National Review or the rise of Ronald Reagan. Others are more contemporary, looking at the debates roiling on the right as conservatives struggle to adapt to the Trump era. Future episodes will feature interviews with writers, historians, activists, and others with particular expertise on (or experience with) the movements, ideas, and figures of conservative's past and present. Know Your Enemy is a mix of historical inquiry, commentary on the contemporary scene, and conversations with experts.
Stay tuned for plans for live tapings of the podcast in the months ahead, along with transcriptions of some upcoming interviews at Dissent. You can support Know Your Enemy now by contributing to their Patreon; for $5 a month you'll get access to exclusive bonus episodes, and at $10 a month you'll get a free digital subscription to Dissent. You can subscribe to the show wherever you listen to podcasts. Check out the latest episode, where the co-hosts speak with Patrick Blanchfield about the ideologies underlying America's gun problem, below.