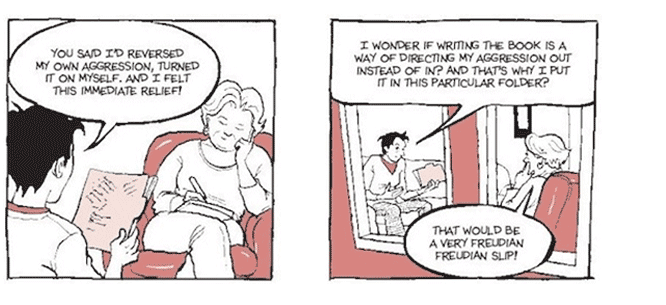 As a writing teacher, I'm sometimes asked by students whether it's ethical to write about people they know. I used to tell them to be careful if they're settling scores, but if they're willing to be self-critical, they should go for it. Now I just tell them to read Alison Bechdel.
Bechdel, who was recently named a recipient of the MacArthur Foundation "genius" award, drew the popular comic strip Dykes to Watch Out For for twenty-five years before producing two graphic memoirs, Fun Home (2006) and Are You My Mother? (2012). Each book has a distinct, complex structure, but together they form a thematic and aesthetic whole. Fun Home circles around the story of her father, who died, most likely by suicide, when Alison was nineteen, and Are You My Mother? tells the story of her surviving parent. In Fun Home, subtitled a "family tragicomic," Bechdel uses blue ink in her drawings, and structures chapters around Proust, Wilde, Fitzgerald, and Joyce; in Are You My Mother?, a "comic drama," she uses shades of red and refers to Virginia Woolf, Adrienne Rich, and the psychoanalyst D. W. Winnicott.
The books are a stunning technical achievement. Bechdel has noted that a distinguishing feature of graphic novels is the exceptionally high ratio of the time they take to write and draw compared to the time they take to read. The obsessive chronicling of her life, thoughts, and dreams takes on a new weight as we imagine her drawing herself hundreds of times for the exquisitely composed panels. And yet the books are as expansive as they are precise. They explore the psychic impact of fifty years of cultural change brought about by the feminist and gay liberation movements, as well as the push towards self-expression and frankness encouraged by psychoanalysis.
Bechdel's father was a frustrated artist, who poured his obsessive creativity into the restoration of "Fun Home," the family nickname for the funeral home he ran, which Bechdel used for the title of her first book. Though he pursued relationships with men, he never came out. Her mother was a frustrated writer and actor. Both books tell the story of parents unwittingly leading Bechdel to become what they cannot—self-aware, sexually liberated, and, above all, creatively productive. Bechdel's father used literature and his self-image as a dignified man of letters as a shield; her mother valorized the mid-century illusion that art could be pristinely detached from life. "Many of us are living out the unlived lives of our mothers," Gloria Steinem notes on the book's jacket, pointing out that for women coming of age during and after the feminist movement, Bechdel's experience is a familiar twentieth-century story.
Yet there's a paradox to this formulation. Fun Home draws on the powerful confluence of two events: Bechdel began living openly as a lesbian just at the moment her father ended his life. In Are You My Mother?, Bechdel wrestles with the challenge of how to write about her mother while her subject is alive. Bechdel approaches this problem by writing her mother's responses into the story: we see the heartbreaking phone call in which her mother fails to acknowledge the publication of Bechdel's first cartoon, and we see the phone calls where she responds to the early drafts of the book we are reading.
 The students who ask me whether it's wrong to write about their parents or friends are almost always women. From one point of view, their social conditioning is an obstacle to creativity, and one's job should be to instill in them the brash confidence of many of their male peers. Some readers have found Are You My Mother? less satisfying than Fun Home, because of its focus on Bechdel's struggles with writing. Bechdel is highly aware of this tension and, in the book, meditates on Virginia Woolf's knowledge that her best work could not be written until her parents died. But in Are You My Mother?, Bechdel shows how a writer's moral imagination and hesitations can fuel creativity and lead to richer, more layered stories.
This is especially true in Bechdel's treatment of psychoanalysis. In both books, Bechdel dissects family dynamics with the precision gained through a deep immersion in this tradition. In Are You My Mother?, it becomes a central, explicit subject. Bechdel includes analysis of her dreams and scenes in therapy; she marks eras in her life as much by the different therapists in her life as she does by her different girlfriends. People often speak of memoir as the genre of a therapeutic, confessional culture, as if speaking freely and openly about one's life also frees one of the need to filter experience through fictional creation. As Bechdel's explorations methodically trace, one of the promises of a therapeutic culture of confession is a freedom from the demand to respect our parents, either literally or symbolically. Free from this demand, we may finally be able to just say what happened.
While we may now be freer to speak publicly of private matters, understanding why and how we are drawn to do so, and what is at stake when we do, is something else entirely.
Except that, as Woolf and Bechdel teach us again and again, what happens is never just what happens. It has always struck me as fascinating that what has been endlessly called the era of memoir should coincide with the decline in traditional analysis. While we may now be freer to speak publicly of private matters, understanding why and how we are drawn to do so, and what is at stake when we do, is something else entirely. This was brought home to me when I first read Are You My Mother? As it happened, I was pregnant at the time, and was reading a lot of articles, books, and blogs about parenting. It was an odd feeling to read again portions of Freud I hadn't seen since college, to see the collection of authoritative volumes transformed into a few, startling claims about mothers and children, rendered by Bechdel's hand (throughout both books she recreates key passages of books that have been important to her).
Also a revelation was Bechdel's treatment of Winnicott's work. Known for his focus on "ordinary" rather than disordered development, he wrote extensively on such topics as the importance of play and gave us the notion of the "good enough mother." As Bechdel presents them, these ideas are not as comforting as one might expect—there are, he argues, many reasons a mother may not be good enough. (In typical fashion, Bechdel meticulously lists them all and analyzes which may have been the case with her mother.) But then I realized what so much of the parenting advice I was reading was missing. The writing on helicopter parenting had imported all of the neurosis from psychoanalysis, but none of the emotional depth.
If I was going to worry about being a good enough mother—and of course I was—I wanted to worry about whether my child would be equipped for joy, would be able to love and be loved, not how I would impact his future test scores. I suspect I'm not alone, which is why I now tell anyone who's thinking about parenting the same thing I tell my students: just read Alison Bechdel.
---
Laura Tanenbaum is an associate professor at LaGuardia Community College, City University of New York.