It's the end of the world as we know it. And we don't feel fine: we're hot, we're bothered, and we're making a podcast. Hot & Bothered, hosted by Dissent, will be the first podcast to tackle climate politics from above and below, standing as firmly with the 99 percent as we do against fossil fuels.
We're Daniel Aldana Cohen and Kate Aronoff, and we're investigating the intersections of climate, politics, and the economy, with dispatches from grassroots organizers alongside leading wonks and scholars. Can there be prosperity and redistribution without oil, coal, or gas? Or is our low-carbon future bound to be nasty, brutish, and austere? What kinds of movements can power a fair and thorough transformation of our economy?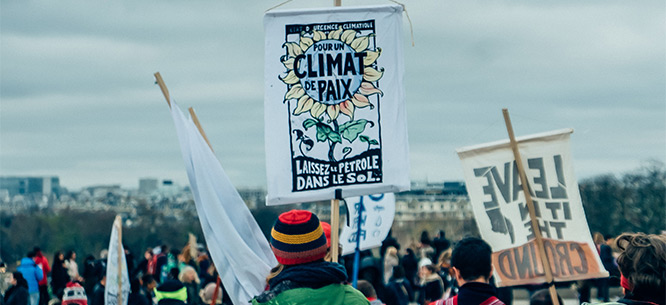 COP21 protesters in Paris, December 12, 2015 (Julien B. / Flickr)
Our first season of six episodes will pair reported news roundups with feature interviews on some of climate politics' most burning questions. If climate justice demands big ideas and even bigger movements, we will put a mic to them. We're hot, bothered, and recording.
---
Daniel Aldana Cohen is a writer and academic and will be an Assistant Professor of Sociology at the University of Pennsylvania beginning this summer. Kate Aronoff is a Brooklyn-based independent journalist covering climate politics and social movements. Follow them @aldatweets and @KateAronoff.
Join us Friday, April 15, in Brooklyn for a discussion and party to launch the podcast alongside Dissent's Spring issue, The Fight for Climate Justice.
Listen to Hot & Bothered's pilot episode, on the COP21 summit, here.