Connecting the dots between racial injustice and the climate crisis isn't just a question of principle—it's a daily reality. Organizer Patrick Houston describes how the movement can win.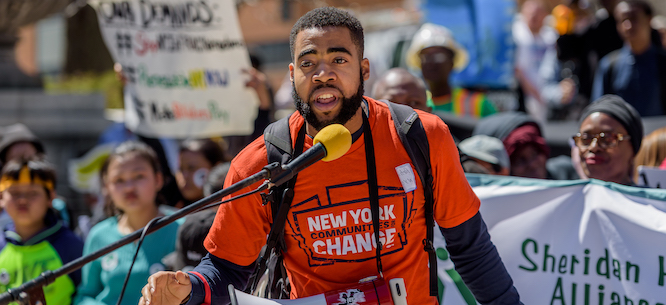 It took the mainstream climate movement a long time to come around to the idea that racial justice is climate justice. And while that understanding has solidified in recent years under pressure from frontline communities—shaping the push for a Green New Deal—many environmental groups are still uncertain about how to put it into practice. 
For New York Communities for Change (NYCC), connecting the dots between racial injustice and the climate crisis isn't just a question of principle—it's a daily reality. In places like the Rockaways, NYCC members living in disinvested public housing were among the hardest hit by Superstorm Sandy in 2012. Others, in neighborhoods like Brownsville, live in some of the city's worst heat islands and food deserts. 
The grassroots, membership-based organization—which was instrumental in iconic campaigns like the Fight for $15—has recently mobilized its base of working-class Black and Brown New Yorkers to enable some its biggest climate victories, from low-carbon buildings legislation to blocked pipelines to state-level energy policy. In this episode, Kate and Daniel talk to NYCC's Climate and Inequality Campaigns Organizer Patrick Houston to learn more about the group's organizing model and how it has helped make New York a national leader on climate justice. 
If the mainstream climate movement wants to center racial justice in its work—and win in the process—it could learn a lot from NYCC and Patrick Houston.
Check out the full Hot & Bothered archive here. Hot & Bothered is produced by Colin Kinniburgh. Music: Mercurias Meet Victor Rice, "Carregar (Instrumental)," courtesy of Total Running Time.
If you like the episode and want to hear more, sign up as a monthly member at patreon.com/hotbotheredclimate today. It's thanks to those who are able to contribute that we're able to make the podcast free for anyone to listen to. 
Paying members will get access to perks like a monthly happy hour with Kate, Daniel, and friends, a free ebook of A Planet to Win: Why We Need a Green New Deal  by Kate Aronoff, Alyssa Battistoni, Daniel Aldana Cohen, and Thea Riofrancos, and much more. 
Don't hesitate: sign up on Patreon today.
Further reading
New York Communities for Change
This Group Pioneered the Fight for $15. Can They Transform the Fight for Affordable Housing Too? (Sarah Jaffe, the Nation)
New York City is about to pass its own Green New Deal (Adele Peters, Fast Company)
Third Strike for Williams Pipeline (Jarrett Murphy, City Limits)